And the 2008 winner of the GRAFFY is ...
... JOSH WILSON !!!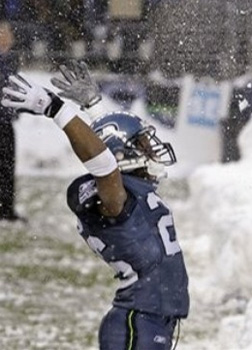 The Tacoma News Tribune reports: "With the Seattle Seahawks enjoying their 13-3 victory over the New York Jets, cornerback Josh Wilson's teammates had not seen him since he had the best game of his young career Sunday - two interceptions and a sack of Brett Favre."
That alone is not why Josh Wilson has been awarded the 2008 Graffy, but it's a good start!
Seahawks.com reports: In 2008, he led the NFL with eight kickoff returns of 40-plus yards and set club for kickoff returns (69) and yards (1,753). He returned...an interception 75 yards for a score to ice a 2008 win over the San Francisco 49ers.
Yeah, yeah, all that, but the clincher came later. How can you not love it when Josh took time out from that interception to play in the freak snow storm?! OK, yes, it drew the penalty flag but even Coach Mike Holmgren had to say it was "pretty cool". Of course, to that he appended: "Now, if I was coming back and was going to be his coach again next year, yeah, he and I would have a little chat. But Jim [Mora] can worry about that."
Thanks Josh for some great memories in the 2008 season!