And the 2009 winner of the GRAFFY is ...
... TOD LEIWEKE !!!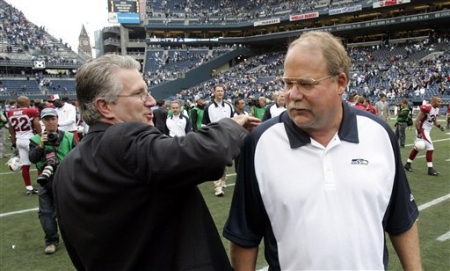 Who? Yeah. Exactly. That's why he gets the 2009 Graffy!
Tod Leiweke has been the CEO of the Seahawks since June of 2003. He announced that he's stepping down in July 2010 to return to his first love of hockey, and it wasn't until we started reading some of the articles that we realized we had someone very special in the front office that we probably didn't fully appreciate.
For instance, when Tod accepted the position in the Seahawks organization, he wanted to know what it was like to watch a game from the fan's perspective. He sat among the crowd and he recognized that the Seahawks weren't offering a very good fan experience, so he set about changing it. Some of us that are old timers recall the days when #12 ruled. Mr. Leiweke reintroduced #12, The Fan, to a new generation of Seahawks fans!
I remember traveling to Seattle many years ago in search of #12 fan jersey. We walked all over downtown Seattle looking for one, and finally found it - on sale, hanging on a hook near the ceiling, dusty, forgotten. It seemed The Fan retired along with the #12 jersey. I bought that old school jersey and to this day I treasure it, even as #12 jerseys are readily available now in home and away colors, lime green and even Breast Cancer Awareness pink - all thanks to Tod Leiweke!
Leiweke also is responsible for increasing the charitable giving for the Seahawks, often making gestures of kindness and compassion that don't reach the newspapers. And he doesn't always hire it out - he's often at the forefront of giving of time and resources.
How many CEO's do you know that greet ushers and guest-service people at the stadium by name? Mr. Leiweke does.
In his tenure as CEO, he made some tough decisions, but they were business decisions for the good of the organization. He didn't back down from those tough decisions. Even as he stepped down, he arranged his new position so that he could continue working for the Seahawks until a suitable replacement is found for him. Those are big shoes to fill.
After all that, does Leiweke take credit and want to be in the limelight? Well, he says it best when he says,"Anything that is good, no one person created it. Even a great golfer had a great swing coach at one time."
Congrats to Tod Leiweke for being our Graffy Award winner this year! We wish him much happiness in his new endeavors.