And the 2014 winner of the GRAFFY is ...
... GARRY GILLIAM !!!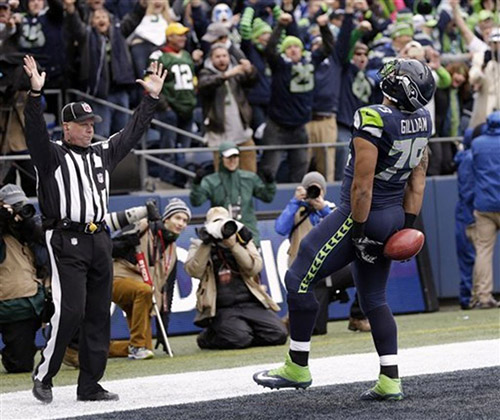 John Ryan to Garry Gilliam ... TOUCHDOWN!!! The Seahawks' Super Bowl dreams are still alive!!!
Oh, come on! Admit it. You had no idea who Garry Gilliam was prior to THE play.
You know the one I'm talking about! NFC championship game against the Packers. We were getting creamed! Packers had all the momentum, should have put away the game in the first quarter. Somehow we kept going in spite of ourselves. Lined up for a chip shot field goal. Ball was snapped.
Your mind, familiar with a field goal play, expects to see one thing but ... huh? What? RYAN STILL HAS THE BALL! It's a fake! He's running, he's ... passing? John Ryan is passing? HE'S PASSING! To ... to ... to someone open at the goal line. TOUCHDOWN SEAHAWKS! Who is that guy?
Don't even try to pretend that you're best buds with Garry Giliam. Don't even go there. Even the die hards had to think hard, access the back of the database to figure out who he was. Gilliam. Gilliam. Gilliam? Do we have a guy named Gilliam on our team?
Household name today, sure, rolls off our tongues with ease after the Championship game! But who is he?!
No one noticed until that play. Had serious playing time throughout the season and we still didn't notice. Well, some people noticed.
Gilliam didn't have an NFL career handed to him on a platter. Mrs. Gilliam, wanting a better life for her son than she could provide, dropped him off at boarding school when he was seven. SEVEN YEARS OLD. Can you imagine? Loving your child so much to hand him over to a boarding school for a chance at a better life? Cried himself to sleep almost every night. Worked hard. Played football. Had injuries and surgeries. Wasn't drafted.
But Coach Carroll saw something in Gilliam that he liked. Garry landed in Seattle with great athleticism and a desire to work and learn and improve. He learned the playbook, caught the attention of the coaching staff and earned a position on the team.
And in the NFC Championship game, he caught an amazing pass from a trick play at just the right time.
Congrats, Garry Gilliam! You're our Graffy winner for 2014!