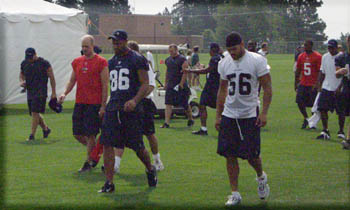 From: Soiled Dude
Sent: Friday, August 20, 2004 2:38 PM
Subject: Seahawks Practice

Hot off the press! I just back from the Seahawks practice. They just had a walk-through instead of a full out practice. Apparently the afternoon practice is cancelled as they are flying out for the Denver game.
Any way, it was still awesome! I was so amazed to see the guys that I forgot I had a camera around my neck. When Marcus Tubbs came out of the building onto the practice field, two fans next to me and myself gasped at the size of that man! He is a mountain.
I got some far off shots (which turned out fairly crappy despite an automatic setting on a digital camera). A very deligent police officer/security guy stood right in the direct view (for camera shots) of the team. Oh well. It was cool to see them w/o their pads and helmets.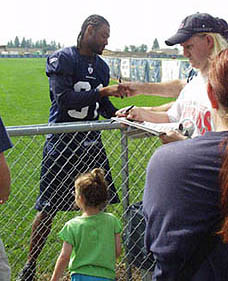 The last guy off the practice field was the only autograph I wanted. K-Rob hung around talking to a coach for about 10 minutes after the team left. He then walked towrds the building and towards the throng of people waiting for his autograph... Mostly kids were there. I lent one of my Sharpies to a kid waiting. It is cool to see these kids waiting for their heroes signature.
The cutest little girl ran over to the fence and said hello to Koren. Then she wanted to see if she could get an autograph (she called it a "top"). Robinson laughed... what cute moment.
I waited for all the kids to get their autographs before I handed Koren my jersey (the same one I was wearing in a certain Wal-Mart in Cary, NC) and he signed it!. Well, luckily I got a new jersey at the Seahawks concession store prior to the guys taking the field. Now I will have to get my jersey framed and hang it in my room.
Despite not seeing the team practice in pads (I wouldn't have gotten goods photos anyway as my camera lacks the good zoom), I loved it! All the guys were so good natured. They reaffirmed again why I am a Seahawks fan. God Bless those guys!
Pat