Part 1: Kirkland | Part 2: Seahawks Stadium | Part 3: Road Trip to Cheney | Part 4: Opening Day in Cheney | Part 5: Seattle, then home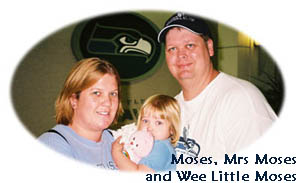 PART ONE: MY TRIP TO KIRKLAND
By Moses

We awoke on Wednesday with our directions in our hand and soon we were headed out of Seattle and eastward across the 520 bridge towards Kirkland. As we drove into Kirkland, there was a Seahawk van following us and I turned to Sally and said, "I bet that driver is Garrett."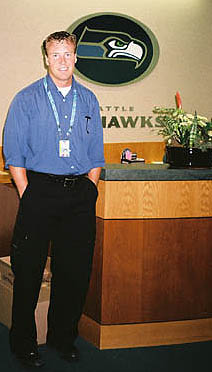 Garrett was the person who I had contacted regarding seeing the Seahawk headquarters. Garrett is the official mascot for the Seahawks, Blitz. Yeah, THAT Blitz. He has been the mascot since the team changed uniforms and moved into their new home. Garrett is an extremely friendly and wonderful tour guide.
We parked and Garrett jumped out of his van. He could tell by my Seahawker Fan Club attire that I was that guy from Indiana and introduced himself to us.

We walked into the lobby, and Garrett showed us around the front of the headquarters. We saw General manger Bob Ferguson's new office and where players get mail and many offices that go into the running of the day to day operations of the Seattle Seahawks.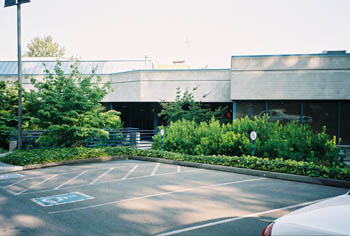 We actually came at a really good time. As we all know, the players have been VERY ACTIVE working out in the off season. However, seeing as this was the week BEFORE the training camp, all of the players had taken this week off to rest and be with the families one last time before heading to Cheney. So, Garrett was able to sneak up downstairs to see where all the off season magic was happening (as long as no players came waltzing in).
We arrived downstairs at the weight room that has been quite active this off season. There was Seahawk emblems EVERYWHERE and plenty of weights. Next, Garrett showed us the locker rooms.
You can tell a lot from the players by their lockers. Some were fairly empty. Others were filled with extra clothes. We saw some with letters from fans (or family). We saw pictures of family in some lockers. Some had inspirational posters (like Muhammed Ali).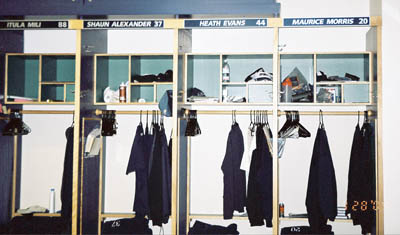 Some nameplates were different, too. One in particular that caught my eye was Robbie Tobeck's. Someone (probably Hassselbeck) had taken tape over Tobeck's last name and placed "The Batchelor" over it so it read "Robbie the Batchelor". To me, it showed that there were a lot of characters on this team.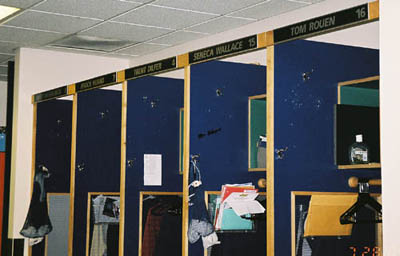 Next, we headed out by an outside door that showed the FANTASTIC FIELD. It looked like a painting. The grass was simply breathtaking. The groundskeeper HAS TO BE the best in the business.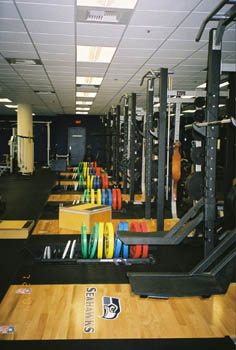 While we were looking, Garret shared a funny story. Apparently this year during one of the mini-camps, Garret (in his Blitz outfit) had gone out to the field with some golf balls and a pitching wedge. He did this (of course) in front of the head groundskeeper to get a reaction. He said he got this, " I know you are trying to be funny, but DON'T EVEN THINK ABOUT IT" look from the groundskeeper.
It was after this story that VP of Football Operations Ted Thompson strolled in. Feeling that we had been caught with our hands in the cookie jar, we quickly escaped back UPSTAIRS.
When we arrived upstairs, we got to meet VP of Community Relations Mike Flood. In the past, I had heard a lot of wonderful things about Mike Flood. Now I can see why. He was so wonderful to me as well as my family. He was very gracious and said, "we need more fans like you". He made me feel VERY welcome and seemed generally happy to meet us all.
From there, we took a few pictures and we were headed back to Seattle.