Steve August
College: Tulsa
Acquired: 1st Round Draft 1977
Despite what the Seattle Times reports below, we think Steve August is deserving of his spot in our Seahawks Almost Hall of Fame. Steve played for the Seahawks from 1977 to 1984.
Note: We are still looking for historical records for Steve August. Please check back for more information or e-mail Becky if you have information you'd like to share!
Source: Seattle Times
Sports: Friday, April 19, 2002
Seahawks
Best and worst Seahawks drafts
By Percy Allen Seattle Times staff reporter
Worst draft trades
No. 1, 1977 | Giving up a chance to draft running back Tony Dorsett, Seattle acquired guard Steve August, offensive tackle Tom Lynch and linebacker Terry Beeson. They started a combined 205 games, but no one had a career that compares to the Dallas Cowboys' Hall of Famer.
Source: Seattle Times

Sports: Sunday, April 16, 2000
Seahawk notebook
Percy Allen, Les Carpenter
Seattle Times staff reporters
The selection of McIntosh was the sixth time in the team's 24 years that the Seahawks have drafted an offensive lineman No. 1. The others: Steve August (1977), Andy Heck (1989), Ray Roberts (1992), Pete Kendall (1996) and Walter Jones (1997).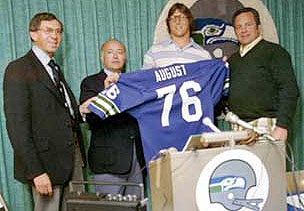 Source: www.thegoal.com
Steve August graduated from the University of Tulsa and was drafted in the first round by the Seattle Seahawks in 1977. He played with Seattle through 1984, before finishing his career with the Pittsburgh Steelers and New York Jets. Today, he makes his home in Kirkland, WA.
I grew up without a father. He left home when I was in first grade. Without a dad to do things with, I filled my time playing sports.
I did well in football, baseball and basketball. And it was fun to play. But sports didn't fulfill me, totally. I looked for other things to make me happy. In college I did all the normal things a student does, like partying. However, I always felt bad about doing these things, but I never knew why.
Then came the day when I made it to the NFL. I became a first-round draft pick, and achieved my goals in life! I had every reason to be happy. But by the time I retired I was miserable.
Slowly, my life began to fall apart...
I began losing the things that meant so much to me. I was losing the money I had earned through football. Marital problems started to creep in. I was searching for a career and couldn't really find anything. I suddenly began asking myself, "What am I going to do now that I'm no longer playing football?"
Things grew worse, and I cried out, "God, where are you?"
Do you know what? At my lowest point in life, God was still there with me. By now all the things that had made me feel secure were no longer there -- football, a big salary, a wife, a home. I didn't have any of them.
I had been trying to hold onto all of the things that couldn't give me true happiness. But I couldn't. When I didn't have anything to hold onto, God held onto me.
Years ago I had accepted and believed what Jesus had done for me on the cross. I began to realize how much He really loved me and wanted to be a part of my everyday life. This verse opened my eyes to see that I needed to give God my total self and live life His way, not mine.
"For I know the plans I have for you," declares the Lord, "plans for welfare and not for calamity to give you a future and a hope. Then you will call upon Me and come and pray to Me, and I will listen to you. And you will seek Me and find Me when you search for Me with all your heart. (Jeremiah 29:11-31).
Now, I understood why I felt so bad about the things I had chased after in college. I understood that God has a plan for my life. Since the day I gave my life to God, I've found new peace, direction and strength.
God has a purpose for your life. He has plans to give you a life that's filled with meaning and purpose. You can experience that life, beginning today, by turning to God.
Source: Seattle Times
Sports: Thursday, August 08, 1991
Steve August, Seahawk 1977 first-round draft choice, has been named director of marketing and promotion in the University of Tulsa athletic department.
Source: REP.
A Different Goal
By Rick Weinberg
Registered Rep., Jun 1, 2002
With so many brokers chasing gridiron stars, it's surprising that the Twilley/Monger partnership at Merrill Lynch isn't interested in scoring NFL clients. Young athletes, says the practice's Matt Monger, make less than ideal clients.
And he should know. Monger and his partner, Howard Twilley, spent a combined 17 seasons in the league.
"We have a better connection with business owners," says Monger, who was a linebacker for the New York Jets and Buffalo Bills, noting that Twilley at one time owned 30 athletic footwear stores. Businesspeople, he says, are a lot more sophisticated when it comes to investing. "We believe in educating our clients, and from a time standpoint, we spend less time with them than with athletes."
Wooing athletes is costly in other ways. Former Boston Bruin Derek Sanderson resigned from State Street Global Advisors, reportedly after the firm turned down his request to fly a hockey player and potential client to a Stanley Cup celebration. The firm shut down the professionals group Sanderson headed, created to target athletes, and folded it into its private asset management unit.
Twilley/Monger's group remains strong at Merrill's Tulsa, Okla., office, where it's part of a bigger sports franchise. Jeff Jordan, who was a safety with the Minnesota Vikings, leads another investment team, as does Fallon Wacasey, a former tight end for the Dallas Cowboys. Steve August, who was an offensive lineman for the Seattle Seahawks, is also a broker there.
None actively recruit NFL players, though they have a few in their stable.
Twilley/Monger is mostly fee-based with an emphasis on managed money and financial planning. Monger says they stress Merrill's Consults program of privately managed accounts for investors with a minimum investment of $250,000.
"We do not invest according to a formula," Monger says. "We spend a lot of time on the front end, educating clients, formulating a written game plan. Then we find the investment to meet the game plan, instead of pushing investments on the client. Our philosophy is to take care of people. If you provide good service, they'll send other people."
"Our investment philosophy is to buy quality, diversify and be patient. Time will determine the risk and the return," Monger says.
So why all the ex-pros in Tulsa? One friend followed another, and soon there were five. For a while, it looked there just might be four.
"When Steve came looking for a job, we actually didn't want to hire him because we felt it would look too much like a sports office," says Monger. "But Steve was so solid we had to bring him in, knowing it would make us a better, well-rounded team."
Source: Norm Evans' Seahawk Report, Oct. 29 – Nov. 4, 1979
A Seahawk Blueprint: from expansion to contention
By Gary Huff
For the second season, the Hawks picked up Cornell Webster, a future star at cornerback, via the free agent route. Also signing on as free agents were Herman Weaver and Charles McShane. John Sawyer was picked up on waivers from Houston. Bill Sandifer was acquired from San Francisco for linebacker Ed Bradley. Autry Beamon came from Minnesota with linebacker Amos Martin, both for a `78 eighth-rounder.
The biggest assist to the Seahawks building plans came, however, from the 1977 college draft. The Tony Dorsett trade helped by increasing the number of early Seattle picks. However, the team's fine selections continued throughout the two-day affair. As a result, Steve August (1st round), Tom Lynch, Terry Beeson, Pete Cronan (all 2nd), Dennis Boyd (3rd), John Yarno (4th), Tony Benjamin (6th), David Sims (7th) and Sam Adkins (10th) all cavort on the Kingdome carpet. The only `77 draft disappointment was Larry Sievers, a highly touted receiver whom the Hawks drafted on the 4th round with the selection acquired from Minnesota for Ahmad Rashad.
Thanks to a draft-day trade, Duke Fergerson came to Seattle. Dallas obtained a mid-second round pick in return and used it to select backup quarterback Glenn Carano. In a later supplemental draft, the Hawks gave up a 1978 fourth round pick to select running back Al Hunter.
The foundation in the second season had progressed but was still incomplete. The record: 5-9.
Layoff over for Seattle lineman
Daily News Miner
Fairbanks, Alaska
Friday, October 21, 1977
The news is not so good on offensive lineman Steve August, the Seahawks' No. 1 draft pick this year from Tulsa. He still suffers from an ankle sprain from last summer.
August has yet to fully recover from an ankle sprain and complications resulting from a subsequent skin graft.
"His physical condition just is not very good," said Patera. "We'd just be wasting our time now. I'd like to have him practice, but I don't think he'd be ready two weeks from now."
The Seahawks will have two weeks in which to determine August's status once he begins fullscale workouts.