Robert Blackmon

"We've had some amazing wins, some plays where we've blocked field goals that stopped people from beating us. But I can't remember any where we blocked it, picked it up and ran it back for a touchdown on the last play of the game."
-- Joe Nash, referring to Blackmon's touchdown play

College:
Baylor, Football News first-team All-America in 1989
Acquired:
2nd Round (b) Draft, 1990
Honors:
1990, First-team All-Rookie (Pro Football Writers' Association, Pro Football Weekly, College and Pro Football Newsweekly, Football Digest).
My favorite memory of Robert Blackmon came during the game in which Michael McCrary got star billing for blocking a field goal and pitching the recovered ball back to Blackmon. Blackmon ran it 61 yards for the game winning touchdown with 4 seconds remaining on the clock! What a game! What a thrill! The newspaper account is below!

Source: Seattle Times
Sports: Monday, November 04, 1996
Seahawks 23, Oilers 16
Stunning Victory Stirs Possibilities For Rejuvenated Seahawks -- Blockbuster!
By Larry Stone
Seattle Times Staff Reporter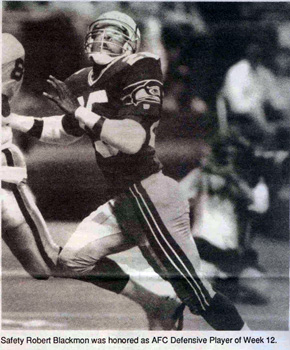 With 16 seconds remaining, Houston kicker Al Del Greco lined up for a 37-yard field goal that would have given the Oilers a 19-16 victory.
Had he made it (and there was no reason to think that Del Greco, as reliable as any kicker in the NFL, wouldn't make it), the story line would have been routine, and painfully familiar - Seahawks squander chances, Seahawks make critical mistakes, Seahawks end any realistic chance of resuscitating their season.
"It felt," Seattle quarterback John Friesz said, "real hopeless."
But then, in a surreal flash of bodies, McCrary burst through the line and blocked the kick. He grabbed the ball on a high hop and flipped it to Robert Blackmon, who completed the 61-yard touchdown run that gave Seattle the victory.
Four seconds remained on the clock. No Seahawk players remained on the bench, having streamed onto the field in absolute delirium. Cortez Kennedy pinwheeled his arms furiously while Christian Fauria, knocked out of the game with a shoulder injury, danced a jig. Coach Dennis Erickson jumped up and down like a schoolboy, then hugged special-teams coach Dave Arnold, who masterminded the field-goal rush.
"We've had some amazing wins, some plays where we've blocked field goals that stopped people from beating us," said defensive tackle Joe Nash, whose frame of reference goes back 15 years. "But I can't remember any where we blocked it, picked it up and ran it back for a touchdown on the last play of the game."

Sports: Friday, October 27, 1995
Seahawk Notebook -- Blackmon Still Sidelined
By Craig Smith
Seattle Times Staff Reporter
KIRKLAND - Robert Blackmon, the Seahawks' starting strong safety, won't play Sunday against Arizona because of a nagging hamstring injury, Coach Dennis Erickson said yesterday.
This will be the third game this season - and second in a row - that Blackmon has missed. Rafael Robinson will start in his place.