Keith Butler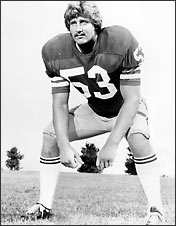 Wednesday, January 25, 2006

Where Are They Now? Keith Butler, Seahawks linebacker

By CLARE FARNSWORTH
SEATTLE POST-INTELLIGENCER REPORTER



Before there was "The Boz," there was the Butler. Before Lofa Tatupu was even born, Keith Butler was making big plays as a linebacker for an aggressive, opportunistic Seahawks defense.
In 8 1/2 seasons, from 1978-86 and including the strike-shortened 1982 campaign, Butler averaged 95 tackles and still ranks No. 2 on the club's all-time list with 813.
Keith Butler, now a Steelers assistant, averaged more than 5 1/2 tackles per game during his 10 seasons with the Seahawks. This week, Butler is spending his time trying to devise ways to tackle Shaun Alexander as the linebackers coach for the Pittsburgh Steelers team that will play the Seahawks in Super Bowl XL on Feb 5.
"I finally make it to a Super Bowl, and who do I end up facing? My old team," Butler said Monday from his office at the Steelers complex on the banks of the Monongahela River. "I'm happy for the Seahawks, but I'm happy to be in it, too.
"It's definitely weird, but it's great."
Except the part about Tatupu, the Seahawks' second-round draft choice who has not played like a rookie this season.
"You're making me feel old. That guy wasn't even in this world when I started playing," Butler, now 49, said of Tatupu, who was born in 1982.
Not only that, Butler has sons who are almost as old as Tatupu -- Blake, 22; Brandon, 20; and Brett, 18.
Butler did more than just make tackles for the Seahawks during their run in the mid-80s, when they went to the playoffs four times in six seasons. His job description was expanded to include covering for freelancing linebacker Fredd Young, who went to the Pro Bowl in 1986-87; later teaching Brian Bosworth the NFL ropes; and, because of his Alabama and Tennessee roots, also serving as an interrupter for teammate Greg Gaines, whose Tennessee twang was so thick you couldn't cut it with a chainsaw.
"Brian came into the league a little naive," Butler said, using Bosworth's given name rather than his manufactured moniker.
"At Oklahoma, he was bigger, stronger and faster than anyone he played against. He tried to chest everything, and he struggled to get off blocks. At this level you have to learn to use technique, and your hat and hands to get off blocks."
One thing that didn't change was Bosworth's speed.
"He probably had as much speed as anybody that I've ever played with," Butler said. "That's what allowed him to make the plays he did."
Butler's teammates always talked about him being a coach on the field, and he eventually took that career leap in 1990 when he joined the staff at his alma mater -- formerly Memphis State, now the University of Memphis.
"I've always enjoyed the game. I've always enjoyed the competition, probably more than anything," Butler said. "Once you've been doing something like that all your life, it's kind of hard just to stop doing it."
But the final decision was a joint one between Butler and his wife, Janet.
"She told me she kind of missed it," he said. "She's pretty competitive, too."
Butler explained how the hours would be a lot different than when he was a player. "But she understood all that," he said.
After eight seasons at Memphis and one as the defensive coordinator at Arkansas State, Butler became the linebackers coach with the Cleveland Brows (1999-2002) before moving to the Steelers.
"At some point in time, I do hope the Seahawks win a Super Bowl," he said. "I just hope it's not Super Bowl XL."
Source: Inside the Seahawks, Vol. 1, Number 10, October 10,1986 - October 16, 1986
The Enduring Excellence of Keith Butler
IS: What is your best mental edge on the football field?
KB: "Staying calm out there. I can't help but get excited sometimes and it's fun every now and then but I try to stay in the game and be aware of all the situations. The offense likes to do certain things and try to be up on what they like to do in those situations — mentally that's the best thing I try to stay keyed in on."
IS: Who do you admire most in the NFL today?
KB: "Oh Boy! ... my teammates, their intestinal fortitude, their guttiness. Individually, Dan Fouts. He's the best pure passer in the league plus he's mentally tough. He can stay in there throwing the ball right on target while you're hittin' him smack in the face ... he can take it, and take it and still produce. I admire the great running backs, Marcus Alen does a good job.
IS: Growing up, who were your heroes?
KB: "Butkus ... he was a great football player, Lambert when he was coming out of college. . . he was big. Playing linebacker I tended to watch the good linebackers in the pros. When I was a kid, my heros were Johnny Musso of Alabama, Ken Stabler, Dennis Holden and Pat Sullivan, a quarterback for Auburn. I would emulate them by playing football with my brothers and dropping back in the pass saying "Ken Stabler throwing downfield to Dennis Holden."
IS: As a child then, did you dream of becoming a football player or have any intuitive feelings you'd make the pros?
KB: "Most youngsters, if they play sports, dream of becoming a professional athlete. At least I did. Growing up in Alabama, I dreamed of becoming a football star at Alabama or Auburn, which didn't happen. That was disappointing to an extent, but realize it was the best thing that could have happened. When I went to Memphis State I got to play in a lot of games that I might not have, had I gone to Alabama or Auburn. Consequently that playing experience helped my game. When I was in college and noticed some of the older players being drafted by the pros, I figured if they could make it, I could too. realized then I had the potential to play professional football."
IS: Describe the special responsibilities you have as a nine year Seahawk veteran.
KB: "Having been around this long, I'm in a role where I'm supposed to be a leader. I don't like to do a lot of hollering or talking but I have to get out there and keep the defense aware of certain things I can do, or what Tom Catlin wants me to keep them aware of, because I have a little more knowledge of the game and the concepts of the defenses we are trying to run. I'll help the younger guys understand those concepts anyway I can."
IS: What isyour personal philosophy regarding your position as starting right inside linebacker?
KB: "To be the best I can be. If that requires working on something after practice then I'm going to do that try to be as knowledgeable as I can to maximize the ability God has given me. I don't want to leave any potential on the table so to speak. I want my all out there on the football field, helping my teammates, being a servant to this team, making it better."
IS: What is it about Chuck Knox that brings out the best in the Seahawks as players and men?
KB: "Chuck Knox treats people right. He's very conscientious and a very demanding boss, which is necessary in order to be successful. He has the ability to separate the person from the football player and that is a great attribute. That's one of the things I've learned from Chuck Knox and will keep with me the rest of my life. I have also learned the work ethic from him... to work diligently for what you want ... that there is no substitute for hard work."
IS: How does he separate the person from the player?
KB: "To be honest ... I don't know how he does it, he just treats individuals fairly, even when he's got to make decisions as a football coach. If he feels the team can be improved by a change in position, he's smart enough to execute that change."
IS: What is the Seahawk collective state of mind?
KB: "Our state of mind as a team, as a whole, is .. . we are hungry. We've been to the play-offs two of the three previous years and were certainly disappointed last year. Twice making the play-offs has created a thirst in us as individuals and as a team. We don't. want to miss it again."
IS:IS: Is it difficult to have your teammates as close friends when players come and go so frequently?
KB: "Oh no. . . no, that's not difficult. There are quite a few guys who've been here as long as I have. Dave Brown's one. I consider him a good friend. Steve Largent's one, Gaines, Bruce Scholtz is another .. quite a few teammates are my close friends."
IS: Is pro football fun?
KB: "I'll tell you what.. . I mean to tell you that the most fun I've had other than winning is the fun we have with each other on this team. The way we can constantly pick at one another and still keep it in the family. Every now and again one of us will get mad at another guy but it doesn't mean he doesn't like him, it just means he's mad, like brothers getting mad. The cameraderie with my teammates ... that is the most fun I've had with this game."
BUTLER'S NFL DEFENSIVE RECORD
Year
Club
G/S
Int
Tackles
Sacks
FF
FR
1978
Seattle
16/14
0
120
2
0
1
1979
Seattle
14/14
1
85
2
2
0
1980
Seattle
16/16
2
82
2
1
0
1981
Seattle
16/16
2
98
1.5
1
0
1982
Seattle
8/8
0
45
2
0
0
1983
Seattle
16/16
1
81
0
2
0
1984
Seattle
16/16
0
89
1
2
0
1985
Seattle
16/16
2
108
0
2
2
NFL TOTALS
118/116
8
708
10.5
10
4
Source: Norm Evans' Seahawk Report, Oct. 29 – Nov. 4, 1979
A Seahawk Blueprint: from expansion to contention
By Gary Huff
In the third year, Seattle went 9-7 and barely missed not only a spot in the playoffs but also the division championship. Much of the improvement can certainly be traced to the development of the young players acquired during the previous two campaigns. But again in 1978, Jack Patera and John Thompson used all available means to improve the team. In the draft, the Hawks added Keith Simpson (1st round), Keith Butler (2nd), Louis Bullard (5th) and John Harris (7th). Again there was one disappointment. Third-rounder Bob Jury fell behind Harris at free safety and as a result wound up in San Francisco. At last report, Jury was no longer in the NFL.
Seattle also used the trade route to good advantage in 1978, acquiring Efren Herrera and Bill Gregory from the Cowboys. Herrera cost Seattle a fifth-rounder whereas Dallas got sixth round pick and an exchange of third round drafting positions for Gregory. Detroit gave up Ernie Price for defensive lineman Bill Cooke (who has since returned) and Seattle's position in the 1979 eighth round.
As in prior seasons, several free agents made the 1978 team. Still with the Seahawks are Kerry Justin and Brian Peets.