Dan Smith was there!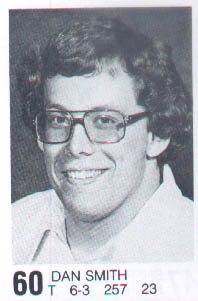 Our thanks to Dan for contacting us when he found this site! We invite you to read his messages below and then visit our 60 Seconds with Becky feature!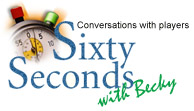 Former Fairbanksan picked by Seahawks
Daily News-Miner
Fairbanks, Alaska
Monday, April 12,1976
Dan Smith, an offensive tackle at Washington State who went several years to Fairbanks schools, has been drafted by the Seattle Seahawks of the National Football League.
Smith's uncle, Les Dodson of Royal Motors, told the Daily News-Miner that Smith went at least through junior high school in Fairbanks before his family moved to Washington.
Smith, 6-foot-5 and 270 pounds, is the son of Dan and Pauline Smith. The elder Smith worked in Fairbanks operating Danny's Service Station, worked in drug company sales and then worked at Royal Motors. The younger Smith played his high school football at Bremerton, Wash.
The newly drafted tackle spent last summer in Fairbanks working as a Teamster.
Seahawks cut trio
The Daily Chronicle
Wednesday. August 31, 1976
CHENEY (UPI)'- Three roster cuts were made Tuesday by the Seattle Seahawks of the National Football League. Those cut were wide receiver
Bill Lide
, center
John Didion
and rookie tackle
Dan Smith
. Lide is a one-year veteran who signed as a free agent with Seattle, Didion a seven-year veteran from Oregon State and Smith was from Washington State.
Dan Smith to take over the Portland, OR market for SFWE
Dan Smith has joined the sales force as the Northwestern regional manager. He has represented an impressive portfolio of wines and beers throughout the Northwest in his 23 year career in sales and sales management, having worked for wholesalers such as Columbia Distributing as well as starting his own brokerage firm in 1993. Dan also played professional football for the New York Giants and the Seattle Seahawks.
From: Dan Smith
Sent: Tuesday, October 24, 2006 5:48 PM
Becky,
I received your link from a former classmate from High School. We had our 35th Reunion in August at East Bremerton. It was a lot of fun. I liked reading about my job history and wanted to let you know I live in Oregon and have since 1979. I am still working for the San Francisco Wine Exchange. I call on all our distributors in Alaska, Washington and Oregon. The portfolio of wines our company represents are all small, family owned, wineries that make wonderful wines. I started in the beverage business while finishing college at WSU in 1977. This year marks the 30th year of being in the business. After playing for Seattle in 1976 and the New York Giants in 1977, I went back to school in between the seasons to complete my Education Degree. I graduated in June 1978.

My son is playing football at Oregon State University. He is a Sophomore and is the 2nd team Center. He is much bigger than me when I played. He is 6'5" and 285#. The football players are bigger now days and are quick on their feet as well.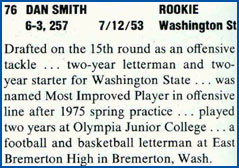 Let me know if you need any additional information.

Thanks,
Dan Smith

p.s. - It is funny that the box listed my number as 76. There was another rookie, G.G. Galloway that also was given the number 76. The very first game in the Kingdome, against the 49ers, they switched my number to 60. I didn't have time to let my family know so there was some confusion as to what my number was when my friends & family attended the game. I played in the first two pre-season games before being released. The following year I signed a free-agent contract with the New York Giants. I was a faster, bigger and better lineman when I went to camp. They moved me from Offensive Tackle to Guard. I excelled very well. The odd part was I was doing very well (films are worth a thousand words) and then I was cut. My Line Coach couldn't even tell me why? It was weird. The NFL was not in my future, so I went back to school, finished my degree, and have been in the beverage business ever since. I valued my time with Seattle and New York. They were both great experiences.
From: Dan Smith
Sent: Tuesday, October 24, 2006 5:54 PM
Subject: Vince Lombardi, Jr.
Becky,
I read in your article about Vince Lombardi. When I went to sign my contract in 1976, I went to the A.G.C. Building on Lake Union. The top floor was the front office for the Seahawks. Vince Lombardi, Jr. facilitated the contract signing. I was thrilled. Growing up as a kid I was a huge Packer fan. Bart Starr, Boyd Dowler, Ray Nitchke to name a few. Wow, they were awesome! I was thrilled when I signed my contract and eager to share my thoughts about Vince's dad to Junior. That was a highlight of my professional career.
Dan Smith