John Didion was there!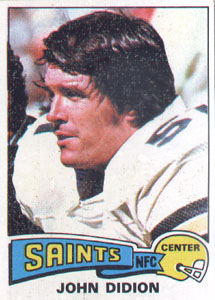 Pre-76
All-America selection
East-West, Hula Bowl, Senior Bowl and Coaches All-America all-star games
Drafted 1969 (Washington)
Signed by Saints 1971
Signed by Bears 1975
Saints MVP 1974

Meek Redskins Inherit 45-21 Loss to Dallas
Source: www.washingtonpost.com
Monday, November 23, 1970
By Dave Brady
Washington Post Staff Writer
The Redskins were less than savage yesterday and their paying guests were outright hostile about it.
The customers at RFK Stadium were venting a week-old rage even before kickoff because the athletes had succumbed to a 21-0 fourth quarter by the New York Giants. They had to suffer another one in the second period by the Dallas Cowboys.
By the time the Redskins had fumbled two touchdown opportunities to the Cowboys, treated Mark Washington to a 100-yard kickoff return with unprofessional tackling, and center John Didion made another touchdown a snap with a herculean effort, the Cowboys were 45-21 winners.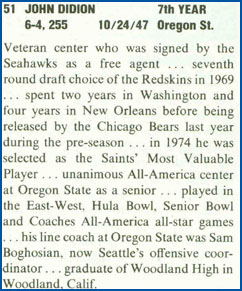 Oregon State To Honor Giant Killers At UCLA Game
1967 team will be celebrating their 35th anniversary.
CORVALLIS-The 1967 "Giant Killers," one of the greatest teams in Oregon State football history, will be honored at Reser Stadium on October 5 when the Beavers host the UCLA Bruins.
The '67 Giant Killers, coached by Dee Andros, will be celebrating their 35th anniversary when they reunite in Corvallis.
The 1967 OSU squad finished the season 7-2-1 that year and posted memorable victories over Purdue, then ranked No. 2 in the nation, tied UCLA, then ranked No. 2 in the nation, and defeated the No. 1 ranked USC Trojans, led by Heisman Trophy winner O.J. Simpson, 3-0 at Parker Stadium.
It was the only loss USC would suffer on the season en route to winning the Rose Bowl and the National Championship. The Beavers finished second to the Trojans in the final AAWU standings. In those years, only the league champion was eligible to play in a bowl game.
Oregon State finished the 1967 season ranked seventh in the nation on the final Associated Press poll.
Andros' coaching staff included Sam Boghosian, Bud Riley, Ed Knecht, Rich Brooks, Earl Lunsford and Bob Herndon.
Members of the 1967 Oregon State squad included Louis Armstrong III, LB; Duane Barton, FB; Rex Behnke, HB; Jerry Belcher, HB; Ron Boley, DT; Dale Branch, DT; Roger Cantlon, SE; Gary Cantwell, PK; Clayton Calhoun, E; Sal Cirrincione, FB; John Davis, OG; Steve Davis, SE; John Didion, C; Mel Easley, DB; Bill Enyart, FB; Mike Foote, DE; Tom Greerty, DT; Mike Groff, LB; Harry Gunner, DE; Mike Haggard, PK; Dan Harper, DT; Rick Harrington, DB; Gary Hartman, DE; Gary Houser, TE; Lee Jamison, OT; Bob Jeremiah, DL; Wally Johnson, LB; Bob Jossis, LB; Rich LaSalle, DE; Jess Lewis, DT; Bill Main, HB; Dave Marlette, OG; Bob Mayes, QB; Joe Mihelich, OG; Fred Milton, LB; Mike Mitchell, QB; Gary Neal, DT; Bill Nelson, DL; Charlie Olds, DB; Rick Olsson, DB; Bill Plumeau, TE; Steve Preece, QB; Rocky Rasley, OG; Larry Rich, S; Nick Rogers, TE; Jon Sandstrom, DL; Jim Scheele, DB; Ken Scott, OT; Steve Shaw, DE; Clyde Smith, OG; Ernie Smith, DB; Van smith, OT; Roger Stalick, OT; George Stursa, DL; Don Summers, WB; Skip Vanderbundt, LB; Chris Wahle, DL; Mark Waletich, S; Don Welch, DB; Doug Wells, OT; Mike White, C; Don Whitney, DB and Alan Young, SE.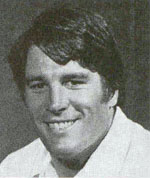 Ex-NFL Center Probes High-Profile Murder
Source: Ohio.com
Posted on Wed, Sep. 03, 2003
JIM COUR, Associated Press
SOUTH BEND, Wash. - After blocking for New Orleans Saints quarterback Archie Manning against NFL greats in the 1970s, John Didion sought a quiet life in small-town law enforcement. But he finds himself thrust back into the spotlight by a gruesome torture-slaying.
Didion settled in southwestern Washington's Pacific County, near the ocean and far from the bright lights and cheering crowds of professional football. He became the county sheriff, in charge of 14 deputies, a job that often involves calming rowdy teenagers and tracking down drunken boaters.
Now, Didion, 55, is investigating a case in which a couple from nearby Raymond has been charged with killing three people who lived with them in a little red farmhouse.
"It's a case where we have to rise to the occasion," Didion said. "We're doing our best to investigate it professionally and thoroughly and we're doing that."
Didion said he would have preferred to have the sleepy pace of life in Pacific County continue. The sparsely populated area is known for its timber and fishing industries, prodigious rainfall and Cape Disappointment, where Lewis and Clark reached the Pacific Ocean - not murders.
The county has never seen a case like this. Neither has the 6-foot-4, 295-pound Didion.
David Knotek, 50, has pleaded innocent to charges of first-degree murder, rendering criminal assistance and unlawful disposal of human remains.
His wife, Michelle Knotek, 49, pleaded innocent to two counts of first-degree murder, but the charges have been downgraded to second-degree murder or first-degree manslaughter.
The Knoteks are jailed on $5 million bail.
Michelle Knotek is charged in the deaths of Kathy Loreno, a 36-year-old hairdresser who was reported missing in 1994, and Ronald Woodworth, 57, who disappeared last month. David Knotek is charged in the shooting death of Shane Watson, the couple's 19-year-old nephew, who disappeared after Loreno was last seen.
Witnesses have said Michelle Knotek abused and tortured Loreno and Woodworth. Investigators allege Watson was killed because he took pictures documenting the abuse of Loreno.
In affidavits, authorities say David Knotek confessed to shooting Watson and led them to the grave of Woodworth, whom Knotek said he buried in the backyard. Human remains were unearthed, though they have not been positively identified.
"Stuff like that doesn't happen around here," said Bob Lund, 25, who works in a gas station near the county courthouse. "Not much goes on here, not much at all. It's pretty crazy."
Jim Kuhn, 72, a former logging truck driver, praised Didion's efforts: "I think the sheriff is handling this good."
Didion became a deputy in 1978. He was elected to his first four-year term as sheriff in 1998 and re-elected in 2002.
He joined the NFL in 1969 with the Washington Redskins out of Oregon State. He then played five seasons as a center for the Saints.
After the 1975 season, Didion, bothered by a bad back, knees and shoulders, left professional football.
Didion's top salary in the NFL was $50,000, but he doesn't begrudge today's NFL stars the millions they make. He just wishes he had some of that money to help pay overtime bills that come with his current job and the Knotek probe.
"It gets frustrating when my office, in particular, has been struggling so desperately for funds," he said.

OSU Sports Hall of Fame - Football
Year inducted in parentheses
John Didion (1991)
In 1968, Didion earned consensus All-American honors as a center. As a junior, he was a second team All-American selection by AP and UPI. At the conclusion of his college career, he played in the Coaches All-America, Senior Bowl, Hula Bowl, College All-Star, and East-West Shrine games. He was drafted in the seventh round by the Washington Redskins, and enjoyed a pro career that included stints with the Redskins, Saints, Bears, and Seahawks.
Seahawks cut trio
The Daily Chronicle
Wednesday. August 31, 1976
CHENEY (UPI)'- Three roster cuts were made Tuesday by the Seattle Seahawks of the National Football League. Those cut were wide receiver
Bill Lide
, center
John Didion
and rookie tackle
Dan Smith
. Lide is a one-year veteran who signed as a free agent with Seattle, Didion a seven-year veteran from Oregon State and Smith was from Washington State.
Collecting John Didion?
1975 Topps #162