Bill Lide was there!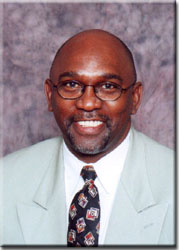 Pro!, The Official Magazine of the National Football League
Seahawks Edition
Aug. 14, 1976
Bill Lide is a free agent candidate from Johnson C. Smith who had a brief trial with the Houston Oilers. One of Lide's assets is his 9.3 100-yard dash speed.
First Cut of Seahawks' Roster May Come Today
By Don Fair
P-I Sports Writer
The fastest players by position were:
Darwin Robinson
, running backs;
Rolly Woolsey
, defensive backs;
Jerry (Horse) Lee
, defensive linemen;
Steve Duncanson
, offensive linesman;
Greg Gibson
,
Bill Lide
, wide receivers;
Rick Engles
, kickers; and
Scott Christman
, quarterbacks.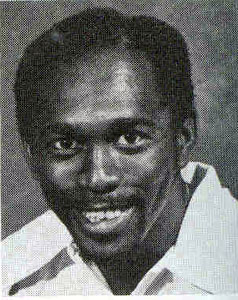 Athletic Director - DR. WILLIAM E. LIDE
The University of Central Arkansas named Dr. William E. Lide as director of athletics at a press conference on Wednesday, June 21, 2000.
He comes to UCA from North Carolina Central University in Durham, N.C. where he was director of athletics for the past five years.
"We are very pleased to welcome Bill Lide to Arkansas,' said Dr. John Smith, vice president for financial and administrative services and chair of the search committee. "We are impressed with his experience, his vision and his energy, and we are happy that he has accepted the challenge to lead UCA athletics and provide leadership as we seek to advance our program in the Gulf South Conference and NCAA Division II.'
Smith said Lide received high marks from all the groups who interviewed the finalists last week, including administrators, faculty, staff, students and media.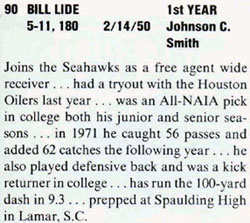 "The consensus seemed to be that he is the right man at the right time for UCA,' Smith said.
Lide received his bachelor's degree in physical education from Johnson C. Smith University in Charlotte, N.C., in 1973, a master's degree in education administration from the University of North Carolina at Charlotte in 1976, and a Ph.D. in physical education and administration from Ohio State University in 1980.
The Darlington, S.C., native began his career as an assistant football coach and head track coach at Eastville, Va., High School, and after a brief stint as a wide receiver with the Calgary Stampeders in the Canadian Football League, he became an assistant football coach at his alma mater, Johnson C. Smith.
He spent two years at Ohio State, one as a graduate assistant under Woody Hayes and another as an academic counselor, while working on his Ph.D, and then returned to Johnson C. Smith as director of athletics, chairman of the department of physical education and tennis coach.
He was director of the department of physical education, recreation and sports studies at Winston-Salem, N.C. University from 1984-87, and served as director of athletics and campus recreation at Salisbury, Md. State University from 1987-93, overseeing a 17-sport program.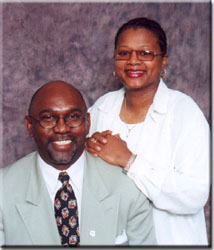 He was director of athletics at West Chester, Pa., State University for two years for a 23-sport program before going to North Carolina Central as director of athletics in 1995. NCC has 13 sports.
"My philosophy of a successful athletics program involves high graduation rates; a vibrant fund raising, marketing and promotions program; strong grade-point averages; a quality academic support center; broad-based competitive teams for men and women; a qualified staff that is diverse in nature; and an exceptionally strong compliance program,' Lide said.
UCA has had interim athletic directors since January 1999 (see below) after a search was conducted to replace the retiring Bill Stephens. In April, the university announced it would go back to one director and began the current search.
Lide will be the sixth person to hold the position at UCA. Frank Koon was the first to be identified in the institution's official academic catalog as athletics director in 1955, and he served until 1970. Since then, the ADs have been Cliff Horton (1970-79); Dr. Sid Simpson (79-81); Rex Lovell and Bill Stephens (81-88) and Stephens (88-99).
UCA offers 12 sports and has been a member of the Gulf South Conference since 1993.
Lide and his wife Cheryl have four daughters, Desiree (16), Amber (13), Lindsey (10) and Kristen (7).
Seahawks cut trio
The Daily Chronicle
Wednesday. August 31, 1976
CHENEY (UPI)'- Three roster cuts were made Tuesday by the Seattle Seahawks of the National Football League. Those cut were wide receiver
Bill Lide
, center
John Didion
and rookie tackle
Dan Smith
. Lide is a one-year veteran who signed as a free agent with Seattle, Didion a seven-year veteran from Oregon State and Smith was from Washington State.