Game Day:
...the '84 team landed seven players in the Pro Bowl
Continue reading
Statistics: Season Summaries and amazing honors
Continue reading
What We've Overheard: "He can make plays like nobody can." -- Seattle coach Chuck Knox
Continue reading
What You Say: "Kenny Easley was the best Free-Safety that I've ever seen! He was a magnificient blend of aggression & finesse!"
Continue reading
Ring of Honor: "From the time Kenny came into the league, he was one of the top one or two safeties in the league. He came in with a splash, and he brought the whole package." -- Nolan Cromwell
Continue reading
The Way it Was: KENNY Easley, the finest defensive player to wear a Seattle Seahawks uniform, has faced more adversity than his 31 years deserve. If his kidney had not betrayed him, he'd surely still be the Pro Bowl safety he so often was.
Continue reading
"Boy, I hope I don't get drafted by those Seahawks."

-- Kenny Easley, Draft Day, 1981






Kenny, We're SO Glad You Did!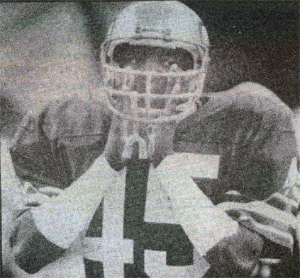 In 2002, Kenny Easley was inducted into the Seahawks Ring of Honor. After a very long wait, after much sadness and sorrow, we were finally able to put the past to sleep and honor him the way he deserves to be honored!
No one can dispute the greatness of "The Streak". He holds a cherished spot in the hearts of Seahawks fan, and I'm thrilled that his name is forever enshrined in the Seahawks Ring of Honor! The story of his beginning is below. The story of his success can be found on following pages.

Source: Inside the Seahawks, Vol 1, No 24, March 13-April 16, 1987
Easley: An honor to be 1st-rounder
By Kenny Easley
Draft Day 1981:
7:46 a.m.: Is this really happening?
The phone rings. I answer and somebody is asking to speak with Kenny Easley. Politely I explain that I'm Kenny Easley, but that I can't tie up the phone because I'm expecting a draft call later.
The voice on the other end tells me to wait a minute because he is going to put Coach Patera on the line.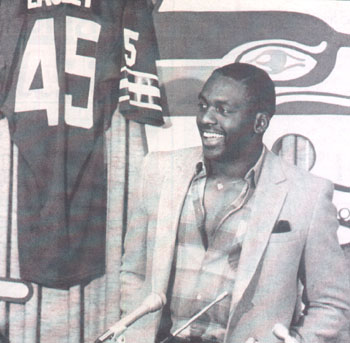 I say to myself: Who?
I still have no clue that I've been drafted by the Seahawks.
In fact, my only knowledge of the Seahawks was a single pre-season game that I saw and a USO radio broadcast I heard while in Japan to play in the Japan Bowl. The game was the Thanksgiving Day pummeling by Dallas of the Seahawks to the tune of 50-something-to-something. I can remember thinking as I listened to that game, "Boy, I hope I don't get drafted by those Seahawks."
7:47 a.m.: Meet the Coach
Coach Jack Patera comes on the phone and says, "Kenny, I just wanted to be the first to congratulate you on being selected as our No. 1 draft pick."
I am stunned, shocked, my tongue freezes, and it ever so slowly dawns on me that I've been drafted and that my new coach is talking to me on the phone.