Game Day:
...the '84 team landed seven players in the Pro Bowl
Continue reading
Statistics: Season Summaries and amazing honors
Continue reading
What We've Overheard: "He can make plays like nobody can." -- Seattle coach Chuck Knox
Continue reading
What You Say: "Kenny Easley was the best Free-Safety that I've ever seen! He was a magnificient blend of aggression & finesse!"
Continue reading
Ring of Honor: "From the time Kenny came into the league, he was one of the top one or two safeties in the league. He came in with a splash, and he brought the whole package." -- Nolan Cromwell
Continue reading
The Way it Was: KENNY Easley, the finest defensive player to wear a Seattle Seahawks uniform, has faced more adversity than his 31 years deserve. If his kidney had not betrayed him, he'd surely still be the Pro Bowl safety he so often was.
Continue reading
What We've Overheard!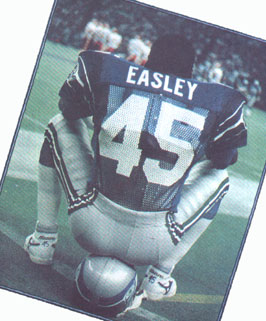 "He can make plays like nobody can." -- Seattle coach Chuck Knox
"[He is] extremely aware of trying to get the football away from the other guy, constantly looking for that opportunity." -- Seattle defensive coordinator Tom Catlin
"I just have a lot of confidence in what I'm doing." -- Kenny Easley
"One of the most vicious tacklers ever. I mean, he lathers the ball carrier." -- Seahawk guard Reggie McKenzie
"I'd have to think a long time before I could come up with the name of another starter who ever volunteered to run back punts." -- Seattle Coach Chuck Knox about Kenny Easley
"Kenny was a tremendous player from Day One. He was just dominant." -- Jim Zorn, Seahawks QB Coach
Source: Sports Illustrated
Seahawks fans remember the heartbreakers
CNNSI.com looked at a few of the transactions that made Seahawks fans shout, "Say It Ain't So." Then we opened the mailbag and let users vent on those and other dirty deals from over the years. Here is a sampling of your reactions:
Kenny Easley was not the most popular Seahawk. That was always Steve Largent, Curt Warner, Dave Krieg/Jim Zorn, Dr. Dan Dornick, Daryl Turner and so on. But, Easley was the favorite of all the real fans. The ones that know the difference between strong side and weak side, what a clip is, and why Ken Behring was evil.
In 6th grade, we learned how to write a business letter and were told to write to anyone of our choosing. Most of the kids choose Reagan or Largent. I choose Easley. We sent off our letters and we waited. In two weeks, letters started to return. Reagan sent out brochures on the Whitehouse, Largent an autographed picture, I got nothing. In two months time everybody had recieved something but me. I was bummed.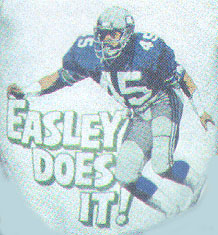 In June, three days before the school year ended, I got a big manila envelope with the Seahawk emblem. It was from Kenny Easley. In it was an autographed 8x10 saying "Best Wishes, Kenny Easley", a letter apologizing for the delay in response, a signed football card, Jacob Greene's, Joe Nash and a couple of other defensive players. I was the happiest kid. I bragged and showed. I said "Largent only sent you a picture, I got a ton more stuff then that."
I still have all that stuff. It is not valuable. Becketts doesn't put a price on it and Easley was gone from the team in a year's time. In two years no one rembered him. No more jerseys, posters, no more talk about the Enforcer. No one cared that this man would return punts, when Bobby Joe Edmonds got hurt. That he was a team captain. That we was the team Union rep, in this so called union town. That team negligence had cost him his career, his health and almost his life. Nothing.
I still love Kenny Easley, as much for the letter and picture, for his fearless hitting. This town has not replaced him.
David Zere, Kent, Wash.
Source: Football Stars 1985 by Kevin Lamb
Kenny Easley: The Ball Stops Here
Easley is the spiritual and physical leader of the gang that led the NFL with 25 fumble recoveries and 38 interceptions - the most in the NFL since 1961 - for 63 takeaways, just five short of a 23-year-old record. Their plus-24 turnover difference led the league. That's why they went 12-4 and made the playoffs.
When it was time to choose the NFL's Defensive Player of the Year, Easley was a natural. He represents all that is good about the Seahawk defense.
Easley plays with the fury that makes him an ideal catalyst for such an up-from-nothing team. At UCLA, he was the team's intimidator. He shaved his head before each season. He was not given assignments so much as he was unleashed. He played every game as though he had just escaped from a sealed jar after 700 years.
Easley was athletic enough to turn down basketball scholarships from Big Ten and Atlantic Coast Conference schools. He played junior varsity basketball at UCLA, which has a fair tradition in hoops. Scouts compared him with Marques Johnson. The Chicago Bulls picked him in the last round of the NBA draft. When he played quarterback at Oscar Smith High School in Chesapeake, Virginia, he was the first player in the state to gain 1000 yards both running and passing on one season.