Game Day

Seahawks Stop Fouts, Chargers, 24-0
From News Services, Washington Post
October 30, 1984
SAN DIEGO, Oct. 29, 1984 -- Dave Krieg passed for 282 yards, Steve Largent caught three touchdown passes, Kenny Easley had three interceptions and the Seattle Seahawks easily beat the San Diego Chargers, 24-0, tonight.
The Seahawks sacked Chargers quarterback Dan Fouts six times and forced three turnovers as San Diego suffered its first shutout since a 7-0 loss to Denver in 1979. Seattle improved to 7-2, good for a second-place tie with the Los Angeles Raiders, one game behind the Broncos in the AFC West. The Chargers played without injured receivers Kellen Winslow and Wes Chandler and used No. 2 tight end Pete Holohan sparingly. San Diego fell to 4-5, all the losses against AFC West opponents, and severely hurt its playoff hopes.
Krieg, who entered the game with a 53 percent pass completion rate, completed 23 of 29 passes against San Diego's inexperienced secondary. He directed touchdown drives of 96, 81 and 63 yards.
Largent, who has caught passes in 100 straight games, caught scoring passes of 11, 13 and 16 yards. His first touchdown catch was his first reception of the night, the fifth straight game he has done that.
Easley, a fourth-year pro from UCLA, squelched three drives. He intercepted passes at the Seahawks' four-yard line in the first quarter, the six in the third and the eight in the final period.
Twice Krieg passed to Largent for touchdowns in the first half, and Norm Johnson kicked a 42-yard field goal for a 17-0 lead at intermission. Largent's third touchdown pass came on the team's second possession of the third quarter, after Easley had intercepted Fouts at the Chargers six and returned it 32 yards.
San Diego's offensive line collapsed around Fouts. The Seahawks got 47 yards in sack losses against Fouts, who managed to complete 24 of 39 passes for 200 yards.
Krieg directed two long touchdown drives in the first half and the Seahawks turned two San Diego turnovers into 10 points.
Fouts took the Chargers to Seattle's 39-yard line on the team's second series, but a flea-flicker from Lionel James to Bobby Duckworth was stolen by Easley at the four.
Krieg got the team to the 27 with a 13-yard completion to Byron Walker, then threw a perfectly placed 60-yard pass to Darryl Turner, who beat defenders Gill Byrd and John Turner and came down on the San Diego 13. Two plays later, Largent beat Byrd for an 11-yard touchdown.
Seattle and San Diego both were limping. The Seahawks, who lost running back Curt Warner in the season opener, have seen wide receiver Paul Johns, defensive back Don Dufek, tight end Pete Metzelaars and linebacker Michael Jackson go down with injuries.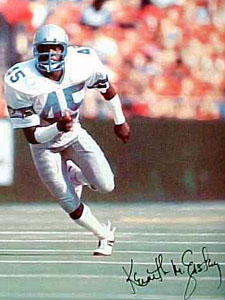 Aug 9, 1998
HAWKS OOZE TALENT - ENOUGH TO BE COMPARED TO 12-4 CLUB IN '84
By Dave Boling
News Tribune columnist
After racking up those 12 triumphs, the '84 team landed seven players (quarterback Dave Krieg, receiver Steve Largent, safety Kenny Easley, nose guard Joe Nash, Brown, kicker Norm Johnson and special teams standout Fredd Young) in the Pro Bowl, with two as alternates (defensive end Jacob Green and back Eric Lane).
And while the 1984 defensive front of Green, Nash and Jeff Bryant was extremely effective, the '98 wall of Sinclair, Adams, Kennedy and Phillip Daniels should be far more disruptive to opponents.
The current offensive front, meanwhile, might be better at every position than the 1984 group. McKenzie was excellent, but aging; Blair Bush and Bob Cryder had been first-round picks. But the current group has a pair of former Pro Bowlers, a pair of first-rounders and a starter off the defending Super Bowl champs.
The 1984 team, without question, benefited from several giant playmakers.
Easley was that season's NFL Defensive Player of the Year, and Largent went on to the Hall of Fame. Their influence is immeasurable. Krieg, meanwhile, was extremely inventive at quarterback, and Young was a special teams terror.
However, Galloway, Kennedy, Adams, Brown, Moon, Darryl Williams and Ricky Watters all have the capacity to individually influence the outcome of games this season.
The strength and character of the current team remains undefined, but Brown can point to the power source of the 1984 unit without hesitation.
"It was our unity; we always remembered we were a team," he said. "There was a pride, an integrity there. Every player had the drive to be the best he could be so the team could be the best it could be. There was nobody going to convince us we weren't going to the Super Bowl."
And so it comes down to this: If the talented 1984 team was to match up against the 1998 club - which has yet to compete in a single regular-season game - who would win?
"If you lined them up, this team against that team, I think this team wins," Wright said, "because there's so much speed and defensively dominating players."
Brown just wants to wait and see.
"These are talented guys, but this team hasn't done anything yet," Brown reminded.
"Between the two, though, I'd have to say our bunch."
Why?
"Because everybody knows they don't make 'em like they used to."

Source: Inside the Seahawks, Vol 1 No. 12, October 24, 1986-October 30, 1986
"Our Best Performance of the Year"
The Seahawks played without All-Pro safety Kenny Easley, who underwent arthroscopic knee surgery the Monday preceding the Giants game. Easley, however, is expected back next Sunday, when the 'Hawks take their show to Denver for an AFC West show-down matching the division's top two teams.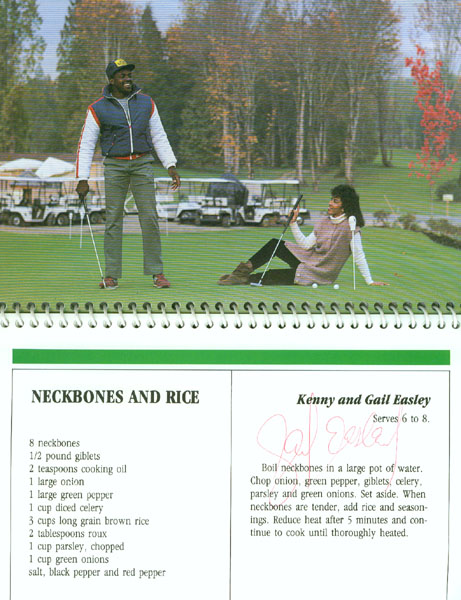 Chiefs' quarterbacks help set record
In joint effort with Seahawks' defensive unit
Nov. 5, 1984
The Capital Sports
Three Kansas City quarterbacks combined for a National Football League record-breaking performance. Unfortunately for the Chiefs, the records were racked up by the Seattle Seahawks' defense.

Six times the Seattle defenders picked off Kansas City passes, and they returned four for touchdowns - an NFL record - as the Seahawks routed the Chiefs 45-0. Defensive backs Dave Brown, Keith Simpson and Ken Easley returned the interceptions for touchdowns as the Seahawks set another league record with 362 return yards.

Brown, one of four remaining original members of the Seahawks, who entered the league in 1976, picked off a Bill Kenney pass and streaked 95 yards for a score, then later returned a Todd Blackledge pass 58 yards for another TD. The two interception scores tied another record.