Game Day:
...the '84 team landed seven players in the Pro Bowl
Continue reading
Statistics: Season Summaries and amazing honors
Continue reading
What We've Overheard: "He can make plays like nobody can." -- Seattle coach Chuck Knox
Continue reading
What You Say: "Kenny Easley was the best Free-Safety that I've ever seen! He was a magnificient blend of aggression & finesse!"
Continue reading
Ring of Honor: "From the time Kenny came into the league, he was one of the top one or two safeties in the league. He came in with a splash, and he brought the whole package." -- Nolan Cromwell
Continue reading
The Way it Was: KENNY Easley, the finest defensive player to wear a Seattle Seahawks uniform, has faced more adversity than his 31 years deserve. If his kidney had not betrayed him, he'd surely still be the Pro Bowl safety he so often was.
Continue reading
What YOU Say about Kenny Easley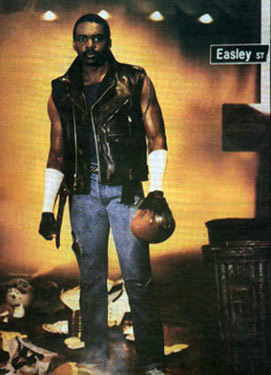 From: WOODYRIZIN@aol.com
Sent: Saturday, August 04, 2007 9:58 PM
Subject: Dr. Death

Ken Easley @ UCLA was a great Time
From: Jill Spells
Sent: Saturday, March 10, 2007 1:04 PM
Subject: Kenny Easley

I attended college with Kenny Easley at UCLA, and he was one of those atheletes that could do EVERYTHING well, and seemingly with ease. Not only that, he had a brain to go with it, and personality galore! I ended up moving to South Texas, so I couldn't keep up with his career. I just found out he had kidney problems due to Ibuprophen use. I have a 17 year old who is great DB, but unfortunately ends up taking the same medicine all too frequently.

How the heck can I track Kenny down to see how he's doing, AND, get some advice for my son??????

Thanks for any help you can give!
JSpells - Bruin4VR

From: Jason DeBaca
Sent: Saturday, January 06, 2007 2:57 AM
Subject: Ken Easley jersey hunt
Dear Becky,
I'm with you completely, growing up in Seattle--Easley was by far (besides Largent) the best player. For the past week or so I have been looking for a Easley jersey with absolutely no successes. After painfully searching the Internet for hours at end focused on this task--I still have not been successful. Your web site has brought me to believe that you are the absolute authority on Easley. With that said I was hoping you could guide me in the right direction in my search for a Easley jersey.

Thanks, I appreciate your help in my search.

Jason De Baca


From: Becky S
Sent: Saturday, January 06, 2007 2:49 PM
To: 'Jason DeBaca'
Subject: RE: Ken Easley jersey hunt
Hi Jason!
Believe me, I know how hard it can be to find a throwback jersey. When Dave Krieg was being inducted into the Ring of Honor, I looked high and low for a Krieg jersey to no avail. I've found them since then, but at the time they were nowhere to be found.

Easley jerseys are the same way. I have written to the Seahawks and begged them to offer more throwbacks. They seem to appear on the market in spurts – you'll find a dozen players … then NONE. I think your answer is persistence. My suggestion would be set it up as a search in eBay and have them notify you when one becomes available. Chances are when they have one, you'll start seeing them on other fan merchandise sites. Also, every so often a case of new original jerseys from the blue and green days seem to pop up on eBay. I bid on a number of them, stopping when they got around $150. They sold VERY well, and there were dozens of them, new with tags. I've yet to find any bargains when it comes to throwbacks, unfortunately.

Good luck, and thanks for visiting my site.

Becky

From: Mark Stevenson
Sent: Sunday, November 20, 2005 1:02 PM
Subject: Kenny Easley
Was the best db I had ever seen. Nobody dominated a game from that position before or since. Too bad his career was cut short. Ronnie Lott was great, but not as great as Easley during those years.
From: Trevor Rysavy, Strathmore, Alberta, Canada
Sent: Friday, November 14, 2003 5:39 PM
Subject: Kenny Easley Tribute
Thanks for putting tribute to the finest Seahawk ever to play the game. Although many other players may have better numbers there was never a better safety than Kenny Easley. Let's hope that one day the Hall of Fame recognizes his defensive dominance of the game and enshrines him in Canton.
From: Sharpclaw
Sent: Wednesday, November 05, 2003 2:13 PM
Subject: S Kenny Easley
Thank you for an enjoyable read and the great photos. It's always nice to take a leisurely stroll down memory lane. IMO, S Kenny Easley was the finest defensive player ever to put on a Seahawk helmet.
Nice work.

Nice addition!
Posted by Pat on 11/6/2003, 9:08 am
I love the Easley presentation. Are you going to cover other players on a monthly basis? I'd love to see you cover Joe Nash next.

Mama Blue (on Kenny Easley's induction into the Ring of Honor)
I just thought he was the greatest thing since puffed wheat. For what he did for the team, for what he did for everybody. I don't know, we just had such a good rapport. I have the neatest letter that he sent me back in 1990, I just went back and read it this morning. That was when he had his first kidney transplant, and he's had both of them done. The only way that I can explain it is that he thought I was very sincere about my feelings toward him being in the Ring of Honor. I wrote him a letter and asked him if I could put it out toward the fans and they could vote. He had the lawsuit going and there was a lot of stuff going on, you know? I wrote him and told him that I'd never step over the boundary, that if he didn't want be there, then I didn't want to be intrusive and go that way. He said that he'd appreciate it, and "we'll just see what happens." It's been a lot of years, and at Christmas time I got a neat card from him. Hold on, I'll read what he said. He sent Dick and I an anniversary card from the Norfolk Nighthawks—his football team in Virginia. He said: "Mama Blue, it's always so nice to hear from you. Merry Christmas to you and Dick and I wish you guys a playoff"—hello!—"New Year's. It appears you guys are doing well rooting for the Seahawks. We will see about the Ring of Honor. If it does happen, I want you to be a part of the ceremony. Gary Wright has told me what an advocate you've been on my behalf. Wishing you guys well. Kenny Easley." Now, you don't get a letter any better than that. And I've got to tell you, when he called me on Monday he says—in his cool voice—he says: "Mama Blue? It's Kenny Easley." "Be still my heart!" I said. "I'm an old lady. You can't be calling up just like that." "I just thought I'd tell you that I talked to Gary Wright. The ceremony's going on and you're going to be part of it." I do not want to be up on the stage, because I think that should be family. I don't need that kind of thing. I will be on the field and will greet him going out and greet him coming back. That makes my day. I hope I can hold up. I'm going to put lights in my hair for Monday night, and if they skyrocket, oh well.
Doughtie Marshall
To help you out, Kenny is back home in Virginia and is co-owner of the Arena Football League Norfolk Nighthawks with Washington Redskin and former Buffalo Bills superstar Bruce Smith.
Dan Cooper
Thanks for such a great website. I really appreciated the part about Kenny Easley. I used to have arguments in school about who was the best Seahawk - Kenny Easley was always my vote.
Leonard Carter
Kenny Easley was the best Free-Safety that I've ever seen! He was a magnificient blend of aggression & finesse! He was such a physical specimen that during training camp, in Cheney (100+ degrees) Kenny would wear a wind-breaker under his pads just to make him sweat a little more! In-between the Two-a-day work-outs while other players were dying, he would be out shooting Hoops!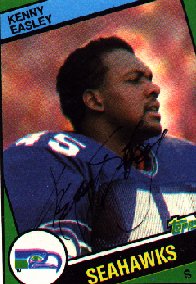 Phyllis Nygaard
This man should have his name in the ring of honor beside Steve Largent. I am sure that 99.9% of the fans would agree with this. He was pretty bitter towards the Hawks re his medical condition but I have read somewhere (can't remember where) that he has now joined the Alumni. Do you know if this is fact? I had heard previously that he was also voted to go up on the ring of honor but he refused. If he has mellowed and is in fact back in the fold, he should have a day in the Kingdome and be honored as he most certainly deserves. He was the best. I have not seen anyone who could play the game like him as he put his whole heart and sole in his game. I would appreciate if you could email me back if you have any additional inf. Thanks.
Leonard Grove, Washington
I have been a devout Hawk fan since the beginning of time...Steve Largent should be President...Ken Easley for Attorney General and Dan Doornink for Foreign Relations. I had the pleasure of meeting some of these fantastic personalities years ago...as at one time I was drawing cartoons for the "Inside the Seahawks" magazine of which Mr. Easley owned at the time. .....then the strike came about and Ken was "elected" to be the west coast rep and subsequently traded to the Cardinals and of course had kidney problems that terminated his brillant career. At the beginning of the strike the Hawks were practicing at a middle school in Kirkland that my 10 year old daughter was attending....and after school she commented to her classmates that her pappy knew Ken Easley and drew cartoons for his mag and was immediately jeered for spinning tall yarns....so, what must have been a collosal act of courage for a ten year old..she approached Ken and blurted out..."Do you know my dad?" That resulted in the query..."Who is your dad?" and my daughter gave him the name and he warmly responded with a brief chat that freaked her friends out... In any event it must have taken a great deal of courage to approach Ken...but that is the caliber of pro athletes to stop and visit with a 10 year old girl.
Does anyone out there know where Ken Easley is now, and where is Rusty Tillman? Thank you.
Long live the Hawks! This is our year...Stir up the Raider fans!!!!!!!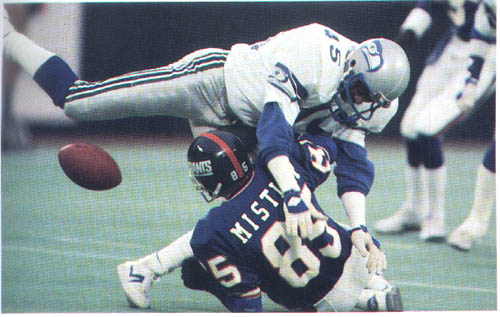 Ainsworth Pride
The reason your Seahawks page compelled me to write you is that you included Kenny Easley as a Hall-of-Fame Seahawk. I completely agree, but a surprising amount of people, especially my age, have never even heard of him (I'm 19). And an even fewer amount, meaning you are the first person, have heard of Daryl Turner, who until Joey Galloway, was the second best receiver in Seahawk history. I first started watching football in that 1986 season, which happens to be the best Seahawk team ever, in my opinion.