Ken Geddes was there!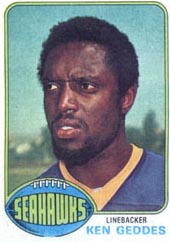 He is a success story on and off the field, as is his daughter Meghan who is an accomplished basketball star.
Pre-76
All-Big Eight selection
Recipient of Hospital Charity Fund's Red Rose Award for outstanding community service
Drafted 1970 (Lions)
Signed by Rams 1971

All-Time Nebraska Football Hall of Fame Members
Ken Geddes, Nebraska,1967-69 (1996)
Seattle Draft: 'Good Job'
Don Kosterman, executive vice-president and general manager of the Los Angeles Rams, offered, "Seattle took one of our very best in Ken Geddes, but 32 players were all we could protect. We took a chance and lost on him.
Gil Brandt, who has spent 17 years discovering players as Dallas' vice-president in charge of personnel development, added, "Seattle made some excellent choices. They got a good blend of players like Hoaglin, McMillan, Curtis, Geddes that can come in and lead stability.
"And they got good young guys, like the two from us (tight end Ron Howard, cornerback Rollie Woolsey). They have good possibilities for the future."


Ken Geddes started at left linebacker and helped his team to win three consecutive Western Division titles.
Pro Football 1976
by Larry Felser and Dave Klein
First of all, Seattle had the right to choose 39 veterans from lists submitted by the established franchises. And Patera, for years the defensive line coach for the Vikings, was honestly surprised at the quality of players available, especially the defensive performers. Patera came away with linebackers, for instance.
Boy, did he come away with linebackers! His starting trio would appear to be Ed Bradley in the middle with Ken Geddes and Ken Hutcherson on the outside.
Bradley, from the Steelers, filled in for Jack Lambert in Super Bowl IX and damn near came away with the MVP Award. He said all last season he hoped to be taken by Seattle or Tampa Bay because "I won't get a chance to play behind Jack, and I know I can be regular." He is, and existing clubs were a bit surprised he was made available. Many of them might have chosen to trade for him.
Geddes has been an LA regular for three years, and each of those years enhanced the Rams' defensive image. He's tough; big and has even more experience than Bradley.
Bradley could have started for the Steelers if Jack Lambert wasn't there. Geddes did start, for the Rams, and he played championship ball. Hutcherson, a bit short but very quick and strong, will find a spot. Curtis, once All-Pro, will back up the middle and help the kids. Green, the No. 2 pick, will get into the thick of competition and could win a spot. Hansen, a veteran noted for meanness, will help. Jones made a big name for himself in college.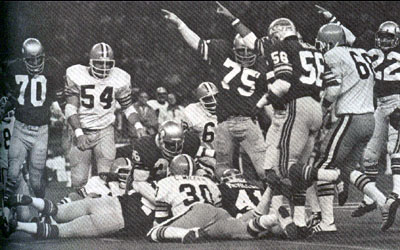 San Francisco vs. Seattle
Oakland Tribune
Thursday, September 23, 1976
DELVIN WILLIAMS vs.
KEN GEDDES
- Williams keys 49er running game and is one of most underrated and best runners in league. He gets the edge here, because Geddes is not his equal in open field and does not often receive the help he needs on sweeps from the corners.
RON HOWARD vs. SKIP VANDERBUNDT - Howard is Seahawks' top receiver with 10 receptions for 136 yards and has good hands. Zorn always looks to him in clutch situations. Howard, who only played basketball in college, has the edge here.
[Headline unknown]
The Seattle Times
By Gil Lyons
August 1, 1976
The Seattle Seahawks will strive for a "first" today when the National Football League opens shop in the Kingdome.
No expansion team has ever won a first exhibition test, dating back to the Dallas Cowboys in 1960.
Seattle's long-awaited debut in the NFL will begin at 1pm against the rebuilding San Francisco 49ers before what should be a capacity crowd of nearly 65,000.
Seattle's defense, led by such established players as Mike Curtis, Ken Geddes, Don Hansen, Eddie McMillan and Al Matthews, is rated fairly strong, although the pass rush is suspect. The top two rookies, Steve Niehaus at defensive tackle and Sammy Green at outside linebacker, will play.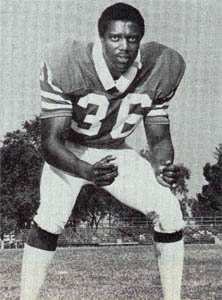 MAN OF THE YEAR
Source: Pro! The Official Magazine of the National Football League
Seahawks Edition
Detroit vs Seattle
October 24, 1976
Today is Ballot Day at the Kingdome for 1976 voting for the Dodge-NFL Man of the Year award, a unique competition that honors the leading "citizen-athletes" of the NFL.
The competition is unusual in that your votes honor not only an NFL player who has contributed to his team on the field and to his community of the field but they help deserving and qualified high school students earn college scholarships as well.
Eighty-one NFL players – three from each team – have been nominated for the 1976 award and the Seahawks nominees are Norm Evans, Ken Geddes and Fred Hoaglin.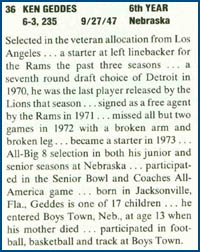 From "The Pond" website (fan site for University of Nebraska)
The greatest Cornhusker to wear jersey number:
37 - Ken Geddes
Street and Smith's Pro Football 1977
There could be a superior battle on the left side. Ex-Ram Ken Geddes started 9 games for the Hawks, but Sammy Green might be ready to push Geddes out of the lineup in his second season. Green started 5 games as a rookie.
Also in competition are hold-over subs Greg Collins and Randy Coffield, rookie Pete Cronan of Boston College and ex-Cowboy Ken Hutcherson, who missed the '76 season due to injuries.
Nebraska Sports Graphics
Nebraska Sports Graphics endeavors to preserve this profound moment in Nebraska Athletics annals by seeking the single most enduring memory of one hero from each of Memorial Stadium's first 75 years.
This original artwork has been replicated just 75 times; one for each of Memorial Stadium's Diamond anniversary seasons. The framed finished work includes the artist's signature, the signature by a Cornhusker Constellation of that season complete with a special memory shared with you, the adoring Nebraskan. Below is a listing of each of Memorial Stadium's first 75 years and the corresponding gridiron hero selected to represent that season.
1968 - Ken Geddes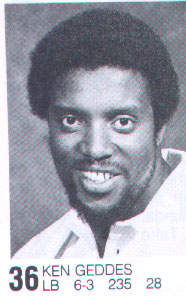 Dreams Fulfilled: Success Stories from Boys Town
by Father Val J. Peter & Ron Herron, Editors
(Note: The book is available at Amazon.com)
Ken Geddes used to get pumped up pounding running backs as a linebacker in the National Football League. Now, helping troubled youths provides him with more satisfaction than hearing the roar of 75,000 fans ever did.
At first, Boys Town was Ken's way to escape a life of poverty in Jacksonville, Florida. Later, it became home.
A household of 18 -- Ken's parents, his 13 brothers and sisters, and two cousins -- supported by his father's paycheck as a steel foundry worker didn't provide many luxuries. Life got worse when Ken's mother died in 1960 while giving birth to her 17th child. Ken was 13 at the time.
He stopped going to school because he felt his life had been destroyed with the death of his mother. A math teacher noticed that Ken was headed for trouble and suggested that Boys Town might have the answer.
Ken used his life savings -- about $50 -- to buy a winter coat; his aunt bought a Greyhound bus ticket and sent him on his way.
Ken remembers the first thing he was told when he arrived at Boys Town: "'There aren't any fences around here. You can leave anytime.' I thought why leave when no one is forcing me to be here. I didn't feel fenced in. I liked it."
Still, he got homesick. "I wrote my father and said if he didn't send for me, I would never forgive him. He never answered."
It was Monsignor Wegner who suggested that Ken attend Nebraska because it was so close to home (Boys Town). If he ever had problems, Boys Town was only an hour away.
Ken relied on the values and the sense of responsibility he learned at Boys Town to get him through.
He took those values with him to Los Angeles after he signed a contract with the Rams in 1971.
"I knew celebrity status was fleeting. Most of your life is spent after football. You have to live today for tomorrow."
Ken retired from professional football in 1979 after an 8-year career. He took with him some fond memories--like the time he intercepted a Joe Gilliam pass to preserve a late-season victory over the world champion Pittsburgh Steelers.
Asked how many career interceptions he had, Ken says he doesn't remember.
Now, his life is focused on his family -- his wife, son and daughter -- and helping kids at Whitman. [Whitman Middle School in Seattle, where he's an alcohol-drug intervention specialist.]
Sam, Mike and Will at Linebacker
Source: Pro!, the Official Magazine of the National Football League,
August 1, 1976
By Don Fair
P-I Sports Writer
There there is the story of The Three Bears...Seahawks Version.
Their names are Sam, Mike and Will.
Goldilocks is any enemy trying to advance by run or pass.
The porridge?
That's the football.
Sam, Mike and Will are the names -- in Seahawks terminology -- for Seattle's three linebackers in the team's normal defensive setup.
Sam is the Strong Middle Linebacker.
Mike is the Middle Linebacker.
Will is the Weak Side Linebacker.
Or Sam for Strong, Mike for Middle, Will for Weak.
It also helps to know that the bears in this Seahawks saga will be clasd in uniforms numbered in 30s or 50s. And that's only when the defensive platoon is on the field.
Like a grizzly bear, linebackers should be strong as well as ferocious.
And they should be faster -- a lot faster -- than the average bear.
That sets the scene for the Seahawks' tale of The Three Bears.
As the Seahawks head into this, their first NFL season, their linebacker corps shapes up in this fashion:
First Unit -- Curtis at Mike, Hansen at Will, Geddes at Sam.
Second Unit -- Bradley at Mike, Hutcherson at Will, Riegel at Sam.
Green, the team's second-round draft choice, is a probable Mike. Coffield, another rookie, is working with Sam.
It's unlikely that those eight will survive to Seattle's counting league opener against St. Louis in the Kingdome on September 12.
"We'd like to keep six for the season," Peccatiello concluded, "but we can get by with five. And we're really pleased with the linebackers that we have, those we picked up in expansion in particular."
Redskins Hand Hat To Curtis
By Paul Attner
Washington Post Staff Writer
August 8, 1979
Curtis may not be the last veteran linebacker to depart, even if McLinton survives camp. Rookie outside linebackers Monte Coleman and Rich Milot are improving so much that they now have the edge as backups to Pete Wysocki and Brad Dusek. That would leave such players as Dallas Hickman and Ken Geddes scrambling to stay with the club.
The Pocket Book of Pro Football 1976
Edited by Herbert M. Furlow
The backers may be the defensive guts of the Seahawks. Three were regulars last year, although Curtis had a knee problem at Baltimore. Geddes and Hansen both have starting experience. Bradley played be¬hind Lambert with the Steelers; Hutcherson was hurt most of last year. Rookie Green has top All-America notices.
Rolly Woolsey's now a Seahawk after expansion
The Idaho Free Press
March 1976
"Overall, we were a little surprised at some of the players available to us " said Patera, who swiped an excellent crop of linebackers in
Mike Curtis
,
Ken Geddes
, and
Ken Hutcherson
. "We may not have drafted 39 good football players but we have overall a very good nucleus."
The Seahawks not only drafted the nucleus of a good linebacking unit, but also Eddie McMillan from Los Angeles – former starters with their respective teams - plus Rondy Colbert from the New York Giants, Dwayne Crump from St. Louis and Dave Brown from Pittsburgh.
"The defensive backs and linebackers we came up with are very impressive " said Patera. "To have a good defensive you have to have experience and the only way to gel that is to get guys who have played. In Curtis, Geddes, Hutcherson Matthews and McMillan, we have guys which have played."
Collecting Ken Geddes?
1976 Topps #96