Ron Howard was there!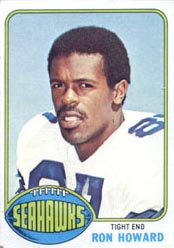 Pre-76
Signed by Dallas 1974
Curtis Heads Seahawk Draft
Mike Curtis
is the "big name",
Ron Howard
is the prodigal son, and
Neil Graff
is a quarterback.
Those are also three of 39 players the Seahawks selected yesterday in the National Football League's expansion draft -- more correctly called the veterans allocation -- and held in New York City.
Howard, a tight end, played basketball at Seattle U but the Pasco product surprisingly made it in the NFL with the Dallas Cowboys as a free agent. In two Cowboy seasons, he has yet to catch a regular season pass, although he played a reserve role both years.
Thrill-a-Minute
Seattle Post-Intelligencer
By Royal Brougham, Associate Editor
September 1, 1976
They came of age Sunday afernoon.
Jim Zorn, the kid quarterback; Ron Howard, a re-cycled basketball player; the sometimes erratic place-kicker Don Bitterlich, hula-hips Gary Hayman; handy Andy Bolton and a rock-ribbed Seattle defense turned an error tainted free-for-all into a dramatic victory.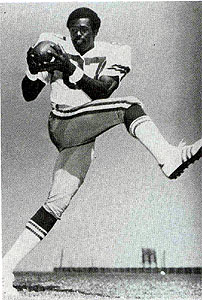 From our Readers
I went to grade school a year behind Ron. He was the big man on campus. I was the geeky kid with glasses. I was picked by him in 5th grade for his softball team. He always made sure I got to play at least one inning, even if winning was going to be at risk.
The last game of the season, last inning the score is tied, and he sends me to bat. I hadn't hit anything but a blooper single all year, but still he sent me in. (He's a sixth grader you understand.) Luck, or good fortune, I sent a home run down the first base line on the first pitch. When I stepped on home plate, he picked me up and threw me in the air.
I never knew Ron made it to the NFL. I joined the Marines out of High School, and was out of the country for the better part of two decades. Whenever, during those years, when I though it was gonna be really grim, the thought of him picking me up and cheering me kept me going. You can do this Marine, all you need is faith.
Thanks Ron for giving me faith in myself.
Tony Mills 08.23.12
Seattle Draft: 'Good Job'
Gil Brandt, who has spent 17 years discovering players as Dallas' vice-president in charge of personnel development, added, "Seattle made some excellent choices. They got a good blend of players like Hoaglin, McMillan, Curtis, Geddes that can come in and lead stability.
"And they got good young guys, like the two from us (tight end Ron Howard, cornerback Rollie Woolsey). They have good possibilities for the future."
Mansperger, who scouted college talent for the Cowboys prior to his Seahawk chores, added, "I particularly liked our selection of Howard, Woolsey and linebacker Ken Hutcherson. I know them closely and like all three because they can run, they're young, they have size and they want to play. You're not supposed to get those kind of guys."
New Hawks Welcome Move
By Don Fair
Seattle P-I Sports Writer
Ron Howard, the ex-Seattle U cager selected from the Dallas roster, responded when reached in Pasco, "I just found out and I'm very much surprised. I had a feeling I'd either be playing here or in Dallas."
"Sure I'm happy. I'll be a lot closer to home and to the people who have helped me through my sports career. I'm very fortunate to have received two years of the Cowboy system and sure won't have problems adjusting to the Seahawk style."
"I have a little better chance playing in Seattle. And at least I won't have to make that 2,406-mile drive to Dallas each training camp."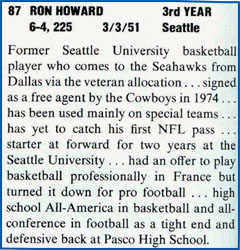 Seahawks
by Doug Thiel
Sunrise Publishing Inc.
With two minutes left San Diego led 16—10. Here we go again. Seattle fans were hoping that for once the Seahawk offense would ride over the hill and rescue the score! They did, but San Diego helped.
On their own 31 yard line San Diego tried a fourth down kick, but the ball came back a bit high—too high for Mitch Hoopes to kick it in time. He was tackled on his 21 yard by Randy Coffield.
After five plays the Hawks had worked their way to the three yard line. With very little time left, Zorn hit tight end Ron Howard for a touchdown to tie the score 16-16. The PAT was good and the Seahawks won first football game 17—16.
Pro Football 1976
by Larry Felser and Dave Klein
Wide receivers aren't bad. The starters figure to be Alamad Rashad and Sam McCullum, but two rookie picks, Sherman Smith and Steve Raible, and veteran Don Clune will fight for steady work. John McMakin and Ron Howard will battle young Charles Waddell for the tight end spot.
Rashad, obtained via the option-playout route, is a tried and true star. McCullum is experienced and could be a top receiver. McMakin, also experienced, is a strong blocker. Clune was a mystery with the Giants. Scouts and teammates say he should have played more; the coach didn't agree. Picard never realized his potential and will get his chance. Howard, another of Dallas' basketball players, showed promise. High draft picks Smith and Raible have enormous potential; one of them might even start. Waddell may be a find, too. The Chargers gamble leaving him unprotected.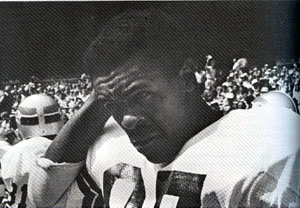 [Headline unknown]
The Seattle Times
By Gil Lyons
August 1, 1976
The Seattle Seahawks will strive for a "first" today when the National Football League opens shop in the Kingdome.
No expansion team has ever won a first exhibition test, dating back to the Dallas Cowboys in 1960.
Seattle's long-awaited debut in the NFL will begin at 1pm against the rebuilding San Francisco 49ers before what should be a capacity crowd of nearly 65,000.
Because of the nature of today's game – a "first" for everyone – many expect an emotional scene.
"I know it will be for me, coming home before a capacity crowd and playing in the Kingdome," said Ron Howard, tight end from Seattle University and the Dallas Cowboys. "It's really a test for us as an expansion team. We're going to surprise a lot of people."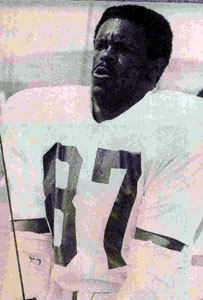 Seahawks
by Doug Thiel
Sunrise Publishing Inc.
The Seahawks recover two fumbles. The second one put them on the 49er five yard line. Zorn passed to Ron Howard for another touchdown and another blast of cheering from the crowd. Score 27—13.
Exhibition game - 1976:
Quarterback Jim Zorn hit tight end Ron Howard with a three-yard touchdown pass with 13 seconds remaining and Don Bitterlich booted the extra point to lift the expansion Seattle Seahawks to their first-ever victory, a 17-16 National Football League exhibition win over San Diego Sunday at the Kingdome.
Exhibition game - 1976:
On first down Seattle lost 15 yards when Zorn was called for intentionally grounding the ball. But two plays later he hit Andrew Bolton with a 21-yard pass to the 15 and followed with an 11-yard pass to Sherman Smith at the three. Two plays later he hit Howard, a Pasco native who played basketball at Seattle University, with the TD.
Source: Street and Smith's Pro Football 1977
When he wasn't throwing to Largent, Zorn looked for tight end Ron Howard, the ex-Seattle U. basketball player, most often. The ex-Cowboy caught 37 passes in his first role as a starting tight end.
Street and Smith's Pro Football 1978
The tight end is ex-basketball player Ron Howard. Patera might do better with a new man. Howard's pass catching statistics dropped from 37 to 10 and he's not a thunderous blocker.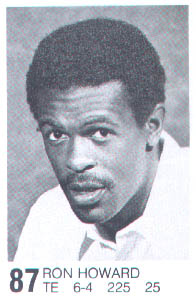 Hawks Howard Sheds Nickname
By Gil Lyons
Ron Howard is no longer Dr. W.
That was his nickname with the Dallas Cowboys the past two seasons as the Wedge Buster on the kickoff teams. A miserable job, but Ron Howard performed happily because he is that type of person.
"Everybody has to go through it," Ron said, remembering the snaps he took.
Taking such assignments, and doing them well, was Howard's method of breaking into the National Football League. He played baseball at Seattle University but has not played football since his days in Pasco.
Despite that handicap, Howard is contesting strongly for the starting job at tight end with the Seattle Seahawks, who will open their preseason today against the San Francisco 49ers.
"Now that I look back on it, I'm sorry I didn't play college football," Ron said. "Catching the ball never is a problem, but I have to learn blocking. I came to camp with two goals – first, to make the team and second, to keep working toward a starting position."
Howard, who stands 6 feet 4, came to camp weighing a muscular [illegible] pounds. He is down to 220.
"My stomach gets tight", he exclaimed. "I don't think about food a lot."
Ron has pointed toward a professional basketball career. A starting forward at Seattle U., he was offered a contract to play in France but turned it down when Dallas offered him a trial as a free agent.
"I'm just glad things turned out the way they did," he said. "I always thought about pro basketball, but I guess pro football was for me."
"When I was in high school in Pasco, Bernie Hancock, who coached me at tight end, told me my hands would be worth a million dollars some day. I laughed and said, "Aw, come on".
Howard, who will start today, feels he is progressing well in practice.
"I keep track, and I think I've dropped only eight balls. I feel pretty pleased. I think I have to catch everything. I want the quarterbacks to feel confident they can go to the tight end for yardage whenever they need it.
"I've been working hard. That's the way I made it in Dallas and I try to carry it over here. My blocking is coming. The tackle and tight end have to block together a lot of times, and I'm working at it real hard.
Although Howard has yet to catch a pass in regular-season game, he is one of the few players on the team with a championship ring, from the Cowboys' National Conference title last year.
He has a winning attitude. "If everyone had that kid's attitude, we wouldn't have any problems," confided an assistant coach. Coach Jack Patera terms Howard's progress as "excellent".
"He catches the ball well and blocks well," Patera said. "He doesn't make many mistakes. He's hard-working and gets better each day. Now we've got to see what he does in the games."
Despite the loss of hard-luck Charles Waddell to knee surgery, the Seahawks are strong at tight end.
John McMakin was Pittsburgh's third-round draft choice four years ago and was named on at least one all-rookie team. He started for the Steelers that season.
Arvis Darby, a rookie who was converted from wide receiver, is an excellent prospect.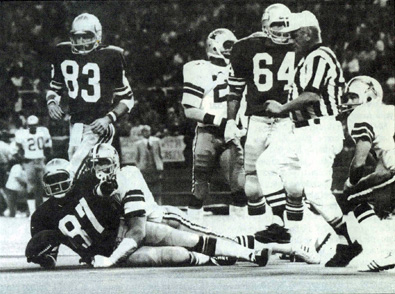 Seahawks' Fauria on a prolific pace
Source: Nando Media
By Mike Sando
Tacoma News Tribune
KIRKLAND, Wash. (Dec 18, 1998 - 2:22 EST) -- If Christian Fauria maintains his recent pace -- 11 receptions in the Seattle Seahawks' three most recent games -- he'll become the most prolific receiving tight end in franchise history.
Of course, the Seahawks have never featured their tight ends much, so any such distinction is akin to being the world's fastest turtle.
Pretty cool, but you're still a turtle.
Fauria has 31 catches and will finish the season with 38 if the last three games are an accurate indicator.
And that would be significant, if only because no Seattle tight end has caught more than 37 passes in a season. Ron Howard set the record back in 1976, the Seahawks' inaugural season. Fauria is on the cusp of history, in other words.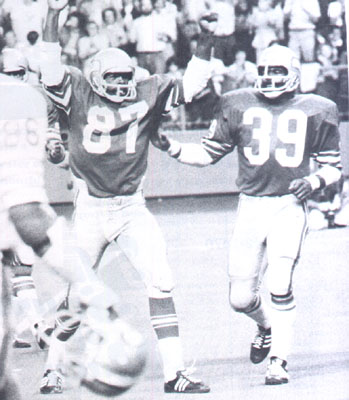 San Francisco vs. Seattle
Oakland Tribune
Thursday, September 23, 1976
DELVIN WILLIAMS vs.
KEN GEDDES
- Williams keys 49er running game and is one of most underrated and best runners in league. He gets the edge here, because Geddes is not his equal in open field and does not often receive the help he needs on sweeps from the corners.
RON HOWARD vs. SKIP VANDERBUNDT - Howard is Seahawks' top receiver with 10 receptions for 136 yards and has good hands. Zorn always looks to him in clutch situations. Howard, who only played basketball in college, has the edge here.
Pasco's Howard jumps from basketball to NFL
Source: Tri-City Herald
By Jeff Morrow
Herald sports editor
Posted Dec.2, 1999
Ron Howard was such a great athlete that he didn't even need to play college football to get to the National Football League.
That's just one reason why the 1970 Pasco High graduate is No. 30 on the Top 100 Mid-Columbia sports stories of the century list.
"He was a fun-loving kid," said Mike Guajardo, the current Pasco High boys basketball coach who graduated a year ahead of Howard. "He just loved athletics. And there was no one who didn't like him."
Howard played varsity football, basketball and track for Pasco for three years. Basketball probably was his best sport. Don Monson arrived as the basketball coach just in time, when Howard was a sophomore.
"He definitely was the most dominating player in the Big Nine," Monson said. "He wasn't big or tall by today's standards (6-foot-4). Kids looked up to him, and he was very coachable."
As a senior, Howard led Pasco to a 25-1 record. The lone loss came in the state championship game to Snohomish - 53-51 in overtime.
Howard remembers that 1969-70 team.
"Eighty-five percent of us grew up together, playing Little League, football and junior high sports together," Howard said. "It was such a great experience."
Howard went on to become a basketball star at Seattle University. But rather than play in the NBA, he got drafted by the Dallas Cowboys.
"It's amazing," Howard said. "NFL teams had scouts all over the country, looking for all kinds of athletes. Cornell Green was another basketball player who ended up in the NFL. I think teams felt basketball players could play other sports."
Howard said the Cowboys had been writing to him since he was a sophomore at Seattle University. And despite the odds, Howard made the Cowboys as a tight end.
"I was an overachiever," he said. "I had a great work ethic, and of all the things I learned, I realized that 85 percent of it was mental."
And he ended up with some great teachers.
"My tight ends coach was Mike Ditka. My special teams coach was Dan Reeves, and, of course, the head coach was Tom Landry," Howard said.
One of his biggest highlights was getting to play in the 1976 Super Bowl against the Pittsburgh Steelers and Kennewick's Ray Mansfield.
"We met at midfield at the Orange Bowl before the game," he said. "It was neat seeing two people from the Tri-Cities in the Super Bowl."
Pittsburgh won the game 21-17.
Howard spent two seasons with the Cowboys and another three with the Seattle Seahawks before injuries had him out of the game.
He spent the next 10 years in Seattle working on skyscrapers.
"That was Ron," Monson said. "He fears nothing."
And after being vested in two pensions by age 40, Howard is in his eighth year of teaching. He is at South Shore Middle School in Seattle, and he coaches three sports at Rainier Beach.
"I had great experiences at Pasco, and it's probably why I teach and coach today," Howard said. "I teach the way I was taught."
Jeff Morrow can be reached at 582-1507 or via e-mail at jmorrow@tri-cityherald.com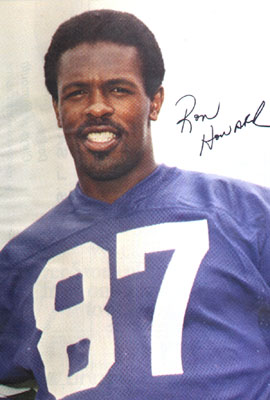 Teaching keeps Howard at the top of life's game
Ron Howard had been to the top.
Whether as a member of the Dallas Cowboys in Super Bowl X, one of the original Seattle Seahawks, or as an iron worker perched on the skeletal 76th floor of what would be the Columbia Tower.
"It was always about hard work," he said, "and it still is."
Howard was more famous then, a terrific athlete from the Tri-Cities who played basketball at Seattle University and football in the NFL.
But he is happier now, with his sixth graders at Aki Kurose Middle School in the Rainier Valley, a big man with a big smile and a big job.
"He has a way of pulling their best efforts out of them," said BiHoa Caldwell, his principal. "I just hope we can keep him here. The coaches at Rainier Beach High School keep trying to recruit him away."
The faces in his health class are full of curiosity and color. Howard has more than their attention. He has their respect.
"Tone down the enthusiasm," he says at one point, and of course, they do.
"The kids in middle school are the best," he continued. "My job every day is to make every one of them feel important. To be the best example I can of a good human being.
"Man, I just love my job."
The kids can't know or care that he caught the touchdown pass that gave the Seahawks the first win in their history, a 3-yard reception from Jim Zorn with 13 seconds remaining to beat San Diego in a preseason game.
Howard would catch 37 passes that season, second only to Steve Largent.
He became a pro football player because his college basketball coach at Seattle U., Bill O'Connor, was related to Andy Robustelli, general manager of the New York Giants.
Howard went off to New York for a tryout. It was easy to tell that he could run fast enough and catch well enough to get a shot at the NFL. The Giants offered him a contract.
He wanted to think about it. He wasn't alone. The Dallas Cowboys were thinking about it, too.
"They flew me first-class to Dallas," he said. "I met Coach (Tom) Landry. Mike Ditka coached the tight ends. Dan Reeves was a coach there, too."
He signed for $5,000 and made $17,000 his first season.
But he played with Roger Staubach and behind Billy Joe DuPree and Jean Fugett at tight end. The Cowboys let him go in the 1976 expansion draft that filled the rosters of the Seahawks and the Tampa Bay Buccaneers.
Howard's career lasted three years in Seattle. He was never comfortable with Jack Patera as coach, and was particularly pained by the firing of Sam Boghosian as offensive coordinator.
In the decade that followed, he toiled as a steel worker. Men who were his friends died on the job. It was hard, dangerous work.
"I was vested in the NFL's pension," he said, "and I wanted to work long enough to have two pensions by the time I was 40."
Finally, after all that fame, all those years and a bad back, he did what he wanted to do in the beginning: be a teacher.
He'd had a fifth-grade teacher in Pasco, Mr. Denslow, who, according to Howard, "took me under his wing and made sure I was ready for high school. I can tell you I wanted to be a teacher back then."
Out of high school, he wanted to play basketball at Washington State for Marv Harshman, but couldn't get a high enough score on the SAT.
"Back then, you couldn't prepare for it. I took it three times and didn't pass. Man, it broke my heart," he said. "It predicted I would have a 2.3 grade point in college. Well, I had a 2.8."
Howard graduated from Seattle U. in four years. He had the basics for a teaching credential, and later did his student teaching at Seattle's Mercer Middle School.
In the end, Frank Ahern, one of the most respected coaches in the Seattle School District, would be more important to him than Tom Landry or Don Monson, his high-school basketball coach.
"Mr. Ahern, he's my man, my inspiration," Howard said. "He taught me about helping every student every day. Ah, man, I've never, ever heard him say anything negative."
Howard is nearing 50. He lives in Redmond with his wife. His day dawns at 4:30 a.m., and after a stop at Starbucks he is at school at 6:10.
The kids at Aki Kurose adhere to a dress code. They go beyond being orderly, however. They seem genuinely invested in education.
After the regular day ends at 2:15 p.m., Howard spends an hour with the intramural sports program, working with those kids who can't play on the varsity teams.
Then he heads to Rainier Beach High, where he is an assistant coach in football and basketball, and one of the head coaches in track. If there isn't a game, he's back home by 7:30 p.m.
Howard doesn't aspire to coach and teach full-time in high school. He is working on a masters degree so he might become an administrator.
"If I won the lottery I'd continue to teach," he said. "I'll retire at the middle school."
One of his students isn't feeling well. Neither is the teacher.
"We've got something in common," Howard says softly, leaning down to the student's level. "We're both here because it is important, because we've got things to get done."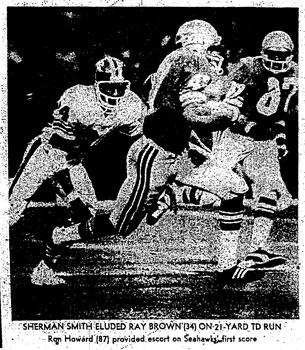 Seahawks
by Doug Thiel
Sunrise Publishing Inc.
"You guys are my people" and the kids listen at football camp in Moses Lake, Washington. Ron Howard is one of a number of Seahawk players who give a lot of their time to help kids, to help communities, Seattle and others, throughout the state.
Suprised? Some people are when they discover that these athletes are genuinely concerned about kids, about the quality of life in the communities in and around Seattle.
Last year Ron was one of several professional athletes on a KYAC program hosted by Carol Dinard. During the discussion people called in and asked questions, not an unusual format, but this particular program revealed something important.
One gentleman called and put this question to Ron, "How come you professional athletes come into a town, take out your fancy salaries, and then don't put anything back into the community. Why don't you get into the problem areas where kids need your help? Why don't you do something in return instead of just taking?"
"That upset me," Ron said. "Obviously there are a whole lot of people who don't know what many of the players are doing probably because they don't see us off field. Since my last year at Dallas, and every year since I've been with the Seahawks, I've been with Freddie May at the Odessa Brown clinic. I go to their Christmas parties, give out gifts, sign autographs, give free clinics. And other players do this, too,
"Eddie McMillan, Dave Brown, Sherman Smith, and I formed a group called Professional Sports Unlimited, Inc. We sponsor football camps, clinics, and find sponsors to help us give parties, clinics, and other things for kids. We want kids to know they can make something of themselves, that they can get out of where they are and be somebody.
Anyway, when I finished talking, the man said, "I'm really sorry about what I said. I just didn't know that anything like that was being done by professional athletes"
RON HOWARD'S career might have been in basketball, but when Dallas drafted him in 1974 he wanted to give that a chance. He hadn't played football since high school, but he did have an outstanding career as a small power forward at S.U.
"I remember my high school history teacher, Bernie Hancock, telling me, 'Ron, someday your hands are going to be worth a million dollars,' and he also kept telling me, 'Get your education. Get your education.' My dad always said that too. He's meant so much to me, particularly since my mother died in 1964, and I feel so proud of what that man has accomplished."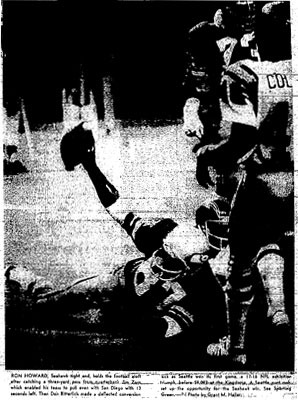 Norm Evans' Seahawk Report
Vol. 4, No. 11, Sept. 13-19, 1982
Five former Seahawks last week filed a lawsuit against Seahawk owners, accusing the club of unfair insurance practices, breachs of contractual obligations and unfair medical practices. Former quarter- back Steve Myer, original No. 1 pick Steve Niehaus, three-year starting tight end Ron Howard, lineman Richard Harris and waived Ruben Hodges claim, among other things, that the Seahawks required them "to accept medication and injections by intimidation, duress, misrepresentation and fraud." General Manager John Thompson, questioned the day of the filing, said there'd be no official comment until the suit had been examined.
The Pocket Book of Pro Football 1976
Edited by Herbert M. Furlow
Former Steeler starter John McMakin may be the best of the lot. Ron Howard is another tight end; he may try for the top job. He was on Dallas special teams. Don Clune was little used by the Giants but when given time did well; he has speed, but little experience. Sam McCullum also doubles as a kick returner. He hurt a shoulder in 1975. Raible, a rookie, hopes to break in.
Seattle's Zorn married
Waterloo Courier
April 9, 1979
SEATTLE (AP) - Seattle Seahawks quarterback Jim Zorn married Christine Joy Sturton Saturday in Bellevue, Wash. Seahawks wide receiver
Steve Largent
was best man, and his wife was the matron of honor at the church wedding. The ushers included other members of the National Football League club — running back
Sherman Smith
, tight end
Ron Howard
, guard
Ron Coder
and former linebacker
Ken Hutcherson
. About 20 Seahawks, including office personnel, were among those attending.
The Zorns planned a week's honeymoon before moving into a home Zorn recently bought on Mercer Island.
Six vets ink Seahawk pacts Saturday
Walla Walla Union-Bulletin
Sunday, July 18, 1976
Friday,
Patera
noted that the performance of his team fell as the temperature climbed during drills. As the thermometer rose to 93 degrees, the only players doing consistently well, the coach said, were wide receiver
Wayne Johnson
, a free agent from Oregon, and tight end
Ron Howard
, a Seattle University graduate who played the last two years for the Dallas Cowboys.
"I don't think we dropped a single pass this morning, but we turned that around this afternoon, except for Johnson and Howard." Patera said.
Seahawks having better luck on basketball floor
The Seattle Seahawks are undefeated? Who are you trying to kid?
Believe it or not, the basketball version of the Seattle Seahawks has been more successful in the win column then the first year team was on the football field. The Seahawks were 2-12 in their initial National Football League campaign and through Monday had posted a 5-0 basketball record.
Among those Seahawks making the trip will be former Pasco High and Seattle University standout Ron Howard. Howard didn't play football in college, instead being an instrumental force in Seattle U ' s basketball success. Others making the trip will be Don Testerman, Eddie McMillan, Sherman Smith, John McMakin, Hugh McKinnis Dave Brown, Sam McCullum, Dave Simsonson and Greg Collins.
"I hope nobody gets the idea we should give them a return game on the football field," Ingram said. There will be autograph sessions before the game, at halftime and after the game.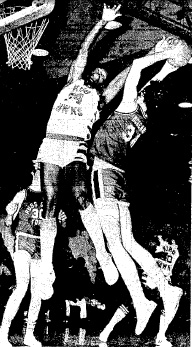 PRO CHARTS
By Murray Olderman
The Albuquerque Tribune
Saturday, September 17, 1977
Seattle Seahawks Prospectus
In second year of existence, Seahawks opted for draft choices instead of chance at Tony Dorsett, who probably wouldn't have signed with them. Coach Jack Patera actually did good guiding expansion team to two victories in '76. Whole concentration is building on youth.
Had some pleasant surprises on offense. Now they need more bodies to weld the defense.
OFFENSE
Quarterback: On porous team, a QB needs to run for life. Southpaw Jim Zorn can do that, and then some. He had valuable year of experience. Nice to have Steve Myer behind him. Rating—B.
Receiving: Steve Largent proved to be brilliant pickup (from Houston). He's precise pattern receiver. Sam McCullum is other wide threat. Ex-Cowboy Ron Howard blossomed as tight end with 37 catches. Larry Seivers is rookie. Rating —B.
Collecting Ron Howard?
1976 Topps #298