Ted Gerela was there!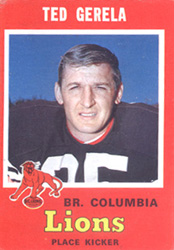 Pre-76
College letterman for 2 years
Signed by British Columbia Lions (CFL) 1967
DNP 1975
CFL single-season field goal record 1968 (30 FGs)
Free agent
Smith 'A Pleasure to Watch'
Also in the personnel department, Ted Gerela, another kicker, went home. He has been bothered by a troublesome calf muscle, the result of a June injury suffered in pre-camp training.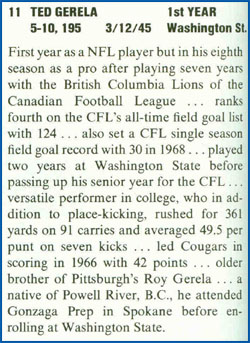 GERELA, Ted and Roy
GERELA, Ted (b 13 Mar 1944, Sarrail, AB) and Roy (b 2 Apr 1946, Sarrail), football players. Raised in POWELL RIVER, Roy became the first British Columbian to star in the NFL and Ted was a star with the BC LIONS. After playing FOOTBALL at Washington State Univ, Ted opened his first season with the Lions in 1967 by tying the CFL record of 5 field goals in one game, a feat he accomplished 5 times in his career. He proved to be a dangerous long-range kicker and won Western Conference rookie-of-the-year honours. In his sophomore year he set a short-lived professional record of 30 field goals in one season and led the CFL with 115 points. In 1970 Ted was named to the CFL all-star team. He retired from the Lions in 1974 and settled into a business career in LANGLEY after a stint as the local GOLF pro in PORT ALBERNI. Roy, after playing college football at New Mexico State Univ, was drafted in the fourth round by the NFL Houston Oilers and signed with them in 1969. During his rookie season he equalled his brother's accomplishment of kicking 5 field goals in a game, an Oilers record. After 2 years in Houston he joined the Pittsburgh Steelers and starred as a kicker for 9 more seasons, becoming the team's career scoring leader and the longest-serving Canadian NFLer before Eddie MURRAY. Roy was named an all-pro 4 times, played in the Pro Bowl twice, won the NFL scoring title once and helped the Steelers win 3 Super Bowls (1974-75, 1979). No other Canadian has as many Super Bowl rings. He settled in the US after retiring from football.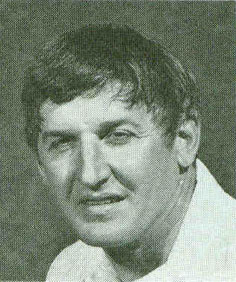 NOBODY ASKED, BUT ...
Have you ever stopped to consider how many great legs the city of Spokane has sent to WSU? It's really quite amazing. Jason Hanson, Joe Danelo, Chuck Diedrick, Ted Gerela and Tim Davey come immediately to mind. And if memory serves, two DB stars for the Cougars, Bud Roffler of the 1950s and Bill Gaskins of the 1960s, also booted PATs. Holiday Bowl kicker Ward Leland, like Gaskins and Roffler, was from Spokane's Lewis & Clark High. This Lilac City leg tradition extends back at least to the 1931 Rose Bowl team, whose kicker and back-up kicker --- Lyle Maskell and Mentor Dahlen --- also were Spokane products.
From: Jeff McQuarrie
Sent: Monday, October 10, 2005 4:27 PM
Subject: Re: Ted Gerela
Ted actually had two more years of eligibility left at WSU when he left for the CFL. According to Ted's WSU teammate Mark Wicks, a starting linebacker, Ted left because WSU Head Coach Bert Clark brought an abusive "Oklahoma style of discipline" to Pullman and Ted didn't want to take the abuse any longer. According to the players at the 1965 WSU "Cardiac Kids" reunion on October 7, 2005, playing for Bert Clark has left some of them almost as shell shocked as Vietnam Vets. According to Wicks, Ted had enough after his sophomore season, and told Clark what he could do with his Oklahoma style of discipline. Incidentally, Bert Clark had starred at linebacker for Bud Wilkinson at Oklahoma in the early 1950's.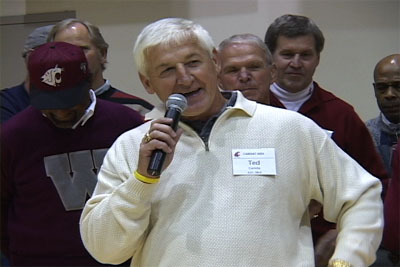 Ted and his brother Roy, who starred for the Steelers, were from a large, financially modest family in a tiny village called "Cranberry" on the outskirts of Powell River, B.C. (about six hours north of Vancouver, B.C. on the "Sunshine Coast.") This is a village so small and economically challenged that if you go back there today you feel as if you've gone back in time to the 1930's. You'll still see people hanging their clothes out to dry from clotheslines. How do I know this? My Dad grew up next door to the Gerela family. He used to tell me that they were great soccer players. During the Pittsburgh Steelers heyday of the 1970's, the Steelers were my boyhood team and I was in awe that Roy Gerela, the Steelers All-Pro kicker with three Super Bowl rings, grew up next door to my Dad.
The Pocket Book of Pro Football 1976
Edited by Herbert M. Furlow
Keithley, who is also one of the quarterbacks, was picked up in the expansion draft. In 1973 he punted for the Cardinals, averaging 37.5 On 77 punts. The placekicker is Ted Gerela, who spent a year in the Canadian league. The Seahawks hope he's as good as his brother, Roy, patron saint of Gerela's Gorillas in Pittsburgh.
Five more Seahawks depart
Walla Walla Union-Bulletin
Thursday, July 15, 1976
CHENEY, Wash (AP) – The Seattle Seahawks placed two players on waivers Wednesday, two more left the National Football League expansion team's training camp here and another announced his retirement. Veteran
Ted Gerela
, who was expected to contest rookie
Don Bitterlich
for the Seahawks' place kickmg job, left camp along with
John Neuman
, a 250-pound defensive tackle.
Collecting Ted Gerela?
1971 OPChee CFL #32