Don Bitterlich was there!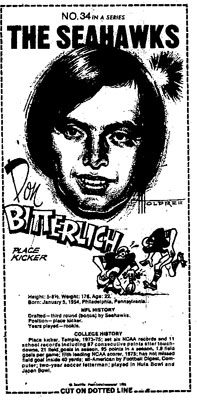 He scored the first ever points for the Seattle Seahawks!
AND ... for what it's worth, Don Bitterlich's kickoff made him the first Seahawk to touch the ball in the regular season. The ball was returned to the St Louis 48, where the returner was hit in a gang tackle.
First Regular-Season Points:
A 27-yard field goal by Don Bitterlich.
Pre-76
Most field goals in 1975 NCAA season (21) (NCAA record)
Highest career average points per NCAA game (7.1) (NCAA record)
Most consecutive PATs in NCAA season (87) (NCAA record)
Drafted 1976 (Seattle)
1976
Released after week 3 game against San Francisco
STATS:
Don Bitterlich - 7 xp. - 7 att. - 100% - 1 fg. - 4 att. - 25% - 10 pts.
Thrill-a-Minute
Seattle Post-Intelligencer
By Royal Brougham, Associate Editor
September 1, 1976
They came of age Sunday afernoon.
Jim Zorn, the kid quarterback; Ron Howard, a re-cycled basketball player; the sometimes erratic place-kicker Don Bitterlich, hula-hips Gary Hayman; handy Andy Bolton and a rock-ribbed Seattle defense turned an error tainted free-for-all into a dramatic victory.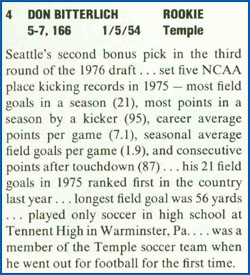 Seattle captures first win
WT grad Bitterlich aids cause
By United Press International
BUCKS COUNTY COURIER TIMES
August 30, 1976
The Seattle Seahawks are finally winners, and quarterback
Jim Zorn
says nipping San Diego 17-16 in exhibition play was enough to raise the dead.
"Last week I wanted to bury myself," Zorn said of the expansion team's 52-7 drubbing by Denver. "This week I feel like I came up out of the ground."
It was Zorn's three-yard pass which tight end Ron Howard snagged just off the turf with 13 seconds left and William Tennent High School and Temple University graduate Don Bitterlich's point-after conversion that earned Seattle it first victory Sunday after four losses. Bitterlich also kicked a 30-yard field goal in the game.
San Diego Coach Tommy Prothro was more generous with praise after the embarrassing defeat by an expansion team.
"When they came down to it, they out-gutted us," he said of the Seahawks. "It's hard to tell how good Seattle is, but they did stop us on the goal line better than any team other than San Francisco. Seattle has a good, tough team."
Prothro said there were no serious injuries to the Charger squad, "just hurt feelings."
Raiders a real kick again on Day 2 as plenty of big names go late
After pulling the biggest surprise of the first round by choosing kicker Sebastian Janikowski with the 17th overall pick, the Raiders went for a punter in the fifth round Sunday when they took Shane Lechler of Texas A&M, who averaged nearly 47 yards per kick last season.
"This is something we needed to improve on," coach John Gruden said of his team's kicking game.
So he went out and took two kickers with his first four picks.
Believe it or not, the Raiders aren't the first team to spend relatively high picks on kickers. In 1976, its first year in the NFL, Seattle spent two third-round picks on kickers -- punter Rick Engles and place kicker Don Bitterlich.
The other 30 teams spent the second day of this draft improving in more conventional ways.

Exhibition game - 1976: Quarterback Jim Zorn hit tight end Ron Howard with a three-yard touchdown pass with 13 seconds remaining and Don Bitterlich booted the extra point to lift the expansion Seattle Seahawks to their first-ever victory, a 17-16 National Football League exhibition win over San Diego Sunday at the Kingdome.
August 1976: Seattle, now 0-3, marched 46 yards on its first possession to the Rams 32. A motion penalty on first down proved costly and four plays later rookie Don Bitterlich's 48-yard field goal attempt was low and short.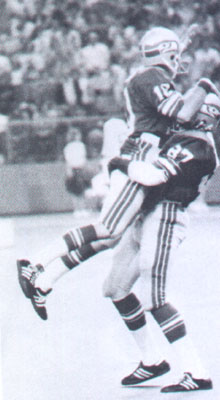 Armor of God
Three current Temple University football players attended and met with all age groups in our Awana program in the upstairs gymnasium for about a half an hour for a presentation by
Don Bitterlich
on the whole armor of God according to Ephesians 6:10-18. Seeing the giant football players and the "armor" that they wear made quite an impression on the children.
Don, a Temple football alumni and former place kicker for the Seattle Seahawks, presented the message with the strong support from his rather unusual "visual aids".
The three players who graciously attended hail from different hometowns.
Tamardo Sharps, a junior in Criminal Justice and running back, is from Annapolis, Maryland
Jose Portillo, a junior in Secondary Education and offensive lineman, is from Fairfax Virginia
Sean Dillard, a junior in Marketing and wide receiver, is from Stone Mountain Georgia
Many children requested and received autographs on paper, in their Awana handbooks, on their Awana clothing and on their sneakers.
The lesson and the players were quite the hit to our youngsters.
Support New Jersey Future
New Jersey Future is a 501 (c) (3) nonprofit organization. Like most non-profit organizations, we depend on the public for support. Our work is funded by national and regional foundations but also by New Jersey businesses and individuals interested in smart growth because they are either directly affected by the issues or they care about the future of our state. If you are a member of New Jersey Future, thank you for your support.
If you are not a member, consider supporting our mission by joining us today. As a member you will participate in the debate that's shaping our future. You will be informed about the actions we are taking to enhance quality of life in the state and you will have a forum in which to add your voice to the ongoing discussion.
Become a member of New Jersey Future – step inside smart growth and join the leaders and shapers of New Jersey's land use policy, and its future.
If you would like to discuss membership, please call Margaret O'Gorman, Director of Development, at (609) 393 0008 or email her at mogorman@njfuture.org.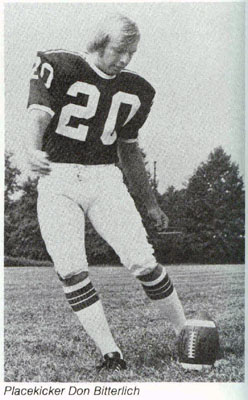 A Seahawk Blueprint: from expansion to contention
By Gary Huff
Source: Norm Evans' Seahawk Report, Oct. 29 – Nov. 4, 1979
The bulk of the Seahawks first team in 1976 came, of course, from the veteran allocations draft. Many of those drafted merely filled positions until the college draft could provide quality replacements. Only four of those expansion draftees,
Nick Bebout
,
Art Kuehn
,
Sam McCullum
and
Dave Brown
remain today.
The Hawks' first-year college draft, while tainted with a few drafting errors, added five quality players. The selection of Steve Niehaus, the team's initial first-rounder, must now be regarded as one of the team's larger draft mistakes. In the third and fourth rounds, where a team should come up with some fine down-the-road players, the Hawks bombed. Jeff Lloyd (DL) and Randy Johnson (OG) didn't survive training camp. Rick Engles (P), Don Bitterlich (K) and Andrew Bolton (RB) didn't last much longer. All of these players have had shots with other teams, but their careers are essentially over.
Despite these shortcomings, the `76 draft did produce some important members of the `79 team: Sammy Green, Sherman Smith, Steve Raible (all in the second round), Steve Myer (4th) and Don Dufek (5th).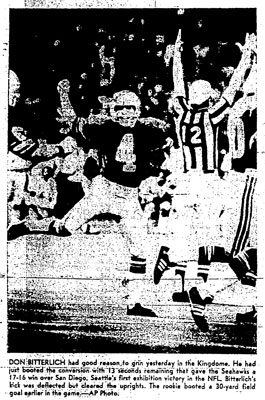 Five more Seahawks depart
Walla Walla Union-Bulletin
Thursday, July 15, 1976
CHENEY, Wash (AP) – The Seattle Seahawks placed two players on waivers Wednesday, two more left the National Football League expansion team's training camp here and another announced his retirement.
Veteran Ted Gerela, who was expected to contest rookie Don Bitterlich for the Seahawks' place kickmg job, left camp along with John Neuman, a 250-pound defensive tackle.
Collecting Don Bitterlich?
Sorry - no
Don Bitterlich
cards! But he did have a mini-poster from the Seattle Post-Intelligencer, #34.