John Neuman was there!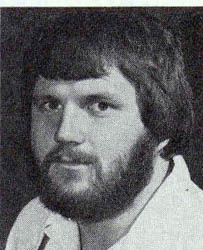 ...but not for long! He left football to go on to a successful career in construction.
Five more Seahawks depart
Walla Walla Union-Bulletin
Thursday, July 15, 1976
CHENEY, Wash (AP) – The Seattle Seahawks placed two players on waivers Wednesday, two more left the National Football League expansion team's training camp here and another announced his retirement. Veteran
Ted Gerela
, who was expected to contest rookie
Don Bitterlich
for the Seahawks' place kickmg job, left camp along with
John Neuman
, a 250-pound defensive tackle.
Smith 'A Pleasure to Watch'
Center Larry Lilja, who came to camp with a lower back problem retired, and free agent defensive tackle John Neuman simply quit the camp and football.
Family copes with dad's death as police investigate fatal crash
Source: The Grand Rapids Press - Grand Rapids, Mich.
Author: Carmela Thomas / The Grand Rapids Press
Date: Mar 31, 2001
ADA -- As police continue to probe the vehicle crash that claimed the life of an Ada man, his family is trying to come to grips with the loss of a loved one.
Jessica Neuman, 18, sobbed as she talked about her father, John Neuman, 46, who lost control of his vehicle about 8:30 p.m. Thursday in the 1400 block of Grand River Avenue NE.
Neuman was born and raised in Grand Rapids. He graduated from Catholic Central High School and completed secondary studies at Central Michigan University.
He worked his way up in the construction field, employed for years at Dan Vos Construction Co. in Ada before starting his own business called Sherlock Home Inspection, Jessica Neuman said.
He was a big man who was very giving. Some men were scared of him until they got to know him," Jessica said.
"But the women thought of him as a teddy bear," she added.
"He gave to every charity. And if he saw anyone selling things, he would always stop.
"He would help anyone," she said.
Police were still trying to determine what caused Neuman's pickup to leave the road, hit an embankment and flip over.
Along with Jessica, Neuman is survived by his wife, Jodie, and a 6- year-old daughter, Jenna.
Funeral arrangements have not been completed.
[Web author's note: Thanks to Randee for sharing this information with us.]
From: Randee (Sivosky) Pieper
Sent: Sunday, February 04, 2007 10:08 PM
I sent a Christmas card to one of John's Central Michigan University roommates this year and in return, his wife wrote to let me know that John had been killed in a car accident 5 years ago. It was a terrible shock and I'm sorry to have to pass the news on.
Sincerely,
Randee (Sivosky) Pieper
From: Randee (Sivosky) Pieper
Sent: Monday, February 05, 2007 3:37 PM
After I saw your website with John's photo, I dug a little deeper and found an article from March 31, 2001 in the Grand Rapids Press where the reporter had interviewed his daughter, Jessica. He had been doing construction with one of the big companies there, then opened his own business - "Sherlock Homes", if I'm not mistaken. Just like his sense of humor! I hadn't seen him in almost 20 years, but thought of him often. He was a terrific person and we had lots of good times during and for a few years after college.
Randee