Patrick Hunter


"But things got worse before they got better. Schroeder, attempting to hit sprinting wide receiver Sam Graddy, was intercepted by corner Patrick Hunter on the Raiders 32. Hunter brought it back for 32 yards, seven points and a 17-0 lead for the Seahawks." -- Raiders.com






Source: Inside the Seahawks, Volume 2, Number 1, Sept. 3-Sept. 9, 1987
Dave Brown says good-bye
Brown's replacement, Patrick Hunter, said Brown had helped him a great deal.
"I was told this morning that I have a job. Now I have to keep it," said Hunter the day Brown was traded. Hunter, a second-year pro out of Nevada-Reno, said his goal this training camp was to be on the first team "but I didn't expect Dave to be gone."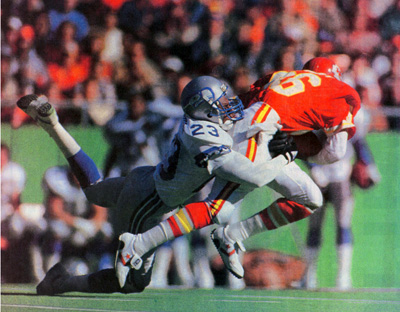 Source: Seattle PI
Saturday, January 28, 2006
'Real' home of Hawks is pumped for big sendoff
Kirkland stages parade and rally as team hits road

By GORDY HOLT
SEATTLE POST-INTELLIGENCER REPORTER
From Jordan moments later came, "I could really use another pickup truck," when in walked Jackie Smith, "ace volunteer," who was placed at a computer at the back of the room. She wore a vintage Seahawks sweatshirt, one that, just below the neck webbing, sported an upside-down autograph of "Patrick Hunter #27."
"We've had this baby tucked away for years," she said. "We think it was from around 1993."
Indeed, it was in 1992 that cornerback Patrick Hunter, with 35 seconds left on the game clock, intercepted a Hugh Millen-to-Irving Fryar pass that preserved a 10-6 Seattle win over New England, in a September game that helped Seattle produce a 2-14 season.
Has "this baby" come a long way.