Gary Keithley was there!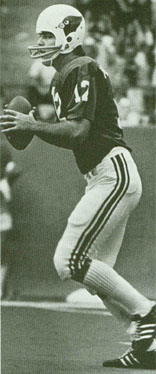 Seahawks
by Doug Thiel
Sunrise Publishing Inc.
Jerry Rhome, quarterback and receiver coach, is trying to find a quarterback from those who will be available—Gary Keithley, Neil Graff and Jim Zorn. At this early stage Rhome comments that, "We may have two NFL quarterbacks, or we may have none." Rookies Chris Rowland and Steve Myer look okay, but no one is willing to speculate at this early time.
SPOKANE, Washington would not host a win for the Seahawks' second effort. The Seahawks lost the game to Chicago 27—16 and lost the game ball to some drunk who was wandering around the sidelines. During the final seconds of the game the tipsy fan bolted onto the field, picked up the ball, and ran for 100 yards and out the end zone exit—the longest run of the night.
Jack Patera's post-game comments were, "We didn't put anything together, and we made a lot of mistakes." The coach knows. He had just seen his team convert only two of fourteen third down chances; agonized through the first 21 minutes of the second half with only one first down (result of a penalty), and watched Dave Brown pick off an interception which he ran back for good field position. On the first play from scrimmage quarterback Keithley pitched the ball for an interception. So much for field position. Keithley was cut the next day. Two players were hurt, the team's feelings were hurt, and everybody thought that getting out of Spokane would be a dandy idea. After all, why null over a loss to the Bears when you have the Rams next on the menu.
Of course, everyone says that pre-season games don't count—well, not for real. But they do, really, to some people. Norm Evans said after the loss to the Bears, "Once the game starts it's like a regular game." That's probably what the 33 new players on the Bear roster thought, too, particularly the 17 rookies.
Smith 'A Pleasure to Watch'
All five quarterbacks had their chance to run the offense during the 51-play scrimmage. Unfortunately, Chris Rowland, the ex-Husky, did not have, for him, a good showing.
He was at the controls for 14 plays, completed two of eight passes for 24 yards, had one intercepted and was "sacked" (although no one was allowed to tackle the QB in the live session) twice.
Then came the other rookie, Steve Myer of New Mexico, who took the second unit on an 11-play, 60-yard drive into the end zone. Myer completed five of nine throws for 51 yards, and ex-Washington Slater Vaughn Williams ran the final seven for the score.
Veteran Neil Graff was four-for-six and 48 yards with one interception. He engineered a 50-yard TD march, capped by Alan Dixon's one-yard plunge.
The other veteran, Gary Keithley, also moved his club 50 yards for a score and the final play was a four-yard pitch to Smith, who neatly caught the ball off a defensive lineman deflect. Keithley was a hot six-for-eight and 93 yards.
Lefthander Jim Zorn finished it off, but failed to put any points on the board, which didn't bother Patera who said, "He did better than anybody in quickness. When the blocking breaks down, it looks as if Zorn can move."
Patera's other QB analyses: "Today was the first practice in which there was any difference between Myer and Rowland. Of course Rowland went first and faces much fresher defensive people. Myer and Keithley appeared to have things more under control than anybody."
First Cut of Seahawks' Roster May Come Today
By Don Fair
P-I Sports Writer
Meanwhile a couple better vets -- wide receiver Ahmad Rashad and quarterback Gary Keithley -- played catch on the sidelines in the afternoon. Rashad, whose operated-on knee may permit him to start with the rest of the veterans, made the art of pass receiving look so easy.
As general manager John Thompson watched Ahmad, he said with feeling, "There is a real thoroughbred."
The Seahawks general manager added, "I also told Keithley that we want to sit down to talk about his 1976 contract before he joins the camp Monday. My assistant, Mark Duncan, is handling these negotiotions.
Keithley and Neil Graff, the other veteran QB on the roster, are unsigned for this season but both have the option clause in their contracts.
EXTRA POINTS -- Barbara Hunter arrived from Los Angeles with a camera crew to do an interview with Patera which will appear either Tuesday or Wednesday on the Today TV show. She also took some live footage of Rashad and Keithley, calling them "just about the only ones here anybody knows."
Keithley drove from his home, Alvin, TX, to Cheney in four days. It was a 2100-mile trip "which I don't think I'll ever do again".
Pro Football 1976
by Larry Felser and Dave Klein
Had the Seahawks done as well offensively, Atlanta and New Orleans might have filed suit for damages. But they won't have to, since the offense will be Patera's major source of headaches.
The quarterbacks are abysmal—Gary Keithley, Neil Graff and rookies Steve Myer of New Mexico, a fourth- round draft choice, and free agent Jim Zorn, either of whom could wind up with the job.
Keithley, who didn't play a down with the Cards last year, has some potential. Graff played more, but seems shaky. Myer is a fairly well regarded collegian. Southpaw Zorn, a free agent, was the Cowboys' last cut in 1975.
The Pocket Book of Pro Football 1976
Edited by Herbert M. Furlow
Neil Graff appears to be a benchie. Given a golden opportunity when Patriot Jim Plunkett got hurt last year, Graff was benched, and the book says he's not daring enough. He completed 18 of 35 for two TD's and a 51.4 percentage in 1975. No one knows if Gary Keithley can play quarterback any more—he hasn't played in the last two years, but he was the Cards' punter in 1973 and gained a 37.5 average. In his rookie year, also 1973, he completed 32 of 73 passes as the third-string QB. He's a possibility as Seattle's starter. Rookie Sherman Smith directed the great Miami (Ohio) teams of recent years.
The Pocket Book of Pro Football 1976
Edited by Herbert M. Furlow
Keithley, who is also one of the quarterbacks, was picked up in the expansion draft. In 1973 he punted for the Cardinals, averaging 37.5 On 77 punts. The placekicker is Ted Gerela, who spent a year in the Canadian league. The Seahawks hope he's as good as his brother, Roy, patron saint of Gerela's Gorillas in Pittsburgh.
Rolly Woolsey's now a Seahawk after expansion
The Idaho Free Press
March 1976
Only two quarterbacks were taken, both by Seattle. They were
Neil Graff
, the no. 3 man last year at New England, and
Gary Keithley
, a third stringer at St. Louis. The Seahawks also took the only three tight ends
Ron Howard
of Dallas,
John McMakin
of Detroit and
Charles Waddell
of San Diego.
Five more Seahawks depart
Walla Walla Union-Bulletin
Thursday, July 15, 1976
CHENEY, Wash (AP) –Three touchdowns were scored in the scrimmage — a seven-yard run by running back
Vaughn Williams
, a one-yard run by
Alan Dixon
and a four yard pass from
Gary Keithley
to running back
Sherman Smith
.
Six vets ink Seahawk pacts Saturday
Walla Walla Union-Bulletin
Sunday, July 18, 1976
CHENEY, Wash. (AP) - The Seattle Seahawks signed six veteran players Saturday, including linebacker
Mike Curtis
. But the only two experienced quarterbacks,
Neil Graff
and
Gary Keithley
, are still negotiating terms with the National Football League expansion team.
"I have talked briefly to Neil and still have to get with Gary, but I expect no problems," Thompson said.
The six signings leave the Seahawks with seven players who have not agreed to 1976 terms. All contracts so far have been on make-good terms, but no one has a no-cut contract. The Seahawks are less than a week from their first dress rehearsal which will be Saturday night at Joe Albi Stadium in nearby Spokane.
Head Coach Jack Patera said there will probably be few players cut this week. "We have a workable number in camp and there is no rush to get rid of anybody. We don't have to get to 60 players until August."
Former athletic director named to Alvin hall of fame
December 29, 2009
By Lisa Magers/CISD Community Services
The Cleburne Times-Review Tue
Source:
Cleburne Times Review
Gary Keithley, former CISD athletic director and Jackets head football coach, was recently honored by his high school alma mater, which named him to the Alvin High School Athletic Hall of Honor.
Keithley was one of 12 named to the inaugural class of the new Hall of Honor established by the school's athletic program.
Among his fellow honorees were 1971 AHS running back Kent Waldrep and baseball hall-of-famer Nolan Ryan, remembered for taking Alvin to the State 3A finals in 1965.
Ryan's wife, Ruth Holdorff-Ryan, was also recognized with her doubles partner, Rachel Adams-Thompson, for capturing the state doubles tennis championship the same year.
"It was a nice deal," Keithley said. "I got to see my old high school coach and four of the guys I played with. The main thing was all my kids were there. It was like a family reunion."
He also shared honors with a son and a son-in-law by being named to the AHS football program's All-Decades Teams, spanning the 1950s-1990s.
Keithley, who came to Cleburne in 1996 as offensive coordinator for the Jackets before taking over the program in 1998, was known in the Houston press as "Mr. Do Everything" in his role of quarterback for the Alvin Yellowjackets.
He was named an all-state quarterback his senior year after leading Alvin, 12-1, to the State Class 3A Semifinals in 1968.
His stats include 1,789 yards passing and 36 touchdowns, and he averaged 42.5 yards as a punter.
His 21 touchdown passes and the 1,789 yards he threw stand as school records.
Keithley played football for the Miners at the University of Texas at El Paso, and before his career in education, he played in the National Football League with the St. Louis Cardinals.
"I know Gary Keithley as a coach," said Michael Bass, AHS head football coach. "He is a humble man, very honest, a man of integrity. He's one of the top athletes to come out of Alvin High School, in my opinion."
Also inducted as charter members of the AHS Hall of Honor were Jimmy Howard, Alex Esquivel, Katy Jameson-Garza, Bobbi Kacz, Harver Barber, Billy Roye and Andy Hilhouse.
Members of the 1922 AHS track team were honored posthumously for winning the school's first state athletics championship.
Keithley has served as safety officer for CISD and is a member of the faculty at the District's Phoenix Campus.
Legends head Jackets All-Decade Football Teams
Roland Esquivel & Winston among five greats chosen; Roland & Keithley under center for 1950's and '60's Alvin High School Gridiron Squads
By Stephen Collins, Sports Editor
Friday, October 23, 2009 6:31 PM EDT
Source:
Alvin Sun
A cast of five gridiron legends joined all-state quarterbacks Billy Roland and Gary Keithley in comprising the Alvin Yellowjackets' All-Decade Football Teams over the past half century.
The Yellowjackets' All-Decade Football Teams comes courtesy of the Weekend Sun-Advertiser, which took nominations from readers over a two-month period, while the selection committee also received input from past and present Alvin gridiron coaches and players.
Starting with the pre 1950 legends' impressive quintet of Alex Esquivel, Andy Hillhouse, Bob Peoples, Henry Winston and B.J. Hawkins, the list contains 183 former players overall in a period spanning from the 1950's to the 1990's. The 2000 Team will be released next fall.
The All-Decade teams will be recognized as groups during the halftime of the Alvin-Clear Creek Football game, Oct. 30. A 5:30 p.m. reception is also scheduled for both the Athletic Hall of Honor and the All-Decade FB Teams in the AHS Competition Gym. Upon request to the AISD Athletic Department, members of the all--decade football teams will receive a commemorative plaque.
As reported in last weekend's paper, the inaugural hall of honor list includes Nolan Ryan (baseball), Gary Keithley (football), Jimmy Howard (track and field), Katy Jameyson-Garza (volleyball), the 1922 Boys' Track Team, Bobbi Kacz (track and field), Harvey Barber and Billy Roye (tennis), Rachel Adams-Thompson and Ruth Holdorff-Ryan (tennis), Alex Esquivel (football), Henry Winston (football), Kent Waldrep (football) and Andy Hillhouse (football).
The new hall inductees will also be recognized during intermission of the Alvin-Creek affair.