Mike Curtis was there!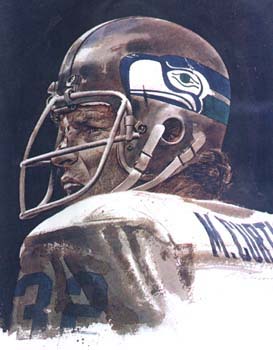 He raved about the fans of the 1976 Seattle Seahawks!! My kind of hero!!
Mike Curtis: Canton In The Crosshairs
"A lot of the guys in the hall of fame are buddies, many of whom I played with or against. It's like an exclusive club. I would be proud. I think my children and my family would be doing back flips."
The honor of induction into the Hall of Fame would be solely for Curtis and his family. "I wouldn't be telling everybody I was in the Hall of Fame if I got into the Hall of Fame, it's just not my style, I'm not comfortable with that kind of stuff. I would feel that I don't have to worry about anything else in the sports world, because that's the ultimate."
For a man with enough trophies to fill a warehouse, to call anything the ultimate reflects just how special induction will be to him. And when that day comes, something tells me that drunken fan may be coming back for a few more autographs.

Pre-76
All-Atlantic Coast Conference selection 2 years
Drafted 1965 (Colts)
Pro Bowl 1968, 1970, 1971 and 1974
Colts' MVP 1974
Super Bowl V winner
Curtis Heads Seahawk Draft
Mike Curtis is the "big name",
Ron Howard
is the prodigal son, and
Neil Graff
is a quarterback.
Those are also three of 39 players the Seahawks selected yesterday in the National Football League's expansion draft -- more correctly called the veterans allocation -- and held in New York City.
Following the draft, Miami Dolphins offensive tackle Norm Evans, 33, became Seahawk property. He has changed teams twice by veterans expansion.
Originally the 78 players picked by Seattle and the other expansion franchise, Tampa Bay, were to have been announced this morning. But Seahawk and Buccaneer officials zipped through their selecting chores so quickly that the draft list was announced 16 hours ahead of schedule.
Curtis is a 12-year linebacker from the Baltimore Colts who has four times played in a pro bowl, was the most valuable player of Super Bowl V (the Colts won 16-13 over Dallas) and has been both his team's captain and most valuable player.
Furthermore, Curtis is an author, having written one book about his career entitled, "[Keep] Off My Turf."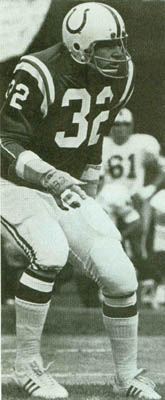 The diary of a football visitor to the Kingdome
By Joe Hendrickson
Star-News
August 17, 1976
"This is going to be a tough year," Curtis had told reporters. "It's tough to build team spirit and pride because the guys haven't been through a lot of good and bad times together. But it's easier to build comaraderie because this team doesn't have the prima donnas most teams have. Everyone gets his butt whipped here. There is no special treatment. I'm pleased about the enthusiasm on the team. The defense has a lot of experience and a lot of good players. But I'd say it's going to take at least all of this year for everyone to learn to play together. I don't want to give the impression we'll give up. I'm just realistic. Starting new is no apple pie situation. You've got to execute. You've got to run the defense without having to think about it. A great play (by the opposition) is the result of a mistake. If you cut out the mistakes, you'll win. Everybody gets beat physically from time to time. If you out-think the other team, you can beat 'em. Look at Dallas. They don't intimidate many teams. With the Colts, we out-thought 'em and out-hit 'em, too."
Seahawks
by Doug Thiel
Sunrise Publishing Inc.
MARCH 30, 1976: The Seattle Seahawks have 39 veterans by late evening. Some are old veterans, some are first year veterans, all have played professional football. Mike Curtis was a well-known name with an extensive reputation. He was a 12 year vet from Baltimore, played four times in the Pro Bowl, was the game's most valuable player in Super Bowl V in which the Colts beat the Cowboys, and had been his team's captain. Mike also had written a book entitled,
Off My Turf.
In the 1975 Pro Football Handbook Curtis is selected as writer Larry Felser's "Meanest Player" with no apparent competition and was ranked third as the "Angriest." A teammate of Curtis' once said that Mike looks out of the window of the team bus, "hating the grass." But Colt General Manager Joe Thomas commented in the early 1970's, "Mike Curtis is the best middle linebacker in professional football." Curtis supposedly did not have the same kind comments to return.
Mike, like many of the new draftees, seemed pleased, according to newspaper reports, that he was coming to Seattle, "I love to hunt and fish, and I'm looking forward to that. I really didn't think that I would be in the expansion draft, but I'm glad that someone wanted me. I feel this will be a new start."
Seattle Draft: 'Good Job'
Don Kosterman, executive vice-president and general manager of the Los Angeles Rams, offered, "If Mike Curtis is healthy, he's as good a linebacker as there is in the game."
Joe Thomas, Baltimore general manager commented, "You got two fine people from us, Mike Curtis and fullback Bill Olds. Olds was a starter, but we had to expose some people. We did that because we have Roosevelt Leaks back along with Kim Jones and Ed Shuttlesworth, who played in Canada last year. We figured to get hurt least there."
Gil Brandt, who has spent 17 years discovering players as Dallas' vice-president in charge of personnel development, added, "Seattle made some excellent choices. They got a good blend of players like Hoaglin, McMillan, Curtis, Geddes that can come in and lead stability.
"And they got good young guys, like the two from us (tight end Ron Howard, cornerback Rollie Woolsey). They have good possibilities for the future."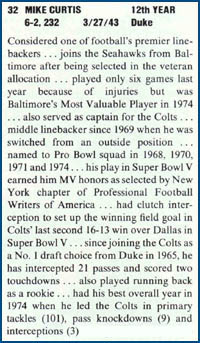 A Few Spots to Fill
By John Owen
Sports Editor
OK, sports fans, now put yourself in general manager John Thompson's chair. Your last immediate chance to fill your needs comes up next week during the college draft.
A tough decision, right? Well, look at it this way. If you make the wrong choice, you'll only be second-guessed by about 60,000 season ticket holders, your wife and your progeny.
Oh, yeah, and Mike Curtis will probably also remind you of your errors.
The 32-year-old Curtis bears probably the most readily recognized name on the initial roster of the Seattle Seahawks.
A genuine all-pro, Curtis has been one of the NFL's premier linebackers since his second year in Baltimore and was the most valuable player in Super Bowl V when the Colts beat Dallas.
He is also outspoken.
"Mike Curtis is the best middle linebacker in professional football," Colt general manager Joe Thomas said a year or two ago. "Joe Thomas is the worst (bleep) in pro football," Curtis reportedly responded, and he was known to be unhappy under the unsuccessful but authoritarian Thomas.
But Mike Curtis is more than outspoken.
Writer Larry Felser last year rated the cast of characters in the NFL in several unique categories, for Pro Football Handbook. Curtis won hands down as his "Meanest Player" and Otis Sistrunk finished no higher than fourth. Curtis ranked third on the "Angriest" list and finished second among players nominated for wearing the "Best Game Face".
A teammate once remarked that when Curtis rides the team bus to the stadium on game day, he looks out the window "hating the grass".
The Pro Football Handbook profile on Curtis includes these bits of information.
Shuts down run better than any MLB in game ... hits everything that moves on the field, including a fan a couple of years ago ... is called Mad Dog ... but not to his face.
Well, gee whiz. Welcome to Seattle, Mister Curtis, sir.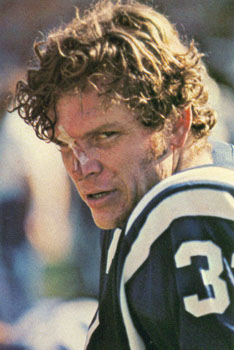 Oct. 17, 1976 – Seattle 13, TAMPA BAY 10
Jim Zorn
's 15-yard TD pass to
Sam McCullum
and a pair of field goals by
John Leypoldt
in the first half were enough to earn Seattle its first ever win. Seahawks' linebacker Mike Curtis blocked a field goal with 42 seconds left after the Bucs pulled to within three points of Seattle.
Pro!, the Official Magazine of the NFL
December 3, 1978
1976
The Seahawks selected 39 NFL Veterans in the allocation draft on March 30. Among the top veterans chosen were tackle
Norm Evans
of Miami and linebacker Mike Curtis of Baltimore, both former members of Super Bowl champions and all-pro selections.
From: jhibbs
Sent: Tuesday, March 28, 2006 11:46 AM
Subject: mad dog mike curtis
I was wondering how to reach Mr. Curtis. via e-mail/us mail etc. He has been my hero since I was a little boy in the early 70's. Web author's note: I'll be happy to post your message in the event Mr. Curtis comes across this page and would like to contact you.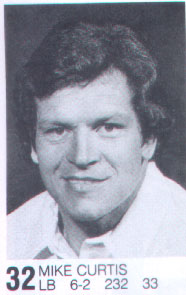 From: Phillips, Todd S.
Sent: Friday, June 10, 2005 2:11 PM
Subject: 76 Seahawks site, Mike Curtis
Hi. I was a big fan of Mike Curtis (for his play, I was too young to worry about his personality or his politics, jokingly referred to by teammates as being "slightly right of Mussolini".)
Anyway, I read the page on Curtis and the comments Belichick said, referring to Curtis being "traded" to Seattle. I was under the impression that Mike Curtis was not a trade, he was a franchise player chosen in the expansion draft. Just thought you might want to point that out.
I still have a photo I cut out of Sports Illustrated when I was 11 (1971). Ray May, Mike Curtis, Ted Hendricks, coming off the field on a Monday Night Football game, perhaps the best linebacking core ever. Hendricks of course is in the HOF, May went on to the be captain of the Broncos teams that finally made it to their first Super Bowl. Curtis you know.
Many people know that Ted Hendricks was called the Mad Stork. But not many remember it was originally a joke. Mike Curtis was known as the Mad Dog, since he was small for a linebacker, but vicious on the field. Bart Starr said he was scarier than Butkas. Anyway, Hendricks was tall and skinny as a rookie and ran in a gangly manner. So he got the nick name as a play on Curtis' own nickname.
Take care, great site.
Legendary Linemen
MSRP: $29.95 Theatrical Release: 1987
Movie Format: VHS (UPC Code: 06363400062)
Runtime: 60 minutes
Categories: Sports/Recreation, Football

PORTRAITS: Mike Curtis
Source: Pro! The official magazine of the National Football League
Detroit Vs Seattle
Oct 24, 1976
by Merv Corning
A proud new insignia enhances the roster of the National Football League in 1976, the legendary Seahawks of America's Northwest Territory.
It's appropriate that the savage bird, which is styled after the unique design of the Indian tribes of the region, should be shown on Mike Curtis, Seattle's aggressive middle linebacker.
The Seahawks determined early to establish their success in the NFL on the quality of their defense. Seattle chose 20 defensive specialists in the NFL veteran allocation draft. Curtis a 12-year veteran all-pro linebacker from Baltimore, MD is an unexpected bonus for head coach Jack Patera.
Hampered by a knee injury, Curtis played only six games in 1975. The young Colts won the AFC Eastern Division title, but Curtis did not play a major role in the championship drive and he became expendable in the Colts' continuing rebuilding plans.
A veteran of Baltimore's appearances in Super Bowls III and V, the 33-year old Curtis gives the Seahawks the on-the-field leadership necessary to make a new team competitive.
Once a fullback at Duke, Curtis excels at crashing into ball carriers with a ferocity that is in keeping with the symbol of the bird of prey proudly emblazoned on his helmet.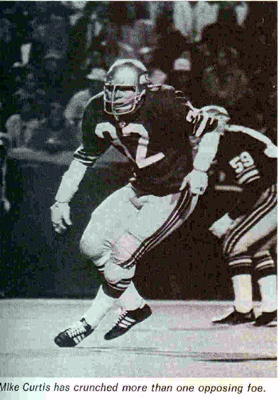 1976 Season Summary
Team Captains:
T
Norm Evans
(Offense), LB Mike Curtis (Defense), LB
Ed Bradley
(Special Teams)
Team MVP:
QB
Jim Zorn
National Honors:
QB Jim Zorn, NFC Offensive Rookie of the Year; DT
Steve Niehaus
, NFC Defensive Rookie of the Year
Seahawks were kings
Early teams were fun to watch, classy
Source: The News Tribune
September 1, 2000
By Dave Boling
The Seahawks were so hastily formed before the 1976 opener, there were five players on the field who had practiced with the team only twice.
In his first postgame interview, quarterback Jim Zorn once referred to a teammate as "No. 44." That was the best he could do; he didn't know his name.
Because the core of the team was so inexperienced, Patera knew he needed some gray-beards with good attitudes to come in and shape the personality of the team in the locker room.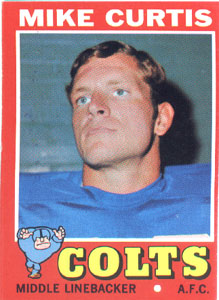 He quickly traded for one of his stand-bys in Minnesota, Bob Lurtsema, the famous "Benchwarmer Bob" of Viking renown. Except Lurtsema didn't spend time on the bench in Seattle, he started 25 games at defensive end the first two seasons.
"Evil Jack - our nickname for (Patera) - brought in a couple old veterans like Mike Curtis and myself," said Lurtsema, who still trades on his football reputation as a businessman back in Minnesota. "Some of us old-timers were brought in to maintain a positive attitude.
"That was part of the leadership role he wanted me to play. You don't bring in an 11-year veteran to have a negative attitude in the locker room. You needed positive people because he knew there was going to be a lot of bad games and tough times."
Seattle Fans help Curtis Retain Zest
Source: Washington Post
16 September 1976
Paul Attner, Washington Post Staff Writer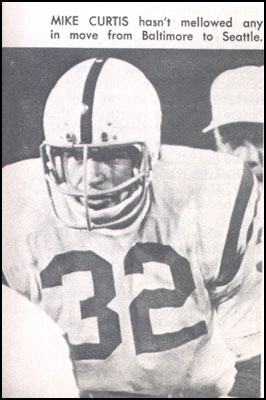 Mike Curtis has been a pro football player for 12 years, but says he's never seen anything like the fans who root for the Seattle Seahawks. "They cheer everything," he said. "If you recover your own fumble, you might get a standing ovation. They're incredible. But the test will be how they are in a few years. By then, maybe those lumberjacks up there will be tossing logs at us from the stands."
But for right now, Seattle is having a lingering honeymoon with its expansion franchise. Fans can't get enough of the players or the game and even losing hasn't dampened their enthusiasm.
"The only thing they seem to be careful about is endorsements," said Curtis. "The first Seahawk, Dave Williams, was endorsing everything you could name. Then he was cut. That kind of took care of endorsements for a while."
Curtis is the best known of the Seahawks, who are a typical expansion conglomeration of free agents, rookies, fringe veterans and aging former stars. But the Seattle area cared more that it was finally moving into big-time football.
The club sold 24,000 season tickets the first day and hit 59,000 within 27 days despite the fact that the domed stadium wasn't finished, or that no coach had been hired or players signed.
Advertisers have purchased $1.5 million worth of spots during game broadcasts. On game day, coverage begins two hours before the kickoff and lasts six hours in all. Ninety-six pages of advertising for game programs were sold in six weeks. And people are still clamouring to get on the Seahawk bandwagon.
Indeed, one of the major problems first facing the owners was distribution of season tickets. There were 55,000 requests for 20,000 $14 game tickets, but only 143 requests for $7 tickets. The fans had to be convinced the less expensive tickets in the Kingdome were quality seats.
The stadium is a marvel because of cost alone. King County spent $67 million to build it, one-third less than the Superdome in New Orleans. It also was finished just about on schedule, and everything worked. "The bus is even on time to pick you up to take you to the airport, and he knows the way to go," says Curtis. "Hell, in Baltimore, we never knew if we were going to make it from the airport to the hotel." "Guys I know who have gone to New Orleans or Atlanta say it's a nightmare. Here, we get paid on time and they seem to really know what they are doing. I've been surprised by how efficiently things have run."
He is also pleasantly surprised by the quality of the team, which won one exhibition game and staged a fine second-half rally against the Cardinals in the season opener last week. Curtis says the club, which will meet the Redskins in RFK stadium Sunday might be even better than he thinks.
"I think that a lot of teams we played in the exhibition season took us lightly and didn't put out, so I really don't have a good reading on how good we are," he said. "I'll know better when we meet Dallas in the fourth game, when they are trying to clinch a playoff and are going all-out and we are going all-out."
By then, Curtis, the former all-pro middle linebacker, will feel more at ease at his outside linebacker spot, where he says he hasn't played since 1969. Curtis says he jokingly suggested to the Seattle coaches that he should make the switch "and then two weeks later, they decided I should do it."
"I had problems at first. It was strange and I didn't react well at all. The running game came quicker than the passing game. I still don't really cover on passes as well as I should but I'm improving. I had to, it was pretty bad before."
He is happy now about the move, figuring it will lengthen his career so he can play another four years. He also is in a more pleasant state of mind, now that he is away from Baltimore and general manager Joe Thomas.
"I tried for two years to get traded," he said. "I popped off enough, figuring they had to get rid of me. I couldn't live with Joe Thomas. He's such an egotist. That's why I can't believe it when he says that Ted (Marchibroda) is going to run things here. He'll never give up his authority."
On offense, Seattle has had problems moving the ball on the ground, gaining no more than 100 yards rushing in any game so far. But left-handed quarterback Jim Zorn, another one of those scramblers the Redskins have so much trouble with, has been an effective passer, throwing for 292 yards against the Cardinals.
Zorn, who played at Cal Poly Pomona, was the final cut made by Dallas last year. He didn't hook on with any team and was signed as a free agent by Seattle last spring. Although the Seahawks traded for Bill Munson, Zorn is expected to continue to hold down the No. 1 spot. Zorn is expected to start against the Redskins despite a "considerable limp" from the sprained ankle he suffered in the opening game.
The running back situation, however, is another question. Seattle has been starting veteran Bill Olds and rookie Andrew Bolton, the club's leading preseason rusher. But the Seahawks brought in four new running backs last week to challenge, including ex-Redskin Ralph Nelson. Nelson said yesterday that he is looking forward to coming back to Washington. "I definitely want to play in this game," he said. "I'd like to show them I can play. They were messing with my mind back there, putting me on second team special teams and then on the inactive list. It wasn't a nice situation."
Before he can meet the Redskins, Nelson first has to survive another cut. The Seahawks must reduce their squad from 49 to 43 today. "If I don't make it, I can live with it," he said. "I'm only 22, and there are other teams around. I'll just pack my bags and go home to L.A. and get a job.
"But I think I can help this team. They never gave me a chance in Washington. That's all I want here."
Curtis -- Competitive, nice guy
By Kevin McCullen
Spokesman Review,br> Spokane, WA
22 August 1976
Some National Football League observers have branded Seattle Seahawk linebacker Mike Curtis as one of the meanest players in pro football, but Curtis says that's just a rumor.
"That's just for show business," the 12-year NFL veteran claims. "All those stories about how mean I am just aren't true. Some of them have been stirred up for show business. Show business is part of the game."
The stories about Curtis developed in Baltimore, where he began his pro career with the Colts in 1965. In his 11-year stint with Baltimore, Curtis earned a reputation as one of the hardest hitters and toughest competitors in the NFL. His play gained him spots on the Pro Bowl roster in 1968, 1970, 1971 and l974.
He was named Most Valuable Player in Super Bowl V when he intercepted a pass against Dallas to set up a last second field goal in the 16-13 Colt win. His teammates selected him as their MVP in 1974 after he led the squad in primary tackles (101) and interceptions (3).
The Seahawks picked him during the veteran allocation draft in March.
Though Curtis denies he is a mean football player, he does admit he is fiercely competitive.
"Once I get involved in something I'm intense about it -- I pursue it," Curtis said. "If my job is to make a play then that means I have to get there whether I go around blockers or smash them. I just try to get there to make the play."
Curtis was shocked but not upset when the expansion Seahawks picked him in the veteran draft.
"I feel this team is a new opportunity for me," he remarked. "I'll get to see a different part of the country and start all over again. I'll play four years here before I retire."
Curtis' last years in Baltimore weren't pleasant ones, he says. He blames one man in the Colt organization for creating that situation -- General Manager Joe Thomas.
"Joe Thomas had ruined the game for me," Curtis said. "He turned football into a business instead of a game. He also got rid of most of the guys I'd played with for all those years."
Curtis said he asked to be traded for several years, but Thomas refused to comply with the request. Curtis wanted to play for George Allen and the Washington Redskins primarily because his home is in the District of Columbia area.
Curtis' dislike for Thomas is great, so great that he was quoted in Sports Illustrated magazine as saying he'd "give Joe a nice shot when we play the Colts in '77." But Curtis shrugs off the statement.
"I couldn't even hit Thomas if I wanted to," he confessed. "He isn't on the sidelines -- he stays in the pressbox where he's safe. He did coach us one year -- the year we went 2-12."
"No, I'm happy to get away from Joe Thomas. The only thing I don't like here is that I'm so far away from home. I've got a boy that's a year and a half old, and I won't see him for a month," he continued.
Curtis doubts that he will regain all-star prominence again in his remaining years in football.
"I have to learn a whole new system, and that's tough," he said. "That takes time, and I don't think I will ever again."
Seahawk Head Coach Jack Patera recently moved Curtis from middle linebacker to the left linebacker slot. Curtis played the outside position for the Colts until 1969 when he was shifted to middle linebacker.
Additionally, he is playing with two damaged knees. An injury to his left one last year resulted in an operation to repair cartilage.
In spite of his painful knees, he has survived 11 years in the league at one of the most rugged and physically demanding positions in football. Curtis claims he's accomplished the feat through quickness.
"I've been able to avoid unnecessary contact," he said. "I can deliver a blow rather than taking a blow. My job is to get to the ball carrier, not to show people how tough I am by smashing offensive linesmen.
"Plus, I don't extend myself if I can't make a play. If a guy's going to make a few extra yards I don't try to extend myself by preventing him from doing it if he's going to anyway," Curtis continued.
Curtis and former Miami foe Norm Evans are the most experienced veterans on the Seahawk roster, but Curtis feels he isn't a team leader. He says the Seattle training camp is difficult for him but not because of the complexity of the defense.
"It's harder because it's more monotonous," Curtis noted. I'm more interested in games now than doing agility drills. After 12 years of doing agility drills, they lose their appeal. I just wait for games."
An observer wouldn't agree watching Curtis perform crunching teammates during Seahawks' scrimmages, but he insists practice sessions don't rouse any fire within him.
"I don't worry about scrimmages," he said. "I don't want to get wrapped up in them. If I got emotionally high for every one of them, I'd be burned out before games."
Reflecting on his long career, Curtis thinks his greatest thrill was winning the MVP award after Super Bowl V when his Colts won the NFL championship. He has only one regret.
"Losing the Super Bowl to the Jets has been my only real disappointment," he said, referring to the New York Jets' stunning 16-7 upset win in Super Bowl III. "We should have won. That loss stuck with me for months -- in fact it still makes me mad."
Curtis was pleasantly surprised
By Dave Brady, Washington Post
January 9, 1977
Curtis was pleasantly surprised to find out that despite Seattle's reputation for having an excess of rain the Seahawks did not have to practice inside the Kingdome once this season became of the weather.
Curtis did show he was flustered, with red face exposing his scuffed pride, when defensive lineman Steve Niehaus was voted the club's most valuable player.
The Pocket Book of Pro Football 1976
Edited by Herbert M. Furlow
The backers may be the defensive guts of the Seahawks. Three were regulars last year, although Curtis had a knee problem at Baltimore. Geddes and Hansen both have starting experience. Bradley played behind Lambert with the Steelers; Hutcherson was hurt most of last year. Rookie Green has top All-America notices.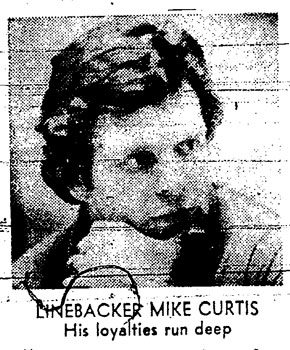 Seahawk squawks
By BOB WAYT
Chronicle Sports Writer
The Daily Chronicle, Monday. October 18,1976
The buccaneers of the 17th century, though dashing in their feathered hats, hooped earrings and skintight pants, were sordid fellows, you know.
Not only did they haunt the seas of the Caribbean and Pacific, pillaging ships and sailing malevolently away with the loot, the maritime marauders often robbed settlements as well. There were no buccaneers in ruffled lace at the Tampa Bay-Seattle NFL game Sunday, even though the first-year Florida club answers to that moniker.
There were, however, a band of robbers in striped shirts and while they didnt take anybody's life, or booty, they plundered the expansion bowl of its excitement and vitality. If the United Nations had supplied the flags for this game, the officials would have run out before halftime. By the time all the penalties had been stepped off, it could easily have been midnight—in Tennessee.
One referee threw his flag 21 yards. Another rifled his through the face mask of Seattle defensive back Dave Brown, who was subsequently treated for a swollen eye.
"It got to be we weren't so much concerned with blocking and tackling, but just looking to see who the penalty was on," said Seattle coach Jack Patera. "It reminded me more of an officials clinic than a football game," observed Seahawk defensive coordinator Sam Baghosian.
Seattle offensive guard John Demarie said he thought the major reason for the rash of fouls was a recent demand by (NFL commissioner) Pete Rozelle that the officials crack down on holding. In fairness to the referees, Seahawk linebacker Mike Curtis was glad to see so many yellow hankies fly. "It's the first time I've ever been in a ball game where the officials called the way they were supposed to," the 12-year pro claimed.
Woolsey will be ready for Sunday
Idaho Free Press
August 24, 1976
SEATTLE (UPI) - Mike Curtis, an 11-year veteran who made the Pro Bowl team three times as middle linebacker, has been moved to a new position by the Seattle Seahawks.
Curtis, who came to Seattle from Baltimore in the expansion draft, will play outside linebacker for the Seahawks. Ed Bradley, drafted from Pittsburgh, has taken over the middle spot.
Seattle coach Jack Patera said it was discussed with Curtis before practices began and Patera experimented with that shift in two exhibition games before announcing the change was permanent.
After a drubbing by the Denver Broncos over the weekend, it wasn't surprising that the Seattle Seahawks returned to fundamentals in practice Monday.
Coach Jack Patera said the same basics would be emphasized in Tuesday's workouts and the team would begin Wednesday preparing for a game with the San Diego Chargers in the Kingdome Sunday.
Collecting Mike Curtis?
1969 Topps #229 Mike Curtis
1970 Topps #201 Mike Curtis
1971 Topps #80 Mike Curtis
1972 Topps #326 Mike Curtis
For more on Mike Curtis, click here!