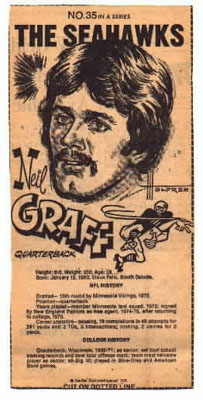 Neil Graff was there!
Pre-76
All-Big Ten selection
Blue-Gray and American Bowl all-star games
College letterman for 3 years
Drafted 1972 (Vikings)
DNP 1973
Signed by Patriots 1974
Curtis Heads Seahawk Draft
Mike Curtis is the "big name", Ron Howard is the prodigal son, and
Neil Graff
is a quarterback.
Those are also three of 39 players the Seahawks selected yesterday in the National Football League's expansion draft -- more correctly called the veterans allocation -- and held in New York City.
Graff was one of only two quarterbacks picked yesterday. The other was Gary Keithley, also tapped by Seattle. Graff came from the New England Patriots where he started two games without distinction last season. Keithley is from St. Louis where he has not played a league game since 1973.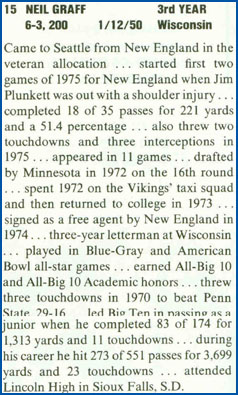 New Hawks Welcome Move
By Don Fair
Seattle P-I Sports Writer
Not all players selected yesterday got the word of their new situation. For instance, quarterback
Neil Graff
, picked from New England by Seattle, is touring Europe with his new bride. But his mother replied, "We're pleased."
A Few Spots to Fill
By John Owen, Sports Editor
Well, the Seahawk expansion draft is over and the coaches and scouts seem fairly well satisfied, except in three areas. They admit there were precious few defensive linemen put up for grabs. There were hardly any power runners ... and few quarterbacks.
The Seahawks still drafted two signal-callers, Neil Graff of New England and Gary Keithley of St. Louis.
Coach Jack Patera says he has seen enough of Graff to know that "he can at least take the snap from center." He doesn't really know that much about Keithley, who hasn't had much of a chance to play with the Cardinals.
Tampa Coach John McKay says he has two free-agent quarterbacks who are better than anybody he saw on the expansion list. And he isn't really bragging about his free agent quarterbacks.
Smith 'A Pleasure to Watch'
All five quarterbacks had their chance to run the offense during the 51-play scrimmage. Unfortunately, Chris Rowland, the ex-Husky, did not have, for him, a good showing.
He was at the controls for 14 plays, completed two of eight passes for 24 yards, had one intercepted and was "sacked" (although no one was allowed to tackle the QB in the live session) twice.
Then came the other rookie, Steve Myer of New Mexico, who took the second unit on an 11-play, 60-yard drive into the end zone. Myer completed five of nine throws for 51 yards, and ex-Washington Slater Vaughn Williams ran the final seven for the score.
Veteran Neil Graff was four-for-six and 48 yards with one interception. He engineered a 50-yard TD march, capped by Alan Dixon's one-yard plunge.
The other veteran, Gary Keithley, also moved his club 50 yards for a score and the final play was a four-yard pitch to Smith, who neatly caught the ball off a defensive lineman deflect. Keithley was a hot six-for-eight and 93 yards.
Lefthander Jim Zorn finished it off, but failed to put any points on the board, which didn't bother Patera who said, "He did better than anybody in quickness. When the blocking breaks down, it looks as if Zorn can move."
Patera's other QB analyses: "Today was the first practice in which there was any difference between Myer and Rowland. Of course Rowland went first and faces much fresher defensive people. Myer and Keithley appeared to have things more under control than anybody."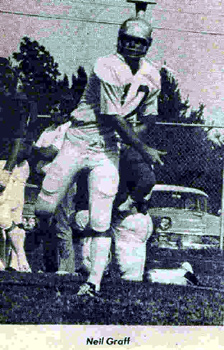 [Headline unknown]
The Seattle Times
By Gil Lyons
August 1, 1976
The Seattle Seahawks will strive for a "first" today when the National Football League opens shop in the Kingdome.
No expansion team has ever won a first exhibition test, dating back to the Dallas Cowboys in 1960.
Seattle's long-awaited debut in the NFL will begin at 1pm against the rebuilding San Francisco 49ers before what should be a capacity crowd of nearly 65,000.
Neil Graff, who played behind Plunkett in New England, and left Jim Zorn are scheduled to divide the quarterbacking for Seattle.
Neither has been exposed to the type of pass rush, in practice, they will be subjected to today from San Francisco's fine defensive ends.
Graff started two games with the Patriots last season when Plunkett was injured. Zorn was with Dallas through the preseason last year.
The Seahawks are hoping that either Graff or Zorn will emerge as a take charge quarterback. Gary Keithley and rookie Steve Myer likely will get their chance next week.
Graff, Olson among S.D. Hall honorees
Ron Hoffman
Argus Leader
Published: 3/30/2003
Lincoln graduate was S.D.'s only NFL QB
Neil Graff grew up on the east side of Sioux Falls, a smaller-than-average kid with big hands and dreams of being a basketball star. Though he became a fine basketball player, it was his skill in football that made him a South Dakota sports great.

He is the only National Football League quarterback that South Dakota has produced, spending six years with five teams in the 1970s. Because of those achievements, he will be inducted into the South Dakota Sports Hall of Fame on April 5.

Graff got his start in football as a seventh-grader playing touch football at Whittier Junior High. Don Erickson was his coach. "He lined all the kids up, 40 kids in a row, and said, 'Hold out your hands.' The kid with the biggest hands got to be quarterback. That was me," said Graff, 53.

"My love growing up was basketball. I didn't have any aspirations of playing football. At Lincoln I thought about not going out for football.




Short Cuts:
Source: The Spokesman Review
Thursday, September 23, 1976
Spokane, Washington
Neil Graff
, veteran quarterback of the Seattle Seahawks, was released Wednesday, trimming the club's roster to 44 players -- one under the limit. The Seahawks already have three quarterbacks and decided to keep rookie Steve Myer over Graff for future use.

From: Michael McKoy
Sent: Tuesday, September 28, 2004 9:07 AM
Hi Becky,
I Googled
Neil Graff
while spending a day home from work, and came up with your website.
Long story short, I grew up in Madison Wisconsin, home of the University of Wisconsin, and in 1970 #12 from the Badgers was my idol; none other than
Neil Graff
. I used to hang out at the stadium watching practice and actually got to meet Neil. Being that I was 11 years old at the time, it was the thrill of my life. And I'm sure after all these years one thing hasn't changed: one of the nicest people you could ever meet. He treated me like a long lost friend, or little buddy.
When he went to the Packers nobody could have been happier than myself. By that time I was a senior in high school and had given up the thought of ever making a mark in football myself. But as a freshman, I had 2 idols. Neil's own idol, Bart Starr, and Neil himself.
Thanks for the memories!
Mike McKoy, Deerfield, WI.
From: Benson, Mark
Sent: Wednesday, December 31, 2003 12:31 PM
Hi,
I read with fascination your articles on
Neil Graff
. I am a die-hard Patriots fan/historian, and I remember Mr. Graff from my youth. I grew up in Foxboro about a 15 minute walk from the old Schaefer Stadium, and I used to go over there after school. I got Mr. Graff's autograph a couple of times, and I remember him as being a perfect gentleman.
I was about 12 at the time, and I remember he and Plunkett even tossing a football around with a couple of us kids in the parking lot one day after practice. Those were the days, practice is closed to the public now.
Take Care,
Mark
From: Lance Larson
Neil Graff
went to high school here in Sioux Falls at Lincoln High School. He still lives here and is a business man in Sioux Falls. I went to hear Jim Zorn speak a few years ago at a local church and Neil was in the crowd. Cool.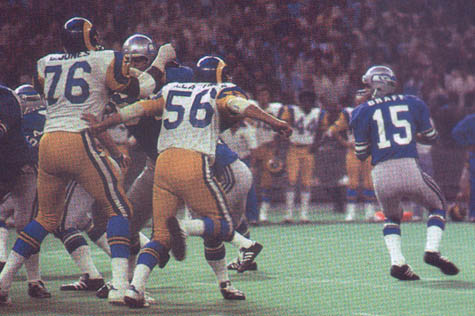 Source: Pro! The Official Magazine of the National Football League Aug. 1, 1976 edition:
The Seahawks quarterback race is so tight that before last week's intra-squad scrimmage in Spokane, Jack Patera flipped a coin to determine his starter.
Veterans Neil Graff and Gary Keithley, first-year player Jim Zorn and rookie Steve Myer have all looked good during passing drills at the Seahawks' Eastern Washington State College training camp in Cheney...
Last week's intra-squad scrimmage in Spokane was an artistic success. Quarterback Jim Zorn threw for the most yardage, 135, by completing eight of 21 passes and the scrimmage's only touchdown pass.
The 6-2, 200-pound first-year player from Cal Poly (Pomona) was also the scrimmage's leading rusher with 40 yards on three attempts.
Myer, a rookie from New Mexico, completed 10 of 18 for 100 yards and directed the offense to a touchdown, while Graff hit 8 of 17 for 89 yards and Keithley was 10 of 19 for 110 yards.
Graff, obtained from New England in the veteran allocation, drove the Seahawks in for a field goal and Keithley, picked up from St. Louis in the veteran allocation, moved the offense in for a pair of touchdowns.
Of the quarterbacks, Patera had special praise for Zorn.
"Zorn's quickness was outstanding and Francis (Tarkenton) had the same thing when he came up though he does things today he didn't do when he started.
"You can't compare the two yet. I do remember the defensive line hated to chase him and Van (Norm Van Rocklin) got irritated when Francis came out of the pocket too quickly."
Rams' Greatest Accomplishment
Maintaining Their Super Bowl Team of 1999
By Noah Levenson
GWBlitz! Staff
January 29, 2002
In this day and age of free agency, impatient owners and the pressure of winning right away, the Rams have something unique developing. After Dick Vermeil resurrected the franchise to a Super Bowl victory in 1999 the Rams have remained in the class of NFL elite. They have been in 2-Super Bowls in three years and have been to the playoffs in three straight seasons. Last year they were the pre-season favorites, but their defense just couldn't stop anyone. This year with Lovie Smith, previously a former defensive coach of the Buccaneers, the Rams' defense is not something to overlook. Add the already explosive Rams' offense, with complex formations and individual pro-bowlers and St. Loius of 2001 may be even better than in '99.
If the Rams win on Sunday then they will be on the verge of a dynasty. Such a term is very hard to use in today's sports world because of the ever changing in and out players. But, the Rams have all their big names signed for the long run. The Denver Broncos competed for the title for three years; the same amount of time the Rams' have also been a favored contender. I wouldn't call the Broncos a dynasty, despite winning two titles in a row because of John Elway's retirement.
A problem with the Rams is their quarterback situation. If Warner's ribs get hurt and he has to leave the game, then Jamie Martin enters the game. Even though the Rams have the best receivers in the league and the best running back in Marshall Faulk, it does not look good to have a back-up quarterback who the team does not trust. Of course the back-up quarterback does not determine if a team can become a dynasty or not, but look at the past dynasties and their back up quarterbacks.
In the middle of the Steelers dynasty, they had Neil Graff and Mike Kruczek backing up Hall of Fame quarterback Terry Bradshaw. The 1987 San Francisco 49ers had Steve Young, who we now know to be one of the best ever quarterbacks. It certainly helped that the team knew he would take over when Joe Montana left and that he learned from the best. The Buffalo Bills lost four Super Bowls in a row, but they were a dynasty. How many teams can say they even went to four Super Bowls? In the 1990 season, Frank Reich backed up soon to be Canton bound Jim Kelly.
The point is the back-up quarterback does not matter when making a dynasty, but in the a game that defines what teams qualify for dynasty status, the back-up better be able to step it up. (Think Doug Williams coming in for the injured Jay Schroeder in 1988 for the Redskins.) Especially this year, with the different injuries and pain Warner is playing through, the Rams have to make sure Jamie Martin can step it up.
The most amazing thing about the Rams has been their ability to keep all their main figures in their Super Bowl run under contract for the long term. The more teams win now, it seems the more they lose their players. As we see now this is not the case for the Rams and this might just be the beginning of a long run to becoming one of the NFL's greatest dynasties.
D.A.R.E. Program
The D.A.R.E. Program continues to be an important part of our proactive approach to drug, gang, and violence awareness. Two full-time D.A.R.E. Officers are assigned to this program during the school year. The School Resource Officers, Crime Prevention Officers, and the D.A.R.E. Supervisor taught a limited number of classes to schools that were not scheduled by the full-time officers.
This 17-week program was taught to about 1,800 fifth graders in over 70 classrooms. The program is taught in half of the Sioux Falls schools during the fall semester of the school year while the other half receive the program during the spring semester. Parent meetings and class visitations to the kindergarten through fourth grade were also included in the program. In come cases, the D.A.R.E. officers spent extra time in school with the students, outside of class, to let them get familiar with the officer. Questions from students to officers in the hallway, like "why are you here?" or "are you going to arrest somebody?" turned into "high fives" and "do you have any football cards?" and greeting each other by name, between students and officers. School officials indicated this was a positive "extra" that allowed the students to understand that the officer was their friend. The officers also hand out their own D.A.R.E. Officer Trading Cards.
Several professional people were asked to speak at our culmination ceremonies, when the D.A.R.E. graduates receive their completion certificates and those "ever-popular" t-shirts. Speakers included former NFL quarterback and local businessman Neil Graff, Congressman John Thune, and Governor Bill Janklow, who is a big advocate of positive youth programs.
Starr Sees Whitehurst Ending the QB Search
By Dave Brady, Washington Post Staff Writer
August 10, 1978
Bart Starr's biggest problem as a coach is replacing Bart Starr as a quarterback.
That and recovering from the draft choices unsuccessfully used to try to-solve the problem by starr's predecessor as coach, Dan Devine. Starr hopes he has the solution with David Whitehurst, whom he drafted on the eight round from Furman University.
Whitehurst got his opportunity in 1977 because seven-season veteran Lynn Dickey suffered a broken leg on the final play of a loss Los Angeles.
The fracture did not knit well and a month ago a plate that was irritating tissue was removed. Now, Dickey is on the "physically unable to perform" list until Oct. 8.
The Packers lost their first exhibition, 17-14, to the Kansas City Chiefs last weekend but Whitehurst hit on 11 of 19 passes and free agent back-up quarterback Neil Graff four of seven, for an aggregate of 171 yards.
Broncos Run Over Steelers, 21-7
By Dave Brady
Washington Post Staff Writer
November 7, 1977;
DENVER, November 6, 1977 -- Quarterback Craig Morton directed Denver to a 21-0 first-half lead and the Broncos held Pittsburgh scoreless for three quarters and coasted to a 21-7 win over the Steelers.
Bradshaw missed his first five passes, completing four of 12 in the first half. Morton was four for eight.
There were 14 penalties in the first 30 minutes, seven against each team.
Bradshaw was shaken up near the end of the third quarter when sacked and was replaced by Neil Graff.
Neil Graff
Born Jan. 12, 1950 in Sioux Falls. Sioux Falls (1968 Lincoln High grad). 1972 University of Wisconsin grad. The only National Football League quarterback that South Dakota has produced, the Sioux Falls native spent six years with five teams in the 1970s.

Graff got his start in organized football as a seventh-grader playing touch football at Whittier Junior High. Don Erickson was his coach. "He lined all the kids up, 40 kids in a row, and said, 'Hold out your hands.' The kid with the biggest hands got to be quarterback. That was me," said Graff.

Graff was selected by the Minnesota Vikings in the 16th round of the 1972 NFL draft. He was with Minnesota one year, then two years in New England and two in Pittsburgh. He also was with Seattle and Green Bay briefly. The 6-3, 205-pounder was a backup to some of the NFL's best quarterbacks: Fran Tarkenton in Minnesota, Jim Plunkett in New England and Terry Bradshaw in Pittsburgh. He saw action in three seasons (1974-75 with New England and 1977 with Pittsburgh). In his NFL career, he completed 25 of 48 passes for 288 yards and two touchdowns.

Graff started 33 straight games at Wisconsin. He was the Badgers' MVP and all-Big Ten as a senior. He led the Big Ten in passing and total offense as a junior. He set school records for career passing yards (3,699) and touchdown passes (23) as well as single-game TD passes (4) and passing efficiency (259.9).

At Lincoln High, Graff was all-state in football and basketball two years and he had NCAA Division I scholarship offers in both sports. He led Lincoln to the mythical state football title as a junior and helped the Patriots to a runner-up finish in basketball as a senior. He was named the High School Football Player of the Decade for the 1960s by the Rapid City Journal. He played Legion baseball as well.

Graff was chosen as one of South Dakota's top 50 athletes of the 20th Century by Sports Illustrated. He is a member of the Lincoln High Hall of Fame.


Pro Football 1976
by Larry Felser and Dave Klein
Had the Seahawks done as well offensively, Atlanta and New Orleans might have filed suit for damages. But they won't have to, since the offense will be Patera's major source of headaches.
The quarterbacks are abysmal - Gary Keithley, Neil Graff and rookies Steve Myer of New Mexico, a fourth- round draft choice, and free agent Jim Zorn, either of whom could wind up with the job.
Keithley, who didn't play a down with the Cards last year, has some potential. Graff played more, but seems shaky. Myer is a fairly well regarded collegian. Southpaw Zorn, a free agent, was the Cowboys' last cut in 1975.
Graff Doesn't Hold A Grudge; He Comes Back To Steelers
Friday, October 14, 1977
Kingsport News
PITTSBURGH (UPI) — In these days when players can demand and receive huge salaries, long contracts and no trade clauses, a pro athlete like Pittsburgh Steelers quarterback Neil Graff is an anachronism in his own time.
Asked to come back, without guarantees, to bail out the team that had fired him just a few weeks earlier, Graff simply said "yes."
"I didn't feel vindictive at all," Graff said of the Steelers' llth-hour request for him to return after Terry Bradshaw and Mike Kruczek were injured in last Sunday's game with Houston. "I had good feelings about the organization when I was here. I understand the situation that led to my being cut."
His understanding came from experience. Graff had been signed and cut by three other NFL teams before the Steelers signed him five games into the 1976 season, when Bradshaw was injured, leaving the rookie Kruczek the only healthy quarterback. Graff dressed for nine regular season and two playoff games but his services were never needed.
When he reported to training camp, Graff found he had competition for the third-string quarterback job: rookie free agent Cliff Stoudt. Graff's training camp was considered more impressive than Stoudt's.but the 22-year-old Stoudt had more years for potential improvement than Graff, 27., Stoudt was placed on the taxi squad and Graff was released.
But with Bradshaw questionable with a broken wrist and Kruczek probably out for the season with a shoulder separation, Graff's age and years spent as a bench-warmer became attractive.
Knowing that, Graff said, he probably would have called the Steelers and offered his services if they hadn't contacted him first.
Coach Chuck Noll has said that if Bradshaw cannot play with a flexible cast on his wrist in the Steelers' upcoming game with Cincinnati next Monday night, Graff is likely to be the starter with Stoudt the backup.
"There's no guarantee, but I would guess I'd play," Graff said.
"It's really a great chance for me, if I get in and play," he added. "It's a big game, not only because it's a Monday night television game, but because it's against the Bengals (an AFC Central Division rival).
"It's a good opportunity to show what I can do, to show what kind of talents I have."
Graff Now No. 2 QB In Patriot Camp
Sheboygon Press
Friday, August 8, 1975
AMHERST, Mass (AP) - Neil Graff, former University of Wisconsin star from South Dakota, suddenly found himself the back-up quarterback to. Jim Plunkett for the New England Patriots Thursday.
On the eve of the National Football League exhibition season, the 25-year-old Graff received a promotion to the No. 2 signal-calling post with the Patriots following the retirement of veteran Dick Shiner.
"I have no indication how much more I will be playing," Graff said. "I'll just go back to the motto I've always lived by: 'Always be ready and do the best you can every day.'"
'The unexpected retirement left the Patriots with Plunkett and two inexperienced quarterbacks. Graff has thrown only one pass in the NFL, a completion for 20 yards last year. Steve Grogan is a rookie, a fifth round draft choice -from Kansas State.
After playing three varsity seasons at Wisconsin and in the Blue-Grey and American Bowl games, Graff joined the Minnesota Vikings as a 16th round draft pick in 1972. He spent that year on the Vikings taxi squad, then returned to school for graduate work in 1973.
In 1972, Graff was behind Fran Tarkenton, Bob Barry and Bob Lee at quarterback. Two years later he picked the Patriots to sign as a free agent, hoping he would get a chance to play more. Except for the pass completion to Randy Vataha last year, the only time he got on the field during a game was a holder for place-kicker John Smith.
Graff said Shiner's retirement "doesn't really affect me as much as you might think. "I still feel I have to fight for my job on this team," he said. "But I have confidence in myself. I learned a great deal last year while sitting on the bench. I think it's a matter of getting into a groove."
Patriots Coach Chuck Fairbanks has been impressed by Graff since watching the 6-foot-3 quarterback in practice and pre-season games last year.
"Neil has a good head on his shoulders and has been doing real well for us," Fairbanks said. "We're going to work with' the three people we have, but I haven't decided yet how I'm going to divide it up."
From the Walla Walla Union-Bulletin, 1976
The Seattle Seahawks signed six veteran players Saturday.
Six vets ink Seahawk pacts Saturday
Walla Walla Union-Bulletin
Sunday, July 18, 1976
CHENEY, Wash. (AP) - The Seattle Seahawks signed six veteran players Saturday, including linebacker
Mike Curtis
. But the only two experienced quarterbacks,
Neil Graff
and
Gary Keithley
, are still negotiating terms with the National Football League expansion team.
"I have talked briefly to Neil and still have to get with Gary, but I expect no problems," Thompson said.
The six signings leave the Seahawks with seven players who have not agreed to 1976 terms. All contracts so far have been on make-good terms, but no one has a no-cut contract. The Seahawks are less than a week from their first dress rehearsal which will be Saturday night at Joe Albi Stadium in nearby Spokane.
Head Coach Jack Patera said there will probably be few players cut this week. "We have a workable number in camp and there is no rush to get rid of anybody. We don't have to get to 60 players until August."
Collecting Neil Graff?
Sorry - no
Neil Graff
cards! But he did have a mini-poster from the Seattle Post-Intelligencer, #35.