Cortez Kennedy

Cortez Kennedy is no longer in the Almost Hall! Tez was inducted into the Seahawks Ring of Honor on September 17, 2006! Congrats, Cortez!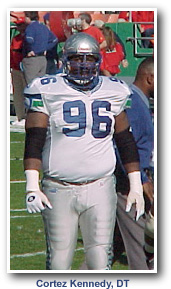 Source: Dahawkman
Career Highlights
Pro Career
One of the NFL's best interior lineman since joining the Seahawks in 1990 as the third player chosen in the first round. Seattle acquired the pick on draft day from the New England Patriots along with a second-round choice (LB Terry Wooden) in exchange for the Seahawks two first-round selections (#8 and #10) and a fourth-round 1991 draft choice. Seattle's additional first-round draft choice came from the Indianapolis Colts in a 1988 trade for linebacker Fredd Young. He was selected after quarterback Jeff George (Indianapolis Colts) and running back Blair Thomas (New York Jets). Has appeared in a franchise record six straight Pro Bowls, including four as a starter. Six total appearance is one off Steve Largent's franchise record. Ranks fourth all-time in quarterbacks sacks with 46.5, while collecting 484 tackles. Only three defensive linemen in team history have recorded more tackles, Joe Nash 779 in 218 games, Jacob Green 718 in 178 games, and Jeff Bryant 689 in 175 games. Has added 95.5 tackles for loss. Named NFL Defensive Player of the Year in 1992, while playing for a 2-14 team.
1998
Started 15 games at right defensive tackle, and appeared in his seventh Pro Bowl. Inactive for season opener at Philadelphia (9/6) with an ankle injury suffered in the preseason. Had two tackles and two passes defensed in victory at San Diego (10/25). Recorded a sack and a pass defensed at Oakland (11/15). Recorded a sack and scored his first career touchdown on a fumble return in the fourth quarter versus San Diego (12/13). The fumble was forced by DE Matt LaBounty. Touchdown was one of an NFL record 13 return touchdowns scored by the Seahawks, and also one of 10 defensive scores, which is a team record.
1997
Started eight games at right tackle. Started the first four games before missing games five (at Kansas City 9/21) and six (Tennessee 10/5) after spraining a knee against San Diego (9/21). Games missed were the first of his career and snapped a streak of 116 straight games played and a club record streak of 100 consecutive games started. Returned to start four games only to break his ankle six plays into the game at San Diego (11/9).
1996
Started 16 games at right defensive tackle for the sixth consecutive season and made his sixth straight appearance in the Pro Bowl. Also named team Most Valuable Player by his teammates and the winner of the Steve Largent Award, which is given to the player that exemplifies spirit, dedication, and integrity. Only the second player in team history to win both the MVP and Largent Award in the same season. His six straight Pro Bowls are a franchise record and his six total appearances is one off Largent's record. Finished the season with 69 tackles, 14.5 tackles for loss, and 8.0 sacks.
1995
Started 16 games at right defensive tackle and made his fifth consecutive appearance in the Pro Bowl, the most consecutive appearances in franchise history. Co-led the team with 6.5 sacks, and led all linemen with 54 tackles, according to unofficial press box statistics. Added 10.0 tackles for loss and a forced fumble.
1994
Earned his fourth straight trip to the Pro Bowl and third consecutive as a starter after starting 16 games at right tackle. First team All-NFL pick by Associated Press, Sports Illustrated, and College and Pro Football Newsweekly for the third straight season. Led all defensive linemen with 70 tackles, according to unofficial press box statistics. Added 8.5 tackles for loss and four sacks.
1993
Started 16 games at right tackle and was a consensus first team All-NFL pick for the second straight season and earned his third straight trip to the Pro Bowl and second straight as a starter. Ended the year with 77 tackles, including 60 solo, 10.5 tackles for loss, 6.5 sacks, a forced fumble, and a fumble recovery, according to unofficial press box statistics, despite constant double and triple teaming.
1992
Consensus choice as NFL Defensive Player of the Year. One of six finalists for the Miller Lite NFL Player of the Year. NFL Alumni Association and NFL Players Association Defensive Lineman of the Year. Consensus first-team All-NFL pick, and AFC starter in the Pro Bowl. Kansas City 101 Club AFC Defensive Lineman of the Year. Voted the Marcus Nalley Trophy by his teammates as the team's Most Valuable Player. Became only the third player in history to win the Associated Press Defensive Player of the Year award from a team with a losing record, joining Lawrence Taylor of the 1982 New York Giants (4-5) and Reggie White of the 1987 Philadelphia Eagles (7-8). Was the second Seahawks player to win the award along with safety Kenny Easley (1984). Led the team in sacks, 14.0, yards lost, 89, a team record 28 tackles for loss, total yards lost, 122.5, and forced fumbles, four, according to unofficial press box statistics.
1991
Started 16 games at right defensive tackle and played in his first Pro Bowl. Finished third in tackles with 73, according to unofficial press box statistics, and was second in sacks with 6.5. Led all defensive linemen in tackles and sacks. The Sporting News AFC Defensive Player of the Week against the New York Jets after recording eight tackles, two sacks, and two passes defensed. Also had two sacks against the Indianapolis Colts.
1990
Played in 16 games and started two at right tackle. Missed all of training camp and the preseason before signing a contract. Credited with 48 tackles, six tackles for loss, one sack, a fumble recovery, and a forced fumble.
College Highlights
First-team All-America choice by The Sporting News in 1989, and a second-team selection by Associated Press while playing for current Seahawks Head Coach Dennis Erickson. Took over as the starter as a senior and finished the season with 92 tackles (45 solo), 22 tackles for loss, 7.5 sacks, 16 quarterback pressures, and one fumble recovery as Miami captured the national championship with an 11-1 record. Led the team in tackles for loss, ranked second in sacks, and led all defensive linemen in tackles. Saw action in all 12 games with the Hurricanes in 1988 after transferring from Northwest Mississippi Junior College. Credited with 27 tackles, six tackles for loss, seven pressures, and two sacks. Totaled 114 tackles, 28 tackles for loss, and 9.5 sacks at Miami as teams posted a 22-2 record. Had 129 tackles in two junior college seasons, 22 tackles for loss, and 15 sacks. Majored in Criminology.
Personal
Attended Rivercrest High School in Wilson, Arkansas. School retired his jersey in 1991. Hosts an annual football clinic for youngsters between the ages of six and 16 at his alma mater during the offseason. Changed his jersey number from 96 to 99 for the 1992 season to honor his friend and fellow University of Miami alum, Jerome Brown, who was killed in a car accident in June, 1992. Cortez has a daughter, Courtney.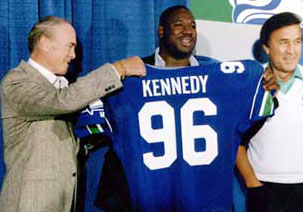 Source: Heraldnet.com
Published: Sunday, August 4, 2002
Kennedy retires after 11-year career, all with Seattle
By Scott M. Johnson
Herald Writer
SEATTLE - Inside the stadium where he will never play a football game, Cortez Kennedy officially closed out a memorable career with the Seattle Seahawks on Saturday.
Kennedy announced his retirement before the Seahawks' intrasquad scrimmage at Seahawks Stadium. He spent his entire 11-year career in Seattle, playing for the final time in the 2000 season finale.
"I remember when I came in (to the NFL) 12 years ago, I said I would always be a Seahawk," Kennedy said. "That's what you call loyalty. I was loyal to the team and management, and they were loyal to me."
Kennedy asked for his release following the 2000 season, then made visits to New Orleans, Minnesota and Oakland during the 2001 offseason before opting to remain a Seahawk for life.
"I could have still played a couple more years, but when it's time to go, it's time to go," he said. "I enjoyed my 11 years, and I enjoyed the people to work with. But when it was time to give it up, I gave it up."
During his tenure in Seattle, Kennedy played 167 games, starting 153. His 668 career tackles rank seventh in Seahawks history.
"When you talk about the greatest defensive tackles and see all the highlights on ESPN Classic, Cortez Kennedy is going to be a name that's talked about for years to come," said longtime friend and former NFL defensive lineman Russell Maryland, who was on hand for the retirement announcement. "You talk about Mean Joe Greene and all those guys, they're old. Cortez Kennedy is the one for the new millennium."
Kennedy said his favorite memory was the Seahawks' 1999 playoff berth, the first time in his career that he made it to the postseason.
Kennedy might not have gone out like he envisioned, asking out of his contract following a subpar 2000 season. He said his career was never the same after the death of his lawyer, Robert Fraley, who was on the same airplane as Payne Stewart during a 1999 plane crash.
Kennedy currently has a house in Kirkland, but spends most of his time in the state where he grew up.
"I'll probably move back to Arkansas to be around my family and friends," he said, "but Seattle will always be my second home."