Tribute:
"I had the privilege and honor of meeting Coach Knox at Dave Krieg's induction ceremony."
Continue reading
Knoxisms: "Don't ever again tell me how rough the waters are, just bring the ship in." .
Continue reading
Statistics: Wins and losses throughout his career.
Continue reading
What We've Overheard: "He so deserves it. He was the one who put Seahawks football on the map."
Continue reading
Who He Is: Knox started donating Seahawk fine money to charity when he became coach in 1983
Continue reading
Just for Fun: I hadn't been in the football biz since the Brian Bosworth substitution caper of 1988, but that had been some of my best work...
Continue reading
Ring of Honor: Thanks to all of you who answered the call to send postcards or email to the Seahawks requesting that Chuck Knox be inducted into the Seahawks Ring of Honor!
Continue reading
"It's a great honor for me and I appreciate everything the fans did, everything the players did."
-- Chuck Knox, 2005
Tribute to Coach Chuck Knox
I am SO proud of the Seattle Seahawks for putting Coach Chuck Knox into the Ring of Honor. He is most definitely worthy of the company of the other players who are already in the ring, all of whom he coached: Steve Largent, Curt Warner, Jacob Green, Jim Zorn, Kenny Easley, Dave Brown and Dave Krieg.
I had the privilege and honor of meeting Coach Knox at Dave Krieg's induction ceremony into the Ring of Honor in September 2004. I can't begin to tell you what a charming man he is. Along with my friend Pat, we got to spend about 15 minutes with Mr. Knox before Dave and his entourage came into the room, and in that time we talked about Dave Krieg, Seahawks football, Chuck's son who was wrapping up a Vikings game as we spoke (the Vikings won!), and what it's like to be a parent of an assistant coach in the NFL. Although I'd never met this man before, he was instantly warm and likable. The meeting was unexpected and I couldn't believe I was standing in the same room as the man who directed so many of my Seahawks memories! It was an awesome and an awe-inspiring moment in my life, and I'm absolutely thrilled that he's taking his place in our Ring of Honor! He is one class act, set to join 8 other class acts in our Ring of Honor.
There is a beautiful tribute written to Chuck Knox by Steve Kelley at the end of the 1991 season. If you don't read it, you'll be missing something that's not to be missed. You'll find it here: It's Time To Say Thanks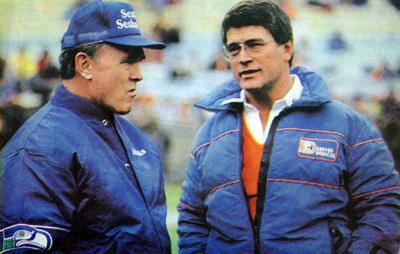 Photo Gallery


Click on the thumbnail for a larger view then click the back button to return to this page.