Knoxisms
Anyone familiar with Chuck Knox knows that he was famous for the statements made to the media that said, well, just about nothing! As I get time to go through my Inside the Seahawks magazines, I'll be bringing you more quotes. In the meantime, if you'd like to contribute Knoxisms to this collection, please email me and I'll post them here!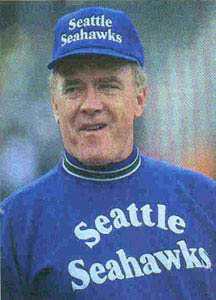 Coach Knox said ...

"Only through admitting your mistakes can you profit from them."
"The faint heart never won the fair lady."
"I've never had much use for a rear-view mirror, it only distracts from your forward vision."
"Work will win. Wishing won't."
"There isn't anything wrong with what we're doing; we just need to do it better."
"The boat is empty; they have taken not only the life preservers but the oars. Even the rats have deserted us...it's us against them. And we will not let them win. We will keep it afloat."
"Only through admitting your mistakes can you profit from them."
"Don't dare try to give me a nickel and say it's a dime."
"It's eighth grade Sewickley."
"Football is a show-me game, not a preach-to-me game."
"The will to prepare is what gives you the chance to win."
"You've only got one football."
"The only problem was that they had 19 points and we had 14."
"There are three things that you look at when your offense isn't going well, or when any phase of your football team isn't going well. First, see whether or not it's a problem with the design or the scheme. Next, you take a look at the personnel; if one person isn't performing well then you consider making a change, relative to who you have to replace him with. The third thing you look at is execution. For instance, if we have a receiver that's open then we expect to be able to get the ball there on certain types of pass patterns; a fifteen yard pattern, for example, we should be able to deliver the ball there. If we throw the ball over someone's head then it's a matter of execution. If we can't get people open then it's a matter of design."
"We need to stay the course and get back to basic fundamentals, blocking, tackling, passing and catching, but not getting so basic that you don't have the sophistication needed to win ball games."
"The sum total of the collective individual's efforts gives you the edge."
"You can't go in the huddle and perk people up—that's not your job. You're handing the ball off to somebody else, that's not difficult to do."
"Proper perparation prevents poor performances."
"You gotta know who to get and how to get 'em."
"Quarterbacks lead by example, like everybody else does out there."
" You can be individualistic, you can be totally different. But the main thing you've got to do is get the job done."
"Look back and you're going back."
"The bandwagon is a crowded ride, we all know that, whether it's football or life. The faint hearted are the first to get off the ship."
"Some people can smell a house burning before a match is ever struck."
"Confidence is like the air, a belief, or a spirit; you can't put your finger on it."
"I wanted them out there on that frozen field as a way of telling them, "Don't ever again tell me how rough the waters are, just bring the ship in."
"The bye didn't run, the bye didn't block, the bye didn't pass."
"A man is not finished when he's defeated. He's finished when he quits."
"Football players win football games."
"Most of my cliches aren't original."
"What you do speaks so clearly that I don't have to hear what you say."
"Always have a plan, and believe in it. Nothing good happens by accident."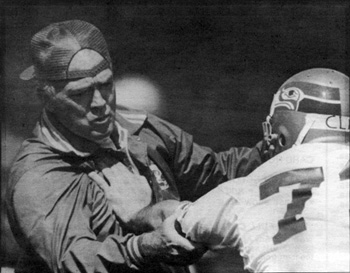 "Practice without improvement is meaningless."
"They say the breaks all even up in the long run, but how many of us last that long?"
"Never overload your butt with your mouth."
"You have to take your lickings. Take your knocks."
"Don't bemoan your fate. Everybody's not going to be dealt the same hand. Everybody's going to go through tough times."
"A hard man comes hard, down a hard road."
"Luck is the residue of design."
"Football players make football plays."
"Play the hand you're dealt."
We wish to acknowledge Inside the Seahawks magazine for including so many of Chuck Knox's quotes in their magazine, particularly the Knox Speaks regular feature!
From: Gayle E. Bush
Sent: Friday, December 02, 2005 11:41 AM
Subject: Knoxism
"We're gonna reach down, grab grass, and go hat on hat."