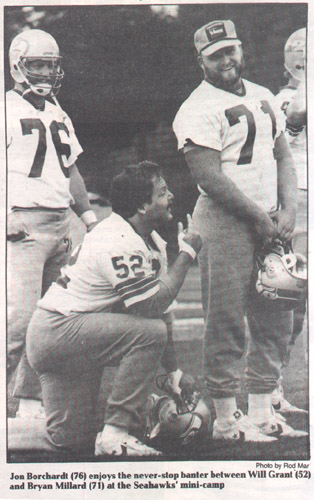 Bryan Millard
Source: Inside the Seahawks, Volume 1, Number 25, April 17, 1987 – May 7, 1987
Big Bryan tackles the off-season
From basic hard-nosed football to bass fishing, Texas Panhandle native Bryan Millard is out to have fun. Casting the bass bait into the water, the four-year Seahawk veteran is likely to reflect not only on his football expertise, but on his fishing conquests, as well.
The time away from the gridiron doesn't come easy for the Hawks' fourth-year guard.
"I'm the sort of guy who's ready to play football right now. I'm not the kind of guy who can just do something else and leave it (the game) behind. Millard, a free agent Seahawks' signed in 1984, has been spending his spring working out five days a week at the training facility in Kirkland. Besides training and playing an occasional game of basketball, Millard says that he relaxes by fishing.
"I like to go on the boat and maybe get some bass if I'm lucky.
"I've tried to go after that mythical fish that you've got up here, you know, the steelhead, but I've never got one yet.
"Right now, football is most important to me. I can't say about tomorrow, but my profession is a football player and I'm all set to play.
Millard thinks that the 1987 Seahawks will be a hungry team that is "ready to win."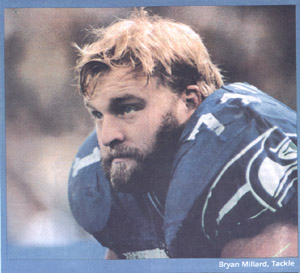 "I can't even speculate on the things that went wrong last year. I can only speak for myself and say that I should have been working harder," said Millard. "People are working harder than I've ever seen them."
If he's not fishing or playing football, you'll likely catch Bryan listening to some country music, or picking up a guitar and playing some. Millard and his wife Connie live in Redmond.
He drives a pickup truck
Wears a hat nearly all the time
Keeps his tackle box in proper order
Thinks that weight lifting is fun
Is impatient with people who are late for a fishing date
Source: Inside the Seahawks, Volume 1, Number 17, November 28, 1986 - December 4, 1986
Bryan Millard, born in Sioux City, Texas, and a veteran of the University of Texas Longhorn program, has a new avocation. He's joined KMPS country radio station once each week as a guest, answering questions and selecting music to play.
Millard helps 'jockey' from about 7:25 a.m. on Thursdays the 'Hawks aren't playing. He's on the air between records until 7:50 when the KMPS news team interviews him. Merle Haggard is a favorite of the Sumas High School, Texas, native.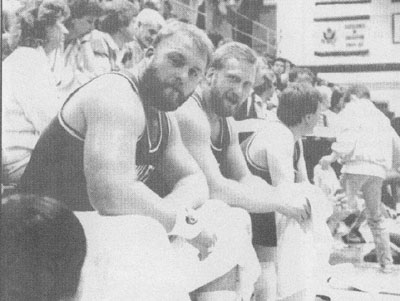 Source: Amarillonet.com
Web posted Friday, March 31, 2000
6:29 a.m. CT
Lee: Millard returns like he left - sincere and down-to-Earth
By MIKE LEE
Globe-News Sports Writer
Thirty-nine-year-old Bryan Millard still remembers the day he got his first football uniform.
"I was in elementary school and it was Christmas Eve at my grandmother's house in Sioux City, Iowa. I got a Johnny Unitas/Baltimore Colts outfit. I put the helmet on right then and went out in the snow in the street. I made everybody come out on the front porch and watch me get down in a stance. I was so excited I couldn't tell you if it was midnight or 7 in the morning," Millard said.
"To this day that's still my favorite helmet."
Jimmy Lackey remembers the first day he saw Millard wearing the Colts uniform. The Millard family - after living in Iowa, Hereford, Plainview and Kansas - had settled in Dumas. It was Bryan's first practice for the Hillcrest Elementary Hawks.
"I was a fifth-grader and Bryan was a sixth-grader," said Lackey, now the executive director of Kids, Inc. "Bryan had just moved to town. There was one boy that was bigger than all the rest of us. You didn't want to go one-on-one against him in tackling drills.
"Here comes Bryan walking up wearing that Baltimore Colts uniform with a single-bar face mask and wearing a pair of those thick, black athletic glasses they wore back then.
"That first day Bryan knocked ol' Billy down. We had never seen anybody knock Billy down. Bryan was bigger than everybody else, even back then. He was immediately accepted by the rest of us."
It was the start of a long relationship between Millard and football. From the Hillcrest Elementary Hawks to the Dumas High School Demons to the University of Texas Longhorns to nine years in pro football - two with the New Jersey Generals of the USFL and nine with the Seattle Seahawks of the NFL. Millard played football from the early-1970s until he finally failed a physical because of back ailments and was released by the Seahawks in 1993.
On Saturday, Millard will be recognized for his football career at the 20th Century Top 100 Sports Legends of the Texas Panhandle Banquet at Amarillo Civic Center. Millard will make a huge sacrifice to be there - he's missing one of his daughter's soccer games Saturday afternoon in Austin.
Millard, who owns a chain of gas stations in the Austin area and is a salesman for a pharmaceutical company, doesn't really see himself as a legend. To hear him tell it, he has been fortunate at every turn in his football career.
Fortunate that the Hillcrest coach - seeing how he had outgrown the Johnny Unitas helmet - said, "We've got to get rid of that little bitty helmet and get something that'll fit that big melon you got."
Fortunate to be recruited as a senior at Dumas after the Demons, a preseason top 10 pick, finished 4-6. "I had never been exposed to anything like recruiting. It was rarely heard of around home. It just seemed like it didn't happen in Dumas. Some of our other best players got injured that year. I was fortunate to stay healthy," Millard said.
Fortunate to fall under the tutelage of Texas offensive line coach Leon Manley. "There could be 70,000 people screaming in a stadium, but if you did something wrong, you could single out that big ol' baritone voice of Coach Manley's," Millard said. "He was a coach second and a teacher of young people first."
The early-1980s was an era in which being a Texas lineman practically qualified you for pro football. When Millard started in 1981 and '82, all five starters and three backups went on to the NFL.
Millard figures he was lucky just to be one of the bunch.
When his college playing days ended, Millard again believes he met with good fortune. In reality, he practiced good common sense. Rating himself an "average lineman" at Texas despite being first-team all-conference, Millard opted for the alternative United States Football League for two seasons.
"I think I needed another couple of years to learn how to play," he said. "We were a run-oriented program at Texas, and I had to learn how to pass block. The USFL taught me. "I only missed one NFL season and got two years of pay and experience in pro ball. I knew if I did well enough, the NFL would be there."
It was.
Four NFL teams contacted Millard. He chose the Seahawks. Again, he says, he was lucky. "The way I made the team in 1984 was because they expanded the rosters from 45 to 49 players. I was one of the four extra."
Halfway through his second season, Millard was a fixture in the Seattle line. He once played 2,646 consecutive downs that stretched over 42 games. In 1997, NFL.com ran a year-long poll on its Seahawks front page asking fans to vote for the greatest all-time Seattle players by position. Millard was voted the best offensive lineman in franchise history - recognition he was unaware of until this week.
"That's kind of cool," he said. "I was just so fortunate. I started there as a tackle, but people kept getting bigger than me. My second year in Seattle, one of our guards got hurt. They told me on a Monday that I was going to play guard that coming Sunday. I said, `OK?' I didn't think I had mastered playing tackle yet, and now they were moving me to a new position."
Millard figures he got lucky. Again. The move probably saved his career, and besides, guard was an easier position. He didn't have to be as big - although he weighed in the neighborhood of 290 - and he had more help inside against the pass rush.
For nine years in Seattle, Millard considered himself fortunate to be living a pro ballplayer's lifestyle.
"You were more high profile, I guess," he said. "And the hours weren't bad. You get 180 days off a year. You sometimes felt pressure on Sunday morning. I don't know if I would consider that pressure in the grand scheme of things. To me, pressure is what a guy feels when he has to go out and work from 8 to 5 and provide for his family. I thought what I did was a little bit easier."
Fortunate. Lucky. Right place, right time. Good coaching. There's no doubt Millard was helped by all those factors. But you don't make all-conference for Texas and then spend 11 years in pro football if you're just lucky all the time.
Lackey figures that's just Millard. Despite a celebrity's lifestyle, he never lost sight of the Hillcrest Hawks or Dumas Demons.
"He's down to earth . . . cool as a cucumber. Same ol' Bryan I went to school with 25 years ago. He never let fame and fortune change him," Lackey said.
Lackey remembers the night Millard came back to Dumas to speak at a Chamber of Commerce banquet and challenged the community to build an indoor athletic practice facility. He then gave the lead financial gift for what today is the Demon Dome.
"Bryan was a good ol' boy from the panhandle, even though he was transplanted from Iowa," Lackey said. "He has always had time to visit with me - and I'm a nobody. He has always been kind to me. But you didn't want to make him mad on a football field."
Just ask ol' Billy.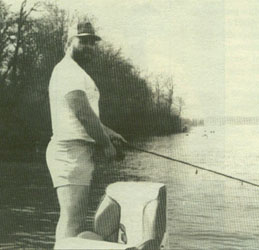 Source: Seattle Times
Sunday, December 17, 2006 - 12:00 AM
Life after football: No game, still pain
By Greg Bishop
Seattle Times staff reporter
"I'm like every other 45-year-old man, middle-aged and balding," says Bryan Millard, former Seahawks lineman. "I guess I just don't know the difference in how I should feel versus how I feel now. What's normal to me might be horrific to somebody else."
Normal: Kerry Jenkins, 33, once played for Tampa Bay with a fractured leg, and it takes him 30 minutes to roll out of bed in the morning.
Normal: Former Seahawk Art Kuehn, 53, lived with back pain for 20 years and still considers himself "lucky as hell" to have only had one surgery.
Normal: Grant Feasel, 46 and also a former Seahawk, tore the anterior cruciate ligament and the medial collateral ligament in his left knee and the calf muscle in the same leg. On the last day of training camp. During the last five minutes of practice. It required seven operations. He can ride the exercise bike but can't run.
"I never liked running anyway," Feasel says.