Bob Newton was there!
From "The Pond" website
Fan site for University of Nebraska
The greatest Cornhusker to wear jersey number:
74 - Bob Newton
Players who played in the USFL
Bob Newton, G, BOS, CHI Bears '71-85; Seahawks '76-81
Source: Street and Smith's Pro Football 1977
The incumbent guards are Bob Penchion and Bob Newton, either of whom would lose his job to another rookie, Tom Lynch of Boston College. It isn't inconceivable, either, that veteran center Fred Hoaglin would lose a challenge to Idaho's John Yarno.
Offensive Tackle
Bob was the first Nebraska football player to incline press 300 lbs. His 305 lb. incline and 375 lb. bench press records were All-Time Nebraska football records for several years. Newton was drafted by the Chicago Bears where he played until the NFL expanded and he was acquired by the Seattle Seahawks. Bob played twelve years in the NFL. Bob and Jerry Murtaugh were the first players that made All-American since the Husker Power program was put into place at Nebraska.
Half-Time with Bob Newton, Dynamics Sports International
3080 N. Civic Center Plaza, Suite 33
Scottsdale AZ 85251
Bob Newton is a former 11-year NFL veteran and 1970 Nebraska All-American. Today he is a state licensed counselor, speaker and seminar leader in chemical dependence. His stirring presentations help players understand substance abuse. He challenges and motivates players who need help to get help. He encourages a strong commitment to education.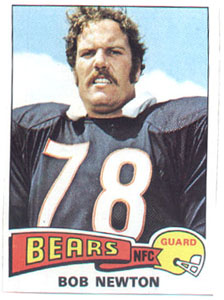 Story told by Steve Raible
I got stuck in elevator in Denver more than 20 years ago when I was still playing. We were at the hotel and a bunch of us players piled into an elevator to go down for the team dinner. The way we used to do it, you had to put your coat and tie on whenever you left your room, so there's like 20 of us jammed inside this elevator and it stops.
There was barely room to move inside, and with everyone in coats that baby got hot in a hurry. We were in there for an hour. I remember Bob Newton at 270 pounds starting to get a little panicked. My nose was almost pressed against the door. When we finally got to dinner we were late and Jack (Patera) was going to fine us. We told him we were stuck in an elevator. "Yeah, right, that'll be $500." It took a while, but we finally convinced him.
Player Leaves Federals' Tryout to Join Blitz
By John Ed Bradley
Washington Post Staff Writer
April 9, 1983
Former veteran NFL offensive guard Bob Newton, brought in by the Washington Federals for a three-day tryout, left camp yesterday to join George Allen's Chicago Blitz. According to a Blitz spokesman last night, Newton had not been signed. Federals Coach Ray Jauch, obviously angered by the move, said it was "typical, just typical. (Blitz Coach) Allen called Bob up and he packed his bags and left. There was supposed to be a rule against that kind of stuff.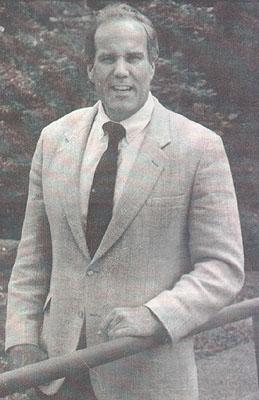 Papa Fig Bob Newton is On an 'adventure in sobriety'
Source: Inside the Seahawks
Vol 1, No 28
July 7-August 5 1987
By Leslie Tidball
One year after the cocaine deaths of Len Bias and the Cleveland Browns' Don Rogers, a former Seattle Seahawk continues his campaign for sobriety. For staying straight. For the freedom only an addict, an alcoholic can know awaits him away from the drugs and booze.
Papa Fig Bob Newton remains sober and straight, four years after alcohol and cocaine cost him his job with the Seattle Seahawks.
Not only has Newton stayed clean, but he has taken his message into schools and begun a career in counseling that is benefiting others. His self-described "adventure in sobriety" has led him to Valley General Hospital in Monroe as a counselor and marketing coordinator. It was to Monroe Valley General that Newton had finally turned with his life in complete chaos, and where he knew "after the first week, I was finally in the right place."
The son of an alcoholic father, Newton began abusing alcohol when he was in high school. Newton didn't leave alcohol behind, but instead added marijauna to his vices.
His pattern of alcohol abuse became ingrained during his years in Nebraska, and with the drinking came the mixed signals from coaches and teammates that would ensure continued abuse and no help.
"My beer drinking became established in college," Newton said. "Every Thursday and Saturday night. There were five or six guys I drank heavy with in college, and all have gone through castrophies. Four have battled alcoholism, one guy is in Leavenworth (prison)."
"I had a lot of God-given ability. I was fast. I was big. I was driven. But I abused. I was a football player only. I didn't excel in the classroom. I had no spiritual development. I was a one-dimensional person. I was playing football; training for football."
"When I went to the Bears, I was expected to drink. We had contests with the veterans, drinking contests. I was kind of a hero with the rookies because I could drink, boy could I drink."
Newton remembers going out with one of his coaches and getting drunk.
There were other abuses, as well.
Newton used speed, amphetamines, for games.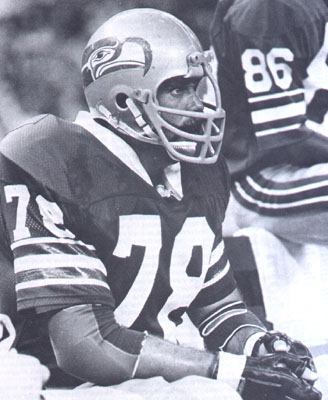 In time, said Newton, "I bought as much as I could afford. I turned into a full-fledged addict. I don't know what day, what hour. I don't know when it happened. But I was an addict."
The Bears no longer had a use for Newton, and he was cut early in training camp in 1976. The fledgling Seattle Seahawks picked up Newton, and he became a starter for Seattle in 1977, a fixture in the offensive line until 1982 when his career was suddenly over.
"In Seattle, my alcoholism progressed, slowly, assiduously it progressed."
Newton has a number of arrests for driving under the influence of alcohol, but it was the days before Mothers Against Drunk Driving. It was before judges got tough with drunk drivers. And he was Papa Fig; a Seahawk; an NFL football player.
Teammates knew he drank. But even guys he was close to didn't know he was also addicted to cocaine.
"Jim Zorn, Steve Largent, Sherman Smith. They didn't really know how far it had gone. I was scared to death to get help from the Seahawks. If I had said I've got a problem, I would have been out. Thank God, we've progressed."
In 1982, Newton showed up at training camp unprepared to perform. He was cut.
On July 12, 1983, Newton checked into the rural hospital facilities at Monroe Valley General. [They] provided Newton with the one-on-one counseling he knew he needed.
Every failure in Newton's life is a result of his addictions, the ex-Seahawk says.
"My marriage failed because of my drinking. I lost my job with the Seahawks because of my drinking. My butt was kicked by booze and drugs. Now, I've learned to live without it."
Papa Fig takes his story into schools now, trying to reach even one youth with the truth of the damage that alcohol and drugs did to him, to his friends, and to his family.
"If I can be a tool to help anyone, to help them live without drugs and alcohol, that's important to me. I loved football. I love what I'm doing now. I get deep, deep gratification and self-fulfillment."
Six months after being sober, Newton returned to Nebraska to earn his degree. Then he returned to Seattle to rebuild his life.
"I'm not ashamed. It's something that happened. I feel like it was a secret for too long."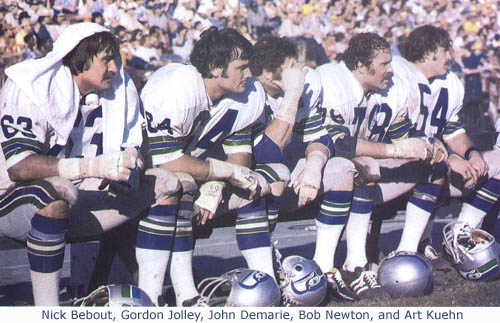 Seahawks to Create Counseling Service
Former Player will Head up Extensive Alcohol Program
Source: The News Tribune; Tacoma, Wa.
May 5, 1995
By John Clayton
KIRKLAND - Bob Newton spent 12 productive years blocking NFL defensive players, but his most unstoppable opponent lurked in a bottle.
Alcoholism shortened his career, but successful treatment saved his life. Now, Newton, a 48-year-old former Seattle Seahawk, has a chance to return to the NFL to help the organization put up front-line protection against alcohol abuse.
On Thursday, the Seahawks reached agreement with the Lakeside-Milan Recovery Center to create an alcohol counseling service available to everyone in the organization. It's believed to be one of the most extensive programs in the NFL, and Newton will direct it as the head of the sports division of Lakeside-Milan.
Last December's alcohol-related car accident that resulted in a paralyzing injury for defensive tackle Mike Frier, and coach Dennis Erickson's recent driving-while-intoxicated arrest convinced Seahawks ownership that alcohol counseling could help players and staff.
"This organization has no more of a problem with alcohol than any other major organization," Newton said. "There are certain people that have problems. I think because of the profile of the Seahawks, everybody thinks this is the organization that suffers. That's not the case."
Each Seahawks employee must attend two mandatory three-hour programs during the next 30 to 60 days. Newton and Lakeside-Milan also will offer individual counseling to employees or family members.
"Most organizations will not address problems with alcohol," Newton said. "Most organizations will bury it under the carpet and not deal with it. Then it gets worse and worse. The Seattle organization should be commended for taking a proactive stance."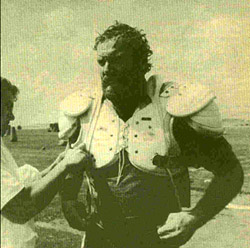 Newton, an alcohol counselor for the past nine years, interviewed twice with Seahawks president David Behring over the past two weeks.
"I was very impressed with Bob because he is a recovered alcoholic, he played professional football for 12 years and he played for the Seattle Seahawks," Behring said. "I think he has a instant rapport with our players and with our staff because of his closeness to the organization. He's hit rock bottom, and he has brought himself up and he's spent the last eight or nine years consulting different people in the Puget Sound about the dangers of alcohol."
Newton bottomed out on Jan. 13, 1983. He was involved in a three-car accident on Bellevue Way in Bellevue. Police charged him with DWI, and he accepted the deferred prosecution program, which required alcohol rehabilitation.
"I've been in recovery since July 12, 1983," Newton said. "Basically, I lost my career with the Seattle Seahawks because of my alcoholism. I got cut going into my 12th year. Physically, if I took care of myself, I would probably have played another two years. I just couldn't perform anymore."
One of the main points Newton plans to relate to the Seahawks employees is alcohol problems aren't necessarily job related.
"Alcoholism is an illness," Newton said. "There is a heavy genetic predisposition. I came from an alcoholic family. I had uncles on both sides who suffered from alcoholism. I inherited those genes. A lot of people think it's still a character defect or some kind of morale problem."
The pressure of football didn't cause his problems, Newton said.
"I would have been an alcoholic if I was a plumber," Newton said.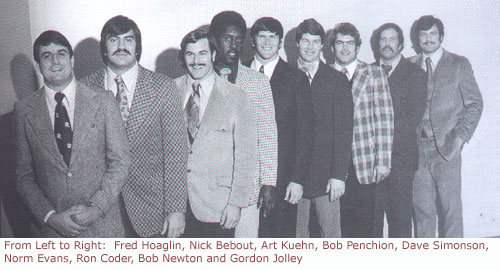 Life after football: No game, still pain
Source: Seattle Times
Sunday, December 17, 2006 - 12:00 AM
By Greg Bishop
Seattle Times staff reporter
WHEN BOB NEWTON played for the Chicago Bears, he smacked his head into a defender's thigh at full speed. The impact knocked him cold. When he wobbled back to the huddle, he thought he was playing in a high-school football game. With the help of smelling salts, reality crept back. This was Soldier Field.
Newton, a Seahawks lineman from 1976 to 1981, played hurt, same as all the linemen. Then he carried that into retirement, living hurt, buoyed by a high tolerance for pain. Now 47, his left foot needs an operation, forcing him to limp. He has arthritis in his hands.
Seahawks' Newton injured
PACIFIC STARS AND STRIPES
SUNDAY, SEPTEMBER 16, 1979
SEATTLE — Bob Newton, starting right guard for the Seattle Seahawks, has been hospitalized with a thigh injury and will miss three or four weeks of play, says Coach
Jack Patera.
Newton is a nine-year veteran. He will be replaced in the starting lineup Sunday against the Oakland Raiders by Ron Coder, who lost the job to Newton after 1978 back surgery Seahawks' fullback. David Sims, who received a severe head blow in the Miami game, also will be kept out of Sunday's game in the Kingdome. Dan Doornink, a former Washington State University player acquired from the New York Giants, will start in his place.
Collecting Bob Newton?
1975 Topps #69