Source:
Norm Evans' Seahawk Report, Vol. 4, No. 9, Aug. 30-Sept. 5, 1982
DAN DOORNINK: Hitting the books...and linebackers
by Kevin Taylor
Back in the bruiser year of pro football, the fullback Kevin Taylor was a half-feared, half- crazed, half grizzley bear sort of guy who stood wide on the horizon. One said "Doctor" only when on the brink of unconsciousness.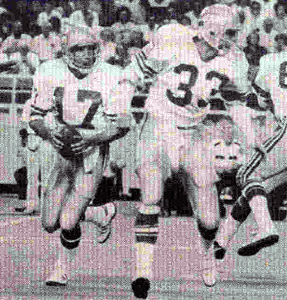 Seattle's fifth-year fullback Dan Doornink is cast in a different mold. He stands wide of course and there is a hint of the raging grizzley about hint, as befits a fullback, but he also stands tall. And not just in his stocking feet. When he says "Doctor" it's because he wants to be one.
There's nothing of the whiskey-snorting, rip roaring, leather helmet style of dash and courage about Doornink. Instead, one finds evidence of a quiet bedrock of confidence and faith.
In college, for example, Doornink excelled in academics as well as athletics, a genuine "student/ athlete." He was Pac-Eight Scholar Athlete of the Year in 1977 for his pre-medicine studies at Washington State University. After graduation, he didn't sink into an either/or state of mind but decided to pursue both interests.
So he trotted off to join the New York Giants to see about becoming an NFL fullback and also sat down to take the Medical College Admissions test to see about becoming a doctor.
Doornink has enough faith in his football abilities that he is the first to help out players competing for his job. When Seattle drafted Boise State fullback David Hughes in the 1981 second round and Hughes blasted off early in the season, setting a team record for pass receptions (12 for 103 yards vs. Kansas City), the money on Doornink was that you'd see him at the Greyhound station soon. Hughes, however, was telling the media that Doornink was helping him out more than anyone. And when Hughes injured his ankle, Doornink took up the slack in the turnaround month of November, scoring five touchdowns and rushing for 194 yards (third highest season total on the team last year), and adding 350 yards receiving (fourth highest). The Seahawks finished 5-4 after starting our 1-6.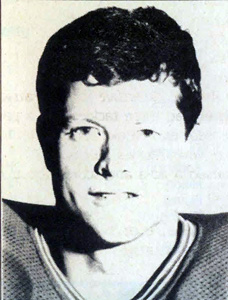 Doornink also has the courage of his convictions.
He was the only Seahawk player who did not participate in the Players Association "solidarity" handshake at the Aug. 21 Minnesota game. The handshake is one issue Doornink is reluctant to discuss with outsiders, at least during this state of hostility between NFL players and management. "We had a team meeting before the game and I explained my reasons to the team. Everybody understands and there is no problem there," Doornink said. A player's union is necessary and helpful in many ways, he added, but he is unable to back the current contract demands.
"Football is a ways down in my life," he said. In a list of his top three priorities, football squeeks in at number three, after his walk with God and time with his wife. It shares the number three spot with medical school—each gets attention half a year.
The courage of convictions, the quiet bedrock of faith. Hallmarks of a modern fullback? In fact, when Doornink sits down at a corner table at the Seahawks Cheney training camp, it is with such a disarmingly, boyish smile it's all too easy to forget he's a football player.
When he runs his sturdy hands over the table top it is to diagram some aspect of his life, not to crush a corner into splinters or to pick bits of defensive linemen Out from between his teeth.
When he confesses abashedly that he has actually come to like living on the wet, western side of the state, the illusion is complete.
Blink your eyes and there sits Dan Doornink, the smiley, whole wheat college kid from the heart of the sun-baked Palouse Country. Blink again, though, and see helmeted Dan Doornink pounded into an NFL lne to clean out somebody's insides with a well-timed block, or gaining enough yards to be fourth in all-time rushing and passing receiving in Seahawk history.
Blink once more and see Dan Doornink in a lab coat, hanging out his shingle as a doctor of medicine.
That last is still in the future. For the present, Doornink is getting off to a fast start on the foot- ball field. After the first two pre-season games he leads the team in rushing with 96 yards and a touchdown. He says he is in the best shape of his life and that the club is in better shape that it was in 1979.
Aside from going to medical school at the University of Washington, Doornink trains during the off-season at UW's Hec Ed pavilion, running the steep, narrow stairs. He waits a few minutes until he can walk again and then does 2,000 yards of 100-yard sprints, followed by 220's before he goes home for a relaxing three hours on a weight machine.
"After, what, four years? Danny is ring-wise now. He knows what's going on," said Seattle backfield coach Andy MacDonald. "He is prob- ably at the height of his career."
Last year Doornink had a much rougher begin- ning, which MacDonald attributed to too much medical school and not enough off-season condi- tioning.
"There were some nuisance injuries that bothered him early in the season, but he finished strong. He really didn't come on until we were well into the season," he said.
Doornink mildly disputed that his off-season career as a student Cut into his condition or his attitude. "I came in this year with the same attitude I had last year—to do the best job I could and stay on top of the game mentally. And if I wound up second or third string, not to hang my head, but to keep working."
But his equable exterior thinned a bit as Door- fink acknowledged the competitive fire within. "1 had several weeks on the DNP list, that's the "did not play list" you see ever week in the newspaper (benched, that is)," he said, leaning forward and tapping his palm on the table.
"I never had any game where I didn't even get to go out on the field," he exclaimed, rocking back in his chair again. "If I wasn't hungry before that, I sure was after it."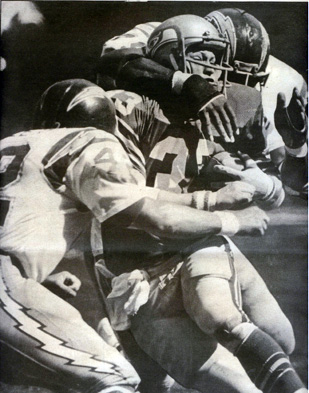 The earnest smile returns. "But I didn't get down on myself or get down on my coaches or hang my head. I just waited for my chance," he said.
"Dan Doornink is the best effort player I have ever been around," said MacDonald, who, like most coaches, is given to superlatives when speak- ing of athletes. But when he repeates his praise without prompting, the reality quotient rises.
"Effort, to me is a habit, and Danny gives it all the time," the coach said. "He runs with his head rather than his feet—that doesn't mean he's not gifted, it means he's smart. He has great mental ability."
Mental ability is a quality Doornink had to develop quickly, "I'll tell you what," he said. "My first semester in college I took 21 credits and tired to play football. My advisor advised me wrong," he laughed. "I should have eased off."
It's tough enough to play competitive football in one of the country's major conferences and still be a serious college student. Never mind majoring -in pre-medicine, which is heavy on the sciences and highly competitive in its own right.
What made it even tougher for Doornink was getting caught in WSU's revolving door system of football coaching. He was two years a starting fullback under Jim Sweeney, then had to win the starting nod from Jackie Sherril his junior and Warren Powers his senior year.
"Everything was totally different, the termi- nology, the plays.. . although we did finally wind up running a similar offense," he said. "What was really bad was having to prove yourself to a new coach." An established coach already has an idea of his returning-talent, Doornink said, and an idea of where he'll play them, but when a new coach comes in, everybody is on equal footing and one must win starting jobs rather than lose them.
"My goal was always to be a doctor," said Doornink, whose father is a general practitioner in Wapato, and whose brother is an internist in Spokane.
"But nowadays nothing is pre-ordained. They turn down a lot of people with 3.7's or 3.8's (grade point averages). 1 only had a 3.6," he explained. "It was toug.h for me to compete with the other pre-med students in college. I had football practice from 2 pm to 7 pm every day of the week—they had from two to seven to study every day of the week.
"They had all weekend to study, I had football all weekend," he said. What he may have lacked in time, he made up in persistance. Doornink has applied to medical schools three times. The first time, his score on the admissions test was not good enough. As soon as he waited the required year, he took the test over but was not accepted when he applied with those scores until the second time around, another year later. Not a bad performance for the smiling kid from Wapato; AlI-Pac-8 Scholar Athlete. Honor roll grade point average. Fifth on WSU's all-time rushing list with 1,739 yards on 424 carries and 12 touchdowns. Sixth on the all-time pass reception list with 968 yards on 105 catches, the first back listed behind five wide receivers.

"Football is a good, fun thing to do. Plus I love competition. . .I sort of need that fix." -- Dan Doornink

The first medical school admission test scores had come back on the skimpy side and the concept of NFL and New York Giants loomed on the awesome side.
"I had the opportunity to play in Canada, in Edmonton," (former WSU great Hugh Campbell's CFL team) and I almost took it," Doornink said. "But I decided to go to the Giants' camp in top shape. I was hungry and the coaches saw I was serious. Once I got my foot in the door, I said, 'I believe I can play up here'," he added.
It didn't hurt that Doornink's first professional carry was a touchdown run against the Dallas Cowboys. Seattle traded for him in 1979 and the next year the University of Washington accepted Doornink. "I never thought I'd be able to do it. I thought I'd be able to play football for two years at most."
Now he's at five and planning on four more. "If it was any other school, I wouldn't be able to do what I'm doing now," he said. A U of W program allows an individual to study at his own pace, whether it be faster or slower than his classmates. Doornink, who obviously spends more time con- centrating on football in the fall, will only take one class at most that term. And if classroom attend- ance is not required, he goes over his work on one of the school's computer terminals.
Winter and spring, though, things are turned around—and Doornink takes full academic loads of 25 or more credits. "But I have to find a secluded spot when I'm at school," he says, "Or people just want to talk football."
It's a nice system, he says, coming in the winter mentally relaxed and itching to study while his classmates are already laser-eyed from foui- months of intense concentration.
"I'm a little less than a quarter behind the rest of my classmates after two years in the program," Doornink said. "Graduation depends on how fast I want to go. To keep pace, my football would prob- ably suffer a little. Mostly it would be me, it would be going to bed at 1 am and getting up at 5 am." With several years until graduation, Doornink says all his career options are still open, but that he finds a career as an internist appealing.
"You don't handle kids, you don't handle pregnant women, just adults, and it's mostly diagnosing and treatment -- no surgery. It's the thinking man's doctor," he said. A natural field for Doornink, who is called the thinking man's runner.
Dan Doornink
College: Washington State
1979-1985
92 games / 44 games as starter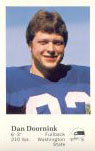 Source: Seattle Times
Sports: Friday, October 25, 2002
Catching up with Dan Doornink: Rush star swaps RB with MD
By Craig Smith
Dan Doornink, the ex-Cougars and Seahawks running back, practices medicine rather than football these days but remains as down-home as his Yakima Valley roots.
He is a specialist in internal medicine and goes to work in jeans and boots.
After work, he drives six minutes to his home on the edge of Yakima where his family includes wife Sharon, their four kids ages 9 to 18, two dogs, five cats and chickens. He has a tractor and used to have horses but replaced them with a grove of aspen trees.
"You don't have to feed trees," he joked.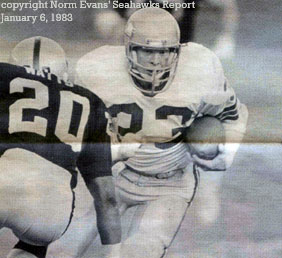 The Wapato native played for the Cougars from 1974-77 before going on to the NFL, where he was a New York Giant for one year and a Seahawk for seven. He is in the Cougars' Hall of Fame, and Wapato's football field is named in his honor.
In one of his best Seahawks performances, Doornink gained 123 yards on 27 carries in the 1984 playoff win over Oakland in the wild-card playoff game.
Doornink attended the University of Washington medical school during his Seahawks years and took medical books with him on road trips.
He said he had more time to study when Jack Patera was the Seahawks' head coach because, "We didn't spend a lot of time in meetings." That changed when Chuck Knox took over in 1983.
Doornink said his favorite Cougars memory is "having Jim Walden as running-back coach my senior year." That was Doornink's only winning season in Pullman, a 7-4 campaign that included road wins at Nebraska and Michigan State.
Doornink keeps up with the Cougars and the Seahawks, although his children's athletics keep him busy most Saturdays. He also teaches junior-high Sunday school at Grace Bible Church.
He has a routine where he videotapes Seahawks games, then watches them without sound from his exercise bike.
"I fast-forward and can watch a game in 45 minutes," he said.
The Doorninks attended the WSU-Montana State game last month. He said he enjoyed the easy victory but said a highlight of the trip was the special electricity at the women's volleyball match in Bohler Gym against Oregon.
"That was high-energy stuff," he said.
Doornink was a surprise caller to Coach Mike Price's radio show this week and expressed disappointment that he had seen some Cougars talking trash at Montana State players during the game. Price said he didn't like it either and tries to curb it as much as possible.
A staple of Doornink family life is Friday night lights.
"We pick the best high-school game and go to it," he said. "Last week it was the Prosser-Ellensburg game."
On Saturdays, if there's time, the football focus is Cougars radio broadcasts or telecasts.
"Our kids knew the Cougar fight song by the time they were 2," he said. "We sing it every time they score."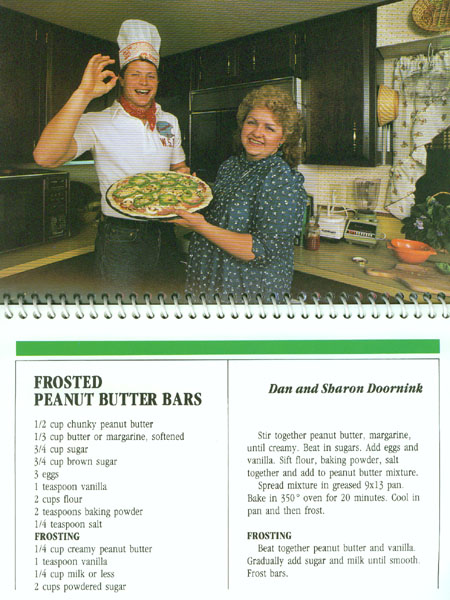 Playing Hurt
by Dr. Pierce E. Scranton, Jr.
In 1983, Chuck Knox drafted Curt Warner. We had tremendous success, but then Curt blew out his knee. Dan Doornink and Eric Lane carried the load that year, taking us to 12 wins and 4 losses and another run at the playoffs.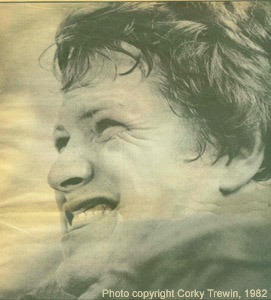 Source: Norm Evans' Seahawk Report, Vol. 4, No. 13, Sept.27 – October 3, 1982
Dan Doornink's loss to the Seahawks (knee injury) for the season was a terrible blow considering the flimsy status of the running game. Doornink, injured against the Oilers, had been Seattle's most consistent back before going down. Doornink recently underwent successful surgery to repair ligament damage in his knee, as did tackle Dennis Boyd, who was also injured in the Houston game.
Source: Norm Evans' Seahawk Report, Vol. 4, No. 11, Sept. 13-19, 1982
There is no evidence—not yet, anyway—the dressing room scuffle in Anaheim recently between fullback Dan Doornink and defensive tackle Mike White stemmed from Doornink's refusal to join his team- mates in a pre-game handshake with the Los Angeles Rams. Doornink suffering a dislocated finger, an injury that in turn forced Doornink to miss last week's exhibition finale with San Francisco. What is known about this caper is that Doornink would not join his teammates on the field to shake hands with the Rams, that White continually badgered Doornink on the sidelines during the game and that the two decided to settle their differences in a training room adjacent to the Seahawks' locker room. According to one Seahawk player, it wasn't much of a fight. Doornink apparently ducked to avoid getting popped by White and in so doing fell down, injuring his hand. Neither Doornink nor White would discuss the matter but White apparently wasn't satisfied with the outcome. The day after the game, White had an argument with running back coach Andy MacDonald. According to another Seahawk, Doornink had no idea why White was after him but got fed up with White's bad-mouthing and hence the fight...
From: Mike Johns
Sent: Saturday, January 08, 2005 5:39 PM
Subject: Dan Doorninck
Hi Becky,
I came across your web page. My mother is Dan's cousin (her maiden name is MacDonald). Dan would know Bob MacDonald, my grandfather. My mom would like to know if there is a way to email Dan.
Thanks,
Mike Johns


Seahawks' Newton injured
PACIFIC STARS AND STRIPES
SUNDAY, SEPTEMBER 16, 1979
SEATTLE — Bob Newton, starting right guard for the Seattle Seahawks, has been hospitalized with a thigh injury and will miss three or four weeks of play, says Coach
Jack Patera.
Newton is a nine-year veteran. He will be replaced in the starting lineup Sunday against the Oakland Raiders by Ron Coder, who lost the job to Newton after 1978 back surgery Seahawks' fullback. David Sims, who received a severe head blow in the Miami game, also will be kept out of Sunday's game in the Kingdome. Dan Doornink, a former Washington State University player acquired from the New York Giants, will start in his place.