Ron Coder was there!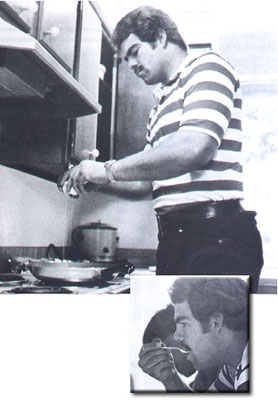 Source:
Street and Smith's Pro Football 1977
The backup tackles last year were Dave Simonson and Gordon Jolley. Jolley started four games. Guard John DeMarie started 8 games, but he's 32 and shows it. Ron Coder also is on the roster. Center Art Kuehn started as many games as the 33-year-old Hoaglin.
Source: Street and Smith's Pro Football 1978
Ron Coder, 6-4, 250, is one of the Seahawks more promising linemen!
Seahawks
by Doug Thiel
Sunrise Publishing Inc.
"I think that this team is characterized by quality of life that some of the players live. Like salt on your hamburger. It flavors the whole attitude of the team. I'm talking about Steve Largent, Jim Zorn, Ron Coder, Sherman Smith, Geoff Reece, Doug Long, and others.
A Seahawk Blueprint: from expansion to contention
Source: Norm Evans' Seahawk Report
Oct. 29 – Nov. 4, 1979
By Gary Huff
Three of Seattle's greatest personnel coups occurred prior to the start of the `76 regular season. First, of course, was the free agent signing of the then-unknown Jim Zorn. Seattle stole Steve Largent from Houston for an eighth round draft choice. The Hawks also acquired guard Ron Coder from Pittsburgh for a 1977 17th round draft choice. When the `77 draft was shortened to 12 rounds, the Hawks wound up switching places in the final round with the Steelers. Coder, who was drafted by the Steelers as a defensive tackle, spent his first year in Seattle learning the ways of an offensive lineman. For the 1976 campaign, Seattle also acquired guard Bob Newton on waivers from Chicago. Thus, with the foundation just underway, Seattle's first-year record was 2-12.
Ron and Kathy Coder: Partners in Ministry to University of Pittsburgh Student Athletes
In November 2002, Ron Coder hosted a silent auction/fundraiser to raise awareness for his ministry with the Coalition for Christian Outreach (CCO) and the Fellowship of Christian Athletes (FCA) to University of Pittsburgh athletes. Ron and his wife Kathy moved to Pittsburgh from Atlanta, Georgia just over a year ago. While in Atlanta they helped establish an enormously successful young adult group at their church. Ron brings with him a passion for young people as well as his experience as an ex-NFL player. Kathy supports Ron's ministry in both word and deed, as she helps him with his ministry in addition to her own full-time career.
The CCO's ministry to Pitt athletes continues to grow as more students attend a weekly Bible study and discussion and invite friends and fellow athletes to join them. On Thursday nights, Ron and Kathy meet with 30 to 40 student athletes to discuss issues concerning fear, control, relationships and other related topics from a uniquely Christian perspective.
Ron and Kathy work together to create connections with both male and female students from a host of Pitt sports teams, including women's basketball, softball, soccer, and tennis, and men's football, wrestling, and basketball. While the Coders run a great ministry through Bible study and prayer time, they are also all-around likeable and outgoing people. They have an incredibly hospitable nature and really know how to make people feel comfortable. I have no doubt that this has something to do with the degree to which these student athletes have become so drawn to their ministry.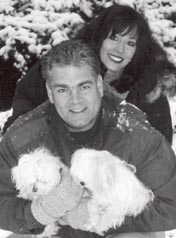 One of the women on the basketball team was so excited about the Coders' weekly meeting that she has since invited six of her teammates to attend. This is almost half of the entire women's basketball team! She has also begun seeking opportunities to share her faith, especially with her boyfriend. Ron has also been invited to pray with members of the football team before games.
Ron and Kathy Coder have been blessed with gifts of kindness and hospitality, and they have answered their call to challenge Pitt athletes to take their faith seriously. We continue to pray for and praise God for the ways in which He is moving at the University of Pittsburgh!
Playing At A Higher Level
There was something about this fourth-string tackle at Penn State. He always had a smile and a kind word no matter what was going on around him.
Ron Coder, then a junior guard, decided to find out why Rod Bratton had such an inner peace about him. It was in 1975 that Coder learned Bratton was a Christian - and soon after Coder began playing football for the glory of God. He has committed his life since to trying to lead athletes in that same direction.
Currently Ron Coder is a fixture at the University of Pittsburgh through his ministry with the Fellowship of Christian Athletes, leading game day Chapel and Thursday night bible study. He was there for the team when a night of drinking ended up in the tragic death of wide receiver Billy Gaines.
"It definitely affected everyone," Coder said. "But while you would think it might have a huge impact on the other players' lives, life goes on and people gradually return to their old ways."
He has been welcomed with open arms and has developed strong relationships with many of the players. Former running back Brandon Miree said that if he was having a bad day and Coder would walk through the door, he would immediately think differently. His presence can change everything.
Head coach Walt Harris is always front and center for the service Coder conducts before Pitt home games.
"Assistant coach Bob Junko told me that ever since I came, Pitt started winning," Coder recalled. "He said I had given the team a spiritual direction."
Coder says that playing football "for the glory of God" completely changed his approach at Penn State. As demanding as Joe Paterno was, Coder felt he was playing for an even greater power. He says that he wants the athletes that he comes in contact with to notice something different about him.
"I want to let them know that my faith is irresistible," Coder said. "They need to know that there is a rude awakening out in the real world and the only way to handle it is through Jesus Christ. It's so much bigger than me. I want them to see my faith and where it has taken me."
Drafted by the Steelers in 1976, Coder was traded to Seattle where he earned a starting job in his second year. He was slowed by back surgery, but battled back to regain his starting position in his fourth season, crediting his faith for motivation.
He also had stints in St. Louis and Denver in the NFL, and finished his playing career with back to back USFL titles in 1984 and 1985 - as one of several former Nittany Lions playing for Jim Mora's Philadelphia Stars.
With his playing days behind him, he returned to Seattle and Pro Athletes Outreach, a Christian group trying to help athletes become better role models through Jesus Christ.
The events in New York in September 2001, though, triggered something inside of Ron.
"When 9/11 happened I just knew I had to do something that made a difference in people's lives," Coder said. "Sports and Christ were my passions, and former Steeler Jon Kolb told me about a position in Pittsburgh. I came here in November of 2001."
No one can be sure what direction a kid may chose in life. Coder wants to make sure he is there to offer an alternative to the lifestyle many high school and college athletes can't seem to resist.
While most football fans are concerned with wins and losses, it should be comforting to know that at least one guy on the sideline cares about much more. While his football career makes him profoundly qualified to tutor kids on the finer points of football, Ron Coder is also trying to get them to understand that the next level isn't necessarily the NFL.
Imagine playing on a nationally ranked football team in college and winning a major bowl game on New Year's Day. I can. I remember when our team, Penn State, beat Baylor in the Cotton Bowl, 41-20. I'll never forget the day we won, nor my thoughts that night as I wondered where my life was heading...
"What am I doing here?"
After the game, I went to a night club to celebrate with a friend and his fiance. After a while they left, and I was left sitting on a bar stool thinking, "What am I doing here? Am I really happy? Am I enjoying life, or is this just a temporary satisfaction?"
Well, I quickly brushed aside those thoughts. But a few weeks later, a couple of teammates invited me to a meeting. When I walked into the room I saw smiles on these guys faces and a sparkle in their eyes I couldn't understand. It was as if someone had put an electric blanket around my heart. The love I felt flowing out of these men was amazing.
I listened as some of these men shared about their relationship with Jesus Christ. I had always thought that Christianity was a sissy thing. But these men weren't sissys. Some were 6'5" tall and weighed 275 lbs! I saw that each man in that room had a personal relationship with God. That was something I wanted too.
The next week I came back to the group and made the decision that would change my life forever. I prayed and asked Jesus Christ to come into my life.
No longer in control
Since then, people have asked me, "How has your life changed as a Christian?"
One thing I can say is that before I knew Jesus Christ, I wanted to be in control of everything -- girlfriends, grades, success in sports. I wanted everything my way. Outwardly I was a real nice guy, but inwardly I was very selfish.
As I've come to know Jesus Christ, He has come to control my life. It's like I've given Him the reins and said, "Here, I want you to steer my life. You know the best way for me to go. I trust you to guide me through everything in life -- the good times and the bad."
It's a great feeling when you can turn your life over to Christ. Inside I feel the peace that He promises to give, "a peace," the Bible says, "that passes all understanding."
This doesn't mean that life is always going to be a bed of roses. Sometimes, I don't understand why things happen the way they do. In 1978 I was forced to sit out the entire season after I ruptured two disks in my back. I had major surgery and had to face the real possibility that I might never play football again. I lay in the hospital bed and realized I could experience a strength greater than my own, a strength that comes from God.
The same is true today...
Whenever I face tough times, I pray and ask the Lord to help me. And He does. God gives me the confidence to handle any situation that comes along. With Him I know that all things will work out the way they're supposed to.
I found this true as a player. And now that I'm retired, God has continued to be there guiding me every step of the way.
I've learned that careers change, but God doesn't change. God's love for you will never change. That's something to think about as you think about who you are and where you're going.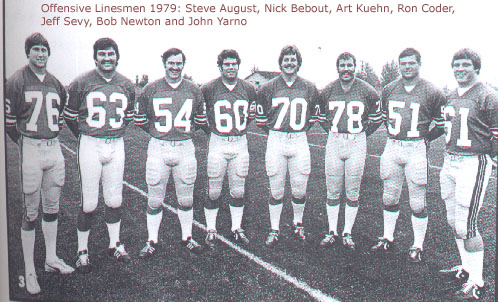 Now that the draft will be 12 rounds instead of 1
By Dave Brady, Washington Post
March 20, 1977
Now that the draft will be 12 rounds instead of 17, what happens to trades that involved picks in the last five rounds? Well, Pittburgh traded guard Ron Coder to Seattle for a 17th-round choice last year. This year the clubs will switch 12th-round picks.

Ron Coder Motivation and Inspirational Speaker…Retired Professional NFL player has found his calling as the director of the Pittsburgh Fellowship of Christian Athletes and the chaplain for the University of Pitt athletes. Ron's message will motivate and inspire you to focus on life, live it to the fullest while gaining vision for your personal and business future.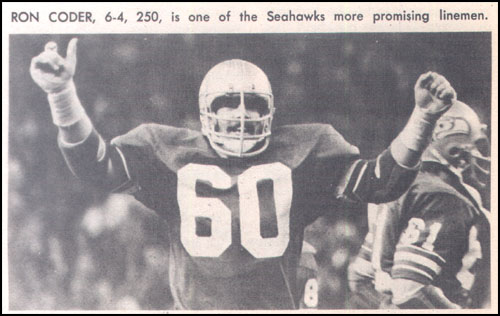 Ron Coder,
Norm Evans
, Larry Lilja and
Steve Largent
are members of Life Athletes, "committed to living lives of virtue, abstinence, and respect for life." There are so many reasons to be proud of our Seahawk pioneers!
The dictionary defines a hero as someone who is a central figure in any event or time. Life Athletes are heroes because they give witness to the truth of human dignity which is the most pressing issue of this new millenium.
We thank all of the following heroes for their participation in the Life Athletes mission.
The Life Athletes Commitment

1. I will try to do what is right, even when it is difficult.
2. I will give myself only to that special person I marry as my partner for life.
3. I will respect the lives of others, especially the unborn and the aged.
4. I will not quit or make excuses when I fail. I will try again.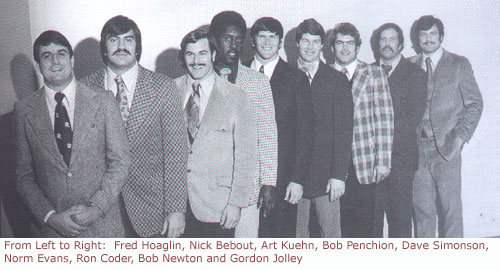 To Whom It May Concern:
For 10 years I played pro football in the NFL and USFL. Because I played offensive line my hands took a lot of abuse, specifically my one knuckle. This knuckle had a large, dry, grotesque callous on it. I have been out of football several years and nothing including lotions and creams would get rid of it. I have bought several products that have claimed to be able to heal calloused, rough hands and even they didn't work. I recently starting using the Charme device on my hands and callous. After a few weeks of using Charme, the once hard callous has now been reduced to a normal knuckle!! Thank you Charme for getting rid of an ugly eyesore, and give an old jock smooth hands!
Ron Coder
Seahawks, Cardinals, Broncos, Steelers, Philadelphia Star
Source: Norm Evans' Seahawk Report
Vol. 4, No. 13
September 27 – October 3, 1982
Ron Coder, a former Seahawk offensive lineman who was placed on injured reserve by the St. Louis Cardinals recently, was released the other day. Coder, who injured a knee during training camp July 25, missed the entire 1981 season with a knee injury. He started two games and played in seven others in 1980. Coder, traded by the Seahawks to St. Louis two years ago, still lives in the Redmond area where he operates Pacific Nautilus. There is still some question as to the legitimacy of Coder's release, which was made two weeks into his injured reserve status instead of following the normal four-week period.
Seattle's Zorn married
Waterloo Courier
April 9, 1979
SEATTLE (AP) - Seattle Seahawks quarterback Jim Zorn married Christine Joy Sturton Saturday in Bellevue, Wash. Seahawks wide receiver
Steve Largent
was best man, and his wife was the matron of honor at the church wedding. The ushers included other members of the National Football League club — running back
Sherman Smith
, tight end
Ron Howard
, guard
Ron Coder
and former linebacker
Ken Hutcherson
. About 20 Seahawks, including office personnel, were among those attending.
The Zorns planned a week's honeymoon before moving into a home Zorn recently bought on Mercer Island.
Seahawks' Newton injured
PACIFIC STARS AND STRIPES
SUNDAY, SEPTEMBER 16, 1979
SEATTLE — Bob Newton, starting right guard for the Seattle Seahawks, has been hospitalized with a thigh injury and will miss three or four weeks of play, says Coach
Jack Patera.
Newton is a nine-year veteran. He will be replaced in the starting lineup Sunday against the Oakland Raiders by Ron Coder, who lost the job to Newton after 1978 back surgery Seahawks' fullback. David Sims, who received a severe head blow in the Miami game, also will be kept out of Sunday's game in the Kingdome. Dan Doornink, a former Washington State University player acquired from the New York Giants, will start in his place.
Collecting Ron Coder?
1978 Nalley's Chips #5