Norm Johnson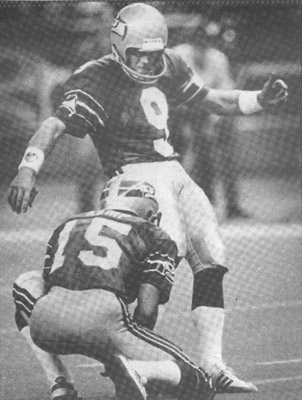 Source: Inside the Seahawks, Volume 1, Number 25, April 17, 1987 – May 7, 1987
Keeping those leg muscles toned
Twenty-six-year-old place-kicker Norm Johnson has a lifelong devotion to kicking. He's a former schoolboy soccer player and has been the Seahawks' place-kicker since 1982.

Norm is part of the UCLA alumni corps that dot the rosters of the NFL. It's not uncommon to find his family wearing Bruin blue and gold; Norm's father Howard played football and baseball at UCLA and his brother Mitch also played at the Los Angeles school.

The veteran kicker also has a special place in his heart for golf; it was on a golf course that he met his wife Lori, a native of West Seattle. Norm and Lori now make their home in Redmond.
Source: Inside the Seahawks, Volume 1, Number 25, April 17, 1987 – May 7, 1987
Shaping up with Seahawk Norm Johnson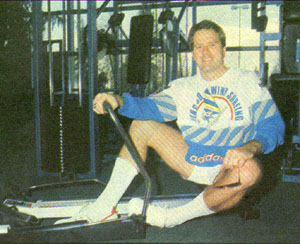 Working out at the Seahawk training facilities in Kirkland, Norm is wearing a 100% cotton Art Shirt ($49.98) and matching Art Shorts ($21.98) with screened and embroidered custom designs and Adidas work out shoes, available from the Locker Room's Seattle-area locations.
Norm is keeping his muscles toned on a locally made Pre-Cor rowing machine. His sunglasses are a French pair of yellow gold frames by Oliver Monclair from the Elegante Eye.
Source: Seattle P-I
Wednesday, January 18, 2006
Where Are They Now? The 1984 Seattle Seahawks
By CLARE FARNSWORTH
SEATTLE POST-INTELLIGENCER REPORTER
NORM JOHNSON, No. 9
Then: Pro Bowl kicker who scored a club record 110 points (since broken), by converting on 20 of 24 field goals and 50 of 51 PATs.
Now: Selling real estate in Kitsap County. After playing nine seasons with the Seahawks (1982-90) and nine more with three other teams (Atlanta Falcons, Pittsburgh Steelers and Philadelphia Eagles), Johnson returned to the Puget Sound area with his wife, Lori, and three sons -- Jordan, now 17; Jarrett, 14; and Jameson, 9. Of his '84 experience, Johnson said, "Those were exciting times, especially being a young player. I was excited to play on a team, let alone a winning team. It was great."