Bruce Scholtz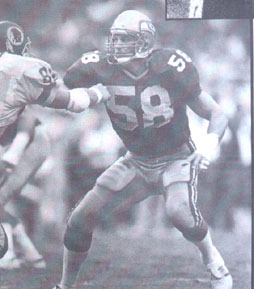 Source: Norm Evans' Seahawk Report
BRUCE SCHOLTZ, LB. 6-6, 240, Texas
First team All-Southwest Conference as chosen by AP and the Dallas Morning News.., selected to play in the East-West Shrine Game and the Olympia Gold Bowl.. . nicknamed the Stork., .team captain. . was in on 87 tackles, with nine sacks and 14 tackles for lossers as a senior. . finished four-year career with 350 tackles, 13 sacks and 56 tackles for losses. . forced six fumbles and recovered seven. . .had 137 tackles in 1978. . did not play in 1979 after suffering a broken ankle in a summer softball game. . .brother Larry was a three-year starter at Stephen F. Austin College. . .born Sept. 26, 1958.. . Economics major. Scholtz: "I am very happy to be going to a team like the Seahawks, a young team—with good opportunity to play. They said they were going to put me at outside linebacker and that is where I wanted to play. I think I move pretty good. I have good natural speed. At Texas we played 4-3 and I played outside...I do a lot of weightlifting, bench a little over 300, squat 450. I won't know until camp what my chances are to step in as a rookie. I was recently timed in 4.7. . College highlight was beating Bear Bryant in the Cotton Bowl this year because I was in the Cotton Bowl of '77 and we lost to Notre Dame Leon Fuller (former Texas defensive coordinator, now head coach at Colorado State) on Scholtz: "He is a fine football player with great size and range, but I think his real strength is his intelligence. He's such a smart football player. He is the kind of a fellow who has developed through three years. Started for three seasons. . . mature. . .For someone that size he runs very well I think he would be an excellent outside linebacker. . . Has for years been playing a lot of man-to-man and running with backs out of the backfield. . . Could go to DE. - . Big and tall and strong and looks like he ought to be playing in a Tarzan movie...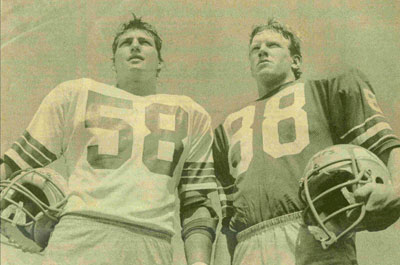 Source: Inside the Seahawks, Vol 1 No. 12, October 24, 1986-October 30, 1986
"Our Best Performance of the Year"
Early in the fourth period, Seattle linebacker Bruce Scholtz ended a New York threat when he picked off a Simms pass and returned it 10 yards to the Giants' 23.
"I just tried to grab the ball and hold onto it,' said Scholtz. "The ball dropped right in front of me. After the run, I felt like I had run about100 yards. I was tired.
"We're an emotional team, and that's the kind of play we needed. But, if after the interception, if we hadn't scored, it wouldn't have meant anything."
The Seahawks did score after Scholtz's steal.
Five plays later, Warner smashed over the middle for the final yard, making the score 17-9.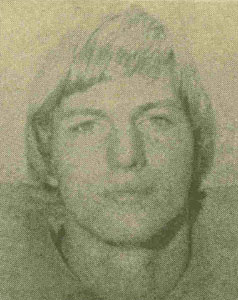 Source: Norm Evans' Seahawk Report, January 6, 1983
A Team for All Seasons
by Doug Weese
Second-round pick Bruce Scholtz continued to fill his starting position well, coming up with a dozen tackles, a quarterback sack, fumble recovery and two batted-down passes against Denver.
"Regardless of the shortened season, this was the year of defense," Simpson said. "With a legitimate defense we didn't have to rely on trick plays. We had never heard our fans cheer 'defense' and that was really something. THe fans played a major role in us winning at the Kingdome. It seemed like each game after the strike the crowd became more and more intense."



Source: Norm Evans' Seahawk Report, January 6, 1983
RumorCentralRumorCentralRumorCentral
There were a lot of raised eyebrows last spring when the Seahawks made Bruce Scholtz of Texas their second-round draft choice behind Jeff Bryant of Clemson. There were even more concerns about Scholtz once he got into training camp at Cheney. But Scholtz has made a rapid development this season and now, as the starting left linebacker, is making a real contribution to the club. He's especially adept at containing the run. Says Jackie Simpson: "I was impressed with Bruce when we had him down at Dallas (at a workout camp). I watched all the film on him and worked him out. I liked his ability to stay on his feet. I thought he had a good change of direction and good acceleration. I like his size." Scholtz, 6-6, picked off a pass in the Denver game just after the strike and returned it 31 yards for a touchdown.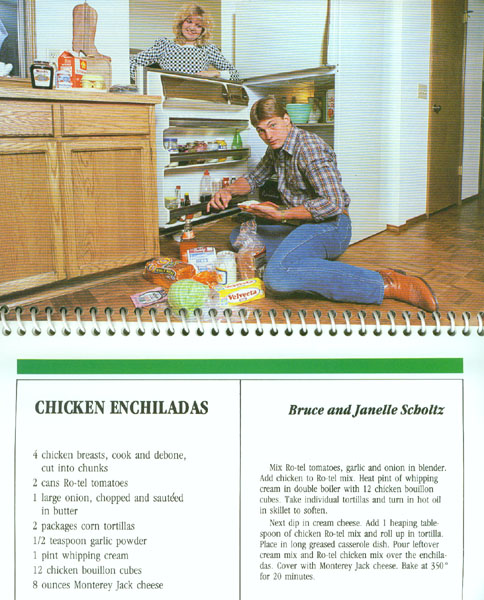 Source: Norm Evans' Seahawk Report, Vol. 4, No. 5, August 2-August 8, 1982
BIGGER THE BETTER: Seattle has high hopes for Bruce Scholtz and Pete Metzelaars, a pair of giant-sized draft picks.
By Chuck Niemi
"A great prospect. . . big, tall and strong. He looks like he should be playing in a Tarzan movie."
Leon Fuller, the former defensive coordinator at Texas, had those glowing words for his former pupil, Bruce Scholtz, a 6-6, 240-pound speciman who looks like a tackle but plays linebacker. Fuller might just as well have been talking about a tight end from Wabash (md.) College named Pete Metzelaars who stands 6-7 and weighs 240 pounds himself.
These are the two young giants the Seahawks drafted two-three.. . much to the utter amazement of some experts yet, perhaps, to the future consternation of rival coaches. Acouple things are certain. The Hawks like these guys. And, they are big boys playing a big boy's game where big holes need to be filled. There were 18 linebackers listed on Seattle's pre-season roster. Seventeen of them must think Scholtz is an E.T. Take away Scholtz, and the group averages a shade under 6-2 and a couple ounces over 223 pounds. This guy is 6-6 and 240.
"This is a BIG football player," Seattle coach Jack Patera emphasized. "He's very imposing physically. He's just a great athlete with outstanding talent as a linebacker."
Scholtz started for three years at Texas and, despite some lopsided wins, was still on the field long enough to pile up some imposing numbers... 350 career tackles (56 of them for minus yardage), 13 quarterback sacks, six forced fumbles and seven fumble recoveries.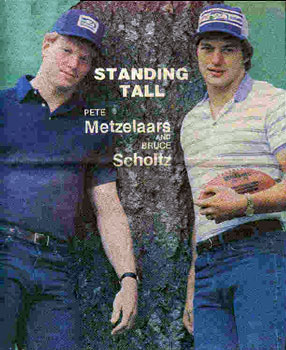 Size and strength are virtually taken for granted with Scholtz. The missing part of the equation is whether he can run with NFL backs coming out of •the backfield on pass patterns. "I've always had pretty good speed," Scholtz says. "I run the 40 in 4.7. I used to run the hurdles in high school."
Patera also believes the equation is complete. "He picked up backs and ran with them in college," Patera began. "He blitzed from the Outside. He did everything you could look for in a linebacker. I didn't see (Ted) Hendricks (Oakland's All-Pro outside linebacker) in his early years, but he (Scholtz) moves better than him now." The Texas star has been playing linebacker ever since high school so it's doubtful he's been out of position all these years. His size, he says, has been more help than hinderance.
"There are more pros than cons," he began. "It can be a hinderance when I get cut (blocked low in the legs) but, with my height, I can also see the play develop better. We also had a guy named Robin Seindlin and he was about my size. We were the tallest linebackers in the entire Southwest Conference."
Scholtz finds himself in an intriguing position. Injuries a year ago left the linebacker corps in chaos. The casualty list reads like a M.A.S.H. report: Joe Norman, knee injury pre-season, back at mid-season, knee re-injured against Kansas City; Brian Flones, plays in first four games, then out for the year with a knee; Greg Gaines, plays in first eight games, then out for the year with a knee. Plus, outside linebacker Michael Jackson, who has played on an All-Pro level for the last two seasons, is being moved inside.
The Texas grad isn't blind to this inviting situation, but he isn't forcing the issue either.
"I'm not looking at it like that," he says of the obvious opportunity to step into a starting job. "I'll just see what I can do. When September rolls around, we'll see who's where."
An injury in a summer softball game in 1979 almost made football and Septembers-rolling-around a moot point for Scholtz. He was going from first to third, slid into the bag and found his left foot caught under the base. "The foot was sticking out perpendicular from the direction it should have been pointing," Scholtz recalls. "It was a bad dislocation, almost a compound fracture. I was in a cast for eight or nine weeks and had to be red-shirted. I don't play softball anymore."
Let it be known that there are no lingering problems. Scholtz came back to start in both 1980 and 1981, was named team captain and was an All- Southwest Conference choice. He was one of a gaggle of Longhorns to be offered NFL contracts this spring. "We had something like 16 guys drafted and they said that was some kind of a record," Scholtz offered. "A couple other guys signed as free agents. The funny thing is that nobody ended up on the same team."
Despite that tremendous depth of talent on the '81 Texas club, Patera said, "I might be prejudiced, but I think Scholtz was the most outstanding player on that Texas team." Once the Seahawks landed Scholtz, they resorted to all sorts of magic incantations to land Metzellaars. . . crossed fingers, pins stuck in voodoo dolls, mysterious telephone calls.
"We really sweated him out," Patera said. "We tried everything to get him higher. We tried to make a trade right from the moment we got Scholtz."
Metzelaars has led an interesting athletic life. Recall his size: 6-7 and 240. He was a high school quarterback running a Houston Veer offense. He led Portage (Mich.) Central High to the Class A (large school) state finals where they lost, 17-7, to Birmingham-Brother Rice. He was also an accomplished center in basketball, a talent that would lead to incredible honors and thrills, yet paste a label on him that he now must overcome. Asked of his quarterbacking prowess, Metzelaars, a bit reticent, finally responded, "I guess I was pretty good." He went on to play quarterback for one week at Wabash. "That was it," he laughed. "They switched me immediately to tight end."
It took awhile to find the comfort zone. "By the end of my first season, I saw that my potential was as a tight end," he admits. "That's where I fit best. I just decided to make the best of it. It was a difficult transition, more so mentally than physically. I had to learn to block and run patterns. It took about half the season before I felt at home."
Once he adjusted, Metzelaars went on to become a two-time Division II All-American. He had 77 receptins (40 as a senior) for 1,196 yards (a 15.5 average per catch) and scored nine TDs. He would also be a four-year letterman.
But, those numbers pale compared to what he did on a basketball court. He led Wabash to the 1982 Division III championship by scoring 45 points and grabbing 13 rebounds in an 83-62 win over Potsdam State. He averaged 24.2 points and 13.2 rebounds for his career, while setting NCAA single season (.753) and career (.724) field goal percentage records. Again, he was a four-year letterman and, again, a two-time All-America.
"I always played both sports and always like them both," he said. "Basketball may have been a little more fun, just because you could screw around more."
Well, you can guess the scenario. Once the Seahawk~ draft Metzelaars, the instant connotation is that they've taken a basketball jock. After all, didn't former Seattle University roundballer Ron Howard start 30-odd games for the Seahawks? Didn't Seattle sign Pittsburgh's Sam Clancy and USF's Ken McAlister.as free agents?
"Some of the magazines have labeled me as just a basketball player," Metzelaars says, with some disdain. "I've always just considered myself an athlete who happened to play both sports. It's kind of strange that they'd label me in one sport when I've always played both."
Arookie camp in Dallas for NFL prospects may have changed the minds of football people, if not journalists.
"I timed out well, ran well and caught the ball well," the big tight end said. "It was a windy, rotten day for practice, but it might have helped me."