Game Day:
The Seattle Seahawks' locker room got strangely quiet as Curt Warner started to address a players-only meeting last week.
Continue reading
Statistics: Season Summaries and amazing honors
Continue reading
What We've Overheard: ""We weren't a good team, but we were hard working and exciting." -- Curt Warner
Continue reading
Ouch!: Curt Warner, the Seattle Seahawks' all-time rushing leader, underwent arthroscopic surgery yesterday to remove torn cartilage from his right knee...
Continue reading
Photo Gallery: Selected shots
Continue reading
"Curt Warner out there running -- you can't believe how good that makes the defense feel!" -- Kenny Easley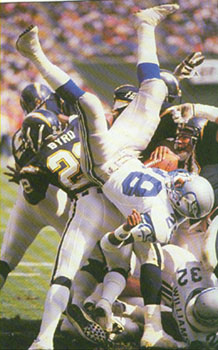 Source: Seahawks 10 Year Anniversary Book
Warner established his credentials the first time he carried the football in his professional regular season debut. Curt rambled 60 yards against the Kansas City Chiefs. He later caught an 18-yard touchdown pass from Jim Zorn, in a 17-13 defeat.
The next week, in New York's Shea Stadium, Warner rushed for 128 yards in a 17-10 victory over the Jets. It was the first of seven games of more than 100 yards for Curt's rookie season and the day that "Ground Chuck" entered football conversation, identifying the Seahawk offense.
Five games into the [1984] Seahawk season of most extravagant hopes, Knox had to field a team bereft of Curt Warner and Paul Johns. If it were possible to photograph gloom and record the thudding of hearts, the Kingdome would have been the place to be on September 3 the season-opening game against the Cleveland Browns.
In the second quarter, executing a quick cut near the Cleveland goal line, Warner went down, untouched, on a buckled right knee. The eventual 33-0 victory paled in the vision of Warner's ride to the locker room on a stretcher. Fans learned to say anterior cruciate, the torn ligament. Newspapers diagrammed the damaged knee that sent Warner to surgery and snuffed out his season.
Warner was an inspiration throughout his rehabilitation, an eight-month piece of work that ended with his coming out during mini-camp. And the team, robbed of the major part of its offense, found new ways to win. Reunited in 1985, they felt, as Warner put it, "There's no limit to what we can do."
Later... But the gladdest tidings of the Seahawks' 10th spring was that Curt Warner was running quickly and without detectable anguish!