"Curt Warner out there running -- you can't believe how good that makes the defense feel!" -- Kenny Easley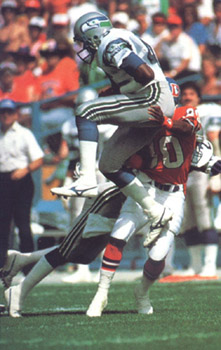 Source: Inside the Seahawks, Vol 1 No. 12, October 24, 1986-October 30, 1986
"Our Best Performance of the Year"
Warner, the AFC rushing leader, moved to within one of Sherman Smith's club record of 28 rushing touchdowns and he still remains second to Smith in career ground-gaining yardage with 3,228. Smith has 3,429.
WARNER'S TALK KEEPS SEAHAWKS FROM PLAYING LIKE PIGEONS
By Chris Baker, Los Angeles Times
October 1, 1989
The Seattle Seahawks' locker room got strangely quiet as Curt Warner started to address a players-only meeting last week.The softspoken tailback was angry because his teammates had played poorly in losing their first two games. Warner said the team had been torn apart by contract disputes and dissension.After quoting from the Bible, Warner said his teammates needed to redefine their goals."We have our radios on, but we're not turned to the same station."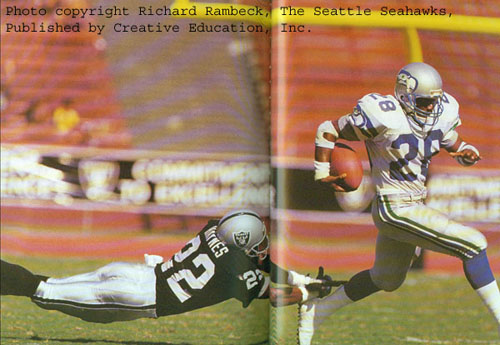 Source: Inside the Seahawks, Volume 1, Number 16, November 21, 1986 - November 27, 1986
The Dead-End Street of Substauce Abuse
by Curt Warner
I'm not involved in drugs. I don't have that need. Drugs are a dead-end street; they go nowhere. In the simplest of terms, drugs make no sense. I ask the question: why do something that is so detrimental to your body and to your mind? Why do something that becomes an obsession and an unnatural need? As a football player, I know that drugs have no place in the game, or in life. If a player uses them, it's just a matter of time before that player is damaged and incapable of performing his job. Pay now or pay later, it does not matter, because drugs ruin careers and lives; that's a certainty, not a maybe. There is not a single moment of genuine growth or integrity that arises as a result of drug and alcohol abuse.
Not one.
The only certainty is that drug and alcohol abuse will lead straight to disaster and ruin.
A lot of people are searching for fulfillment and meaning in their lives. Sometimes, people choose to take the short and temporary routes, opting for instant gratification in an attempt to ease their pain and lack of satisfaction. However, any so-called "gratification"—in reality is a chemical reaction that has no connection with improving the quality of an individual's life—is fleeting and wasteful. One's problems in the real world do not vanish or become solved by the lies produced by drugs and alcohol. I'm a Christian, and this gives me the assurance and the stability that I need to be successful. I know who I am and what I am without needing to be swayed by the opinions or actions of those who surround me. Christianity gives me the freedom to live my life without drugs. I've already found fulfillment. I have faith in God.
One can't hide from oneself or from the world. Eventually, unless dealt with, the problems in life overwhelm an individual and it becomes glaringly evident that drugs and alcohol have simply added to the hardships that are already present.
My advice to the young reader, fan , or player is to go out there and use your natural gifts and accept the challenges and opportunities that life has to offer. Don't fool yourself with drugs and alcohol.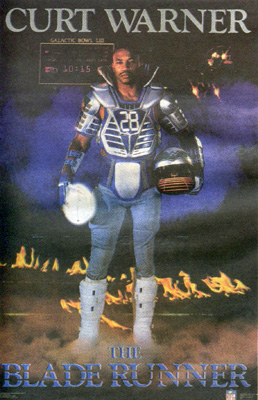 Source: Inside the Seahawks, Vol. 3, No. 10, November 23, 1988
Doing More and Running Less
It hasn't been easy going for Warner this season.
Curt Warner has heard the whispers. He's read the letters to editors. He's even heard a few boos in the Kingdome.
"There's not a whole lot I can do about those things," the All Pro running back said. "Everybody is a weekend coach."
Warner's season is not turning out to be another All Pro year. But there are contributing factors.
A year ago, after fullback John L. Williams told the coaching staff that he wanted more of a role in the offense, Warner's number of carries per game began to fall. That leads to one of Chuck Knox's favorite sayings about players sharing the glory of handling the pigskin: "You've only got one football."
And Warner was asked to become a blocking back, as well as a running back.
One of Warner's biggest fans is a man who has heard more than his share of weekend quarterback criticism. Dave Krieg was asked by reporters after the Houston victory about thesuccess of Williams' running in that game.
"I'll tell you one reason (John L.) had a good running game today is the receivers blocking downfield, and obviously the offensive line did some good blocking," Krieg said. "But one guy that really did a good job blocking for him is Curt Warner. He had to take a linebacker on right away. Nobody out there but Curt and that linebacker, and that enables John L. to do a lot of the running out there.
"I know a lot of the guys were holding their blocks on the back side real good," Krieg said, "but the key guy who was blocking for him was Curt Warner. I don't think a lot of people realize that. He's not a blocking back, but he's got to go out there and block for John L. Those guys work real good in tandem like that." Against Houston, Williams rushed for more than 100 yards and Warner had more than 70.
"They're both real unselfish," the quarterback said of his backfield mates. "Curt Warner being the guy who always gained 100 yards or so, theyboth have to block for each other. People have to give Curt a lot of credit for the way he's handled it. He's turning into an all-around back, too."
Though free of injuries that plagued him all of last year, Warner has been handling the ball less this year. It's not unusual to see him carry it 10 to 15 times, rather than the 20 to 25 times he rushed for yardage in years past.
"I'm not complaining," Warner emphasized. "With John L. running, it's naturally going to take away carries from me. But if he's running well, we take the best of what's there."
Though he'll take on the blocks, Warner relishes the opportunities to run with the ball. Many times this season, Warner has been just a step away from breaking a big one. Or if he does rush for good yardage, often the ball has been brought back because of a holding penalty, as it was Sunday against Houston.
"There's no set remedy," for breaking loose, Warner said. "But the more I run, the more tired I get, the better I run. It just happens."
Warner says that at the start of a game when he's fresh, he thinks too much about the scheme. As the game wears on, a tired Warner lets his natural abilities carry him, and they have often carried him toward the goal line.
The Seahawks game plan has called for Warner to be more of a pass catcher, too, and Warner had trouble hanging onto the rockets fired by Kelly Stouffer. With Krieg's "touch," Warner is a better pass receiver.
If he's going to rush for 1,000 yards again this season, Warner will have to pick up 262 yards in the final four games of the season. That wouldn't seem an unreasonable task in an ordinary season.
But given only a few chances to get those yards will make it difficult for Warner to break that 1,000 barrier.