Game Day:
The Seattle Seahawks' locker room got strangely quiet as Curt Warner started to address a players-only meeting last week.
Continue reading
Statistics: Season Summaries and amazing honors
Continue reading
What We've Overheard: ""We weren't a good team, but we were hard working and exciting." -- Curt Warner
Continue reading
Ouch!: Curt Warner, the Seattle Seahawks' all-time rushing leader, underwent arthroscopic surgery yesterday to remove torn cartilage from his right knee...
Continue reading
Photo Gallery: Selected shots
Continue reading
"Curt Warner out there running -- you can't believe how good that makes the defense feel!" -- Kenny Easley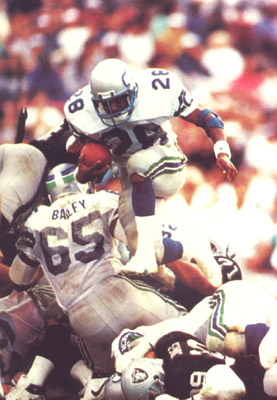 First Seahawk to Rush 200 Yards in a Game:
Curt Warner, 207 vs. the Kansas City Chiefs, 11/27/83
First Seahawk 1,000-Yard Rusher:
Curt Warner, 1,449 yards (1983)
1983 Season Summary
Team Captains: WR Steve Largent (Offense), CB Dave Brown (Defense), RB Eric Lane (Special Teams)
Team MVP: RB Curt Warner
Pro Bowl Selections: SS Kenny Easley (2), RB Curt Warner (1)
National Honors: Chuck Knox, NFL Coach of the Year (SGH), SS Kenny Easley, AFC Defensive Player of the Year (FB News), RB Curt Warner, AFC Offensive Player of the Year: (UPI, NFLPA, WNTDC)
All-NFL Selections: SS Kenny Easley (NEA, PFWA, PFW)
Notes: First playoff appearance. Won 2 games, then lost AFC Championship Game at L.A. Raiders, 30-14.


Source: Inside the Seahawks, Volume 1, Number 17, November 28, 1986 - December 4, 1986
In just three full seasons, running back Curt Warner has become the all-time Seahawks' rushing leader. Warner's 134 yards against Cincinnati moved the former Penn State runner past Sherman Smith who ran for 3,429 yards in seven seasons. Warner's career total after the Bengal game was 3,508 in 844 carries for a 4.2 average per gain. His longest carry is 60 yards, and he's scored 28 NFL touchdowns rushing to tie Smith's career club record for running TDs.

Here are some interesting stats...er, um...I mean, facts (!)...for Curt Warner:
Scored 84 points his rookie year! That's an unbelievable 14 touchdowns! 13 rushing, 1 passing!

Scored 24 points in one game vs. Denver in 1988!!

Had four 1000+ rushing seasons!

Rushed for 207 yards in one game vs. Kansas City in 1983!!

Had 335 rushing attempts his rookie year!

Had 1649 rushing attempts in his career!