Game Day:
The Seattle Seahawks' locker room got strangely quiet as Curt Warner started to address a players-only meeting last week.
Continue reading
Statistics: Season Summaries and amazing honors
Continue reading
What We've Overheard: ""We weren't a good team, but we were hard working and exciting." -- Curt Warner
Continue reading
Ouch!: Curt Warner, the Seattle Seahawks' all-time rushing leader, underwent arthroscopic surgery yesterday to remove torn cartilage from his right knee...
Continue reading
Photo Gallery: Selected shots
Continue reading
"Curt Warner out there running -- you can't believe how good that makes the defense feel!" -- Kenny Easley




What We've Overheard...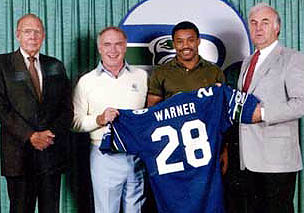 "We weren't a good team, but we were hard working and exciting." -- Curt Warner
"The running back you've all been waiting for..." -- Coach Chuck Knox
If you would like to meet Curt Warner you need to be in Vancouver, Wa. He is really a nice person. He owns Curt Warner Chev. He has some really neat Pictures on the walls of his Dealership. -- Fred C. Williams
I know you like stories, so how about when the Seahawks beat the Broncos in the last game of the 1986 season by like 30 points. Curt Warner ran all over them, but they didn't make the playoffs despite winning their last 5 games to go 10-6. The Super Bowl champion Giants only lost 2 games that year, one was to the Seahawks. -- Ainsworth Pride