Chris Warren
Chris Warren will always be a personal favorite as I think back through the years to all the Seahawks players who have come and gone. I share with you a fan story below, while kindly remembering him for his on-field play for many years.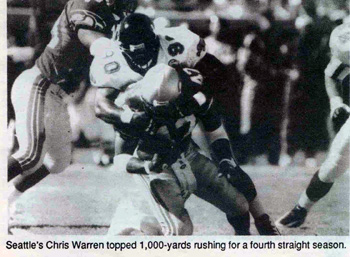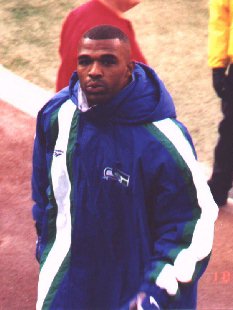 CHRIS WARREN WINKED AT ME!!!!!!!!!
I was at the Seahawk game at Arrowhead Stadium in Kansas City on October 17, 1996. We entered the stadium early enough that virtually no one was there! Scouting around, we saw two fellow Seahawk fans, so we made our way over to them to say hello!
We were met with unbridled enthusiasm, as Chris Warren had just autographed a Seahawk fan's Chris Warren jersey!!! It was so exciting to hear him tell the story! I thought to myself, "Wow! What a great guy Chris Warren must be!!!" (I'm sure Chris has no idea how happy he made this long-time Seahawk fan!)
As we were sharing Seahawk stories, Chris Warren walked right in front of us on his way back to the locker room. I snapped a photo of him quickly, quite proud of my accomplishment! (photo above) As more players passed by us on their way to the field for warm-ups, several of them stopped to sign autographs or pose for photos, much to our delight! It was fun to see the players up-close and to wish them a good game! I thought I'd died and gone to Seahawk Heaven!
Mind you, I LOVE THE SEAHAWKS!!! It's a rare treat for me to get to a Seahawk game, so you can imagine the enormous smile across my face as I'm seeing the players walk out onto the field... We're talking abnormally happy...! Downright embarrassingly happy! (You get the picture, right??)
AND THEN IT HAPPENED...! Out of the tunnel, onto the playing field, came Chris Warren!! I shouted to him, "Chris, you're going to have a great running game today!" - or something to that effect - and Chris momentarily glanced up towards the stands...towards ME! Brief eye contact! My smile got even bigger!! Chris did a double-take, if you will, (no doubt laughing AT me, not WITH me!) and then...HE WINKED AT ME!!! CHRIS WARREN WINKED AT ME!!! Not at someone standing beside me (all guys...!), but at me!! Woo Hoo!!!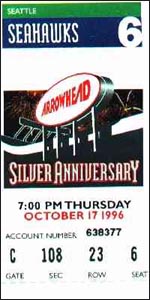 Okay, maybe I was caught up in the excitement of the day! Maybe it's not that big of a deal! But still it was a memorable moment to an otherwise lousy game day, and for that, CHRIS GETS HIS OWN PAGE!!!!!!!!!!! *smack* I love ya, man!!!

Oh. The game? You want to know about the game? Why didn't you say so?!

:-)

We lost...again. We can pout about it...we can feel sorry for ourselves...we can make excuses...we can even perhaps criticize what appeared to be biased officiating. Or we can get over it.

Get over it. Please... (I'm begging you.) It was a terrific day!

Nearly sick to my stomach from the excitement of FINALLY getting to see my Seahawks (not to mention the Chris Warren episode!) we stood next to the tunnel where the Seahawks enter the playing field, exchanging stories of our favorite players with other fans. Pete Kendall entered the field. Mr. Kendall was nice enough to stop and autograph our game books, much to our delight. Next came Rick Tuten. Then Michael Barber. Then Sam Adams. And then Michael Sinclair. Each of them stopped to sign our game books and pose for pictures! (There were more who stopped, too. I'm only mentioning those who signed my book...)

More players entered the field for warm-ups. No more time for autographs. Time to prepare for the game. As each and every Seahawk player and coach passed by us, within touching distance (!), we offered our words of encouragement!!!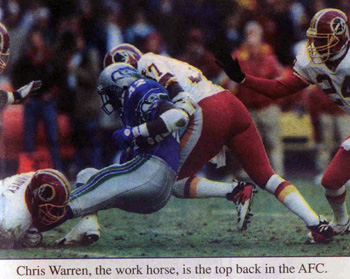 We took our seats and anxiously awaited kick-off. As our team was announced, it seemed I was the lone voice in the crowd, but believe me, I cheered loud enough FOR ALL OF YOU!!!!! Yes, I took some flack from the Chief's fans around me, who questioned how 'we' ended up in 'their' section. I politely informed them that I LOVE THE SEAHAWKS, and that I intended to cheer on MY team as enthusiastically as 'they' intended to cheer on 'their' team. 'Nuff said.
Of course, by now you all know the rest of the story. I was on my feet, jumping up and down, screammmmmmmin' when we had GREAT plays. I was slumped in my seat on those 'other' plays. It was an emotional roller coaster ride, as with each possession, I kept thinking MAYBE, just MAYBE, this would be the possession that would turn the game around. It was not meant to be.
Sitting one row behind me and just to my right was an 8 year old boy. It was his first NFL game. He was adorably cute, dressed in Chief's attire from head to toe! Mischievous eyes, very well behaved, great manners! I spoke to him at half time and throughout the second half. When Chris Warren got his touchdown, I turned to the boy and said, "Now THAT'S how you play football!" I got a sheepish grin in return. When the Chiefs had the ball, I'd hear a timid voice from behind, chanting, "Go Chiefs! You can do it!" As I'd turn around to look at the boy, his eyes would look elsewhere, but his smile gave it away every time! I was VERY happy for this young boy that HIS team won! What a wonderful first experience for this child..! His joy somehow lessened my pain...
It was a sobering walk back to the car. The wind was bitter cold. Fans were tailgating all over again. BBQ grills were fired up for one more round of hamburgers! Stereos were blasting! I thought to myself, What a wonderful feeling it must be to be a Chief's fan at Arrowhead. And I wonder...would I have the same feeling as a Seahawk fan at the Kingdome??? I must find out...
Yeah, we lost. Yeah, it hurts. Despite it all, it was a GREAT day for me, and I hope that by sharing this story, it will somehow lessen the pain for you, as that little boy's joy lessened the pain for me...