Wayne Johnson was there!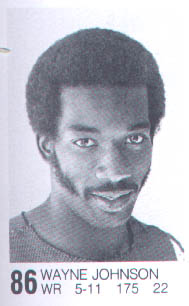 Smith 'A Pleasure to Watch'
"Steve Raible (out with an injury) and Wayne Johnson (a free agent) have been the outstanding wide receivers. Raible and Sherman Smith dropped only one pass in the first five days of camp.
"Rookie guards Steve Duncanson (free agent) and Jeff Urozyk (16th round draftee) are among lower-ranked players who have a chance to stick a little bit longer."
Wayne Johnson trailed only Sherman Smith in scrimmage receptions, catching four for 66 yards in the scrimmage.
Note: We're looking for more information on Wayne Johnson! If you have any information to assist us, please drop us a line! It's our goal to eventually have stories on all the pioneers from the 1976 Seahawks!
Six vets ink Seahawk pacts Saturday
Walla Walla Union-Bulletin
Sunday, July 18, 1976
Friday,
Patera
noted that the performance of his team fell as the temperature climbed during drills. As the thermometer rose to 93 degrees, the only players doing consistently well, the coach said, were wide receiver
Wayne Johnson
, a free agent from Oregon, and tight end
Ron Howard
, a Seattle University graduate who played the last two years for the Dallas Cowboys.
"I don't think we dropped a single pass this morning, but we turned that around this afternoon, except for Johnson and Howard." Patera said.