John L. Williams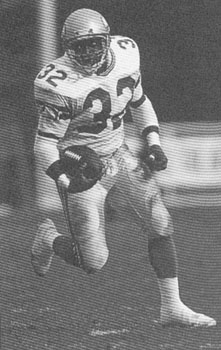 Source: Inside the Seahawks, Volume 2, Number 1, Sept. 3-Sept. 9, 1987
Intensity up as Hawks win
by Leslie Tidball
Don't look now, but the team that struck terror into the civilized NFL world in 1986 reared its head Friday night in the Kingdome.
Seattle's 38-10 pasting of Detroit wasn't a perfect game. But the team took a giant step toward playing what Chuck Knox defines simply as Seahawks football.
"Dave Krieg made the plays he has to for this team to win," Knox said. "The offensive line did a good job of pass protecting. The defense played very, very well. The special teams were excellent."
Playing before 59,695 Seattle fans, the Seahawks turned up their intensity level several notches, an element missing in two pre-season losses to the Rams and St. Louis.
Seattle mixed the pass and run as it marched for its first score. Both Curt Warner and John L. Williams attacked outside the tackles, stretching the Lions' defense.
Krieg's passing marched the Seahawks 67 yards in 7 plays to put the Seahawks ahead 10-3 late in the second quarter.
Krieg hit Williams on a 21-yard pass play when Williams sprinted straight out of the backfield, caught the ball at about the 3 and tumbled into the end zone.
It was Williams' first score as a Seahawk.
"It felt great," the elated Williams said. "We just have to keep doing what the coaches tell us, learn from this success and do it in the regular season."
A big smile broke across Williams' face as he remembered the touchdown once more. "It did feel nice," he said.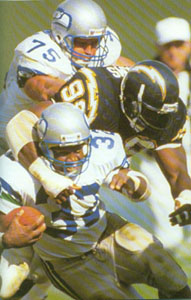 Source: Inside the Seahawks magazine
"Ten or twenty years from now, what will we say about John L. Williams?"
John L. Williams' reply: "I would want that person to be able to say that I gave my all and that I played to the very best of my abilities, that I tried very hard to contribute to this football team in as positive way. I want to be a part of this team and I want to make a difference as a member of this team. As long as we keep working hard and stay on top of things and have fun, then some very good things are going to come about as a result."