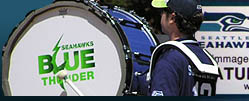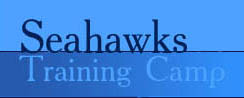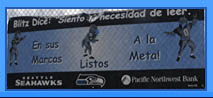 Training Camp 2002, Cheney, WA

As told by my friend Karyn

July 29, 2002

Hi!! We went to Training Camp. We went to the first session of the first day. It was wonderful, as always.

I liked all the positive reinforcements I heard from the coaches. Every one of them had praise for this or that. They were in ... I don't know what you call them ... short pads? Half-pads? I know there's a word ... not full pads! But they were going full speed ... That actually was one of Craig's observations. I noticed, on the other hand, that Jim Zorn and Pete Rodriguez were the only people wearing long sleeves. I also don't like the girlie shorts they wear. It looks like they've all got on skirts! (Oooh, don't tell them I said that!!) But I LOVE the new helmets!! This new blue is very cool.

What else? The guys looked great on offense. They seemed to squirt right through our defense. Wait ... that's not good ... granted, it was the first day and they certainly weren't tackling ... so I'm probably wrong. They were probably supposed to let them get through!! We were disappointed we didn't get to see Ryan Leaf. He's such a twit! But I Like Dilfer!! Oh, I like them all! It was just such fun seeing them all again!! It feels like Football!!

August 22, 2002

We finally managed one last trip to Cheney today. It was actually chilly out there this morning! We had some great views of some drills. I especially liked the ones where they threw to positions that don't normally catch a ball. At least that's what it looked like ... and I always marvel at the defensive players. They are just so massive!! (After practice they set up a table and let the kids get autographs. One little boy came running out shouting, "Dad! Dad! Their fingers are SO big!!") And it was really nice to see Mark Rypien out there. I don't know how much you know about him ... he lives here in Spokane. He quit football for 3 years while his baby son died from a brain cancer. The community was very supportive and there's even a football field named for him (Andrew). Mark is very active in all sorts of charity events and it's just nice to see him get one more shot at things. And besides, he looked really good out there. He was connecting and appearing confident ... unlike some other qb's who shall remain nameless. Mark also signed autographs for a very long time. Also stood next to some military guys (all camo'ed out) and they got Zorn to come over to sign their footballs. One of them told Jim the last time he got his autograph he was playing. Zorn said that was a long time ago. I said "Not that long ago!"

They've changed the Gauntlet a bit. You can only line up on one side now. That changed the dynamics alot. I'm very glad we got to go one last time.