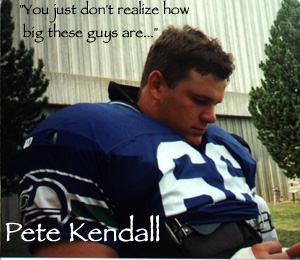 "Just had to check in and tell you about training camp...We went out yesterday, and it was great!! It's been pretty hot, but a thunderstorm was about to roll through, so it was breezy and comfortable. The guys looked wonderful. You just don't realize how BIG these guys are...I sat and watched the defense for a long time. They're so FAST!! I was totally enthralled."
"I was kind of standing by myself on one section of the fence while the guys were walking off, and Chris Warren was walking straight at me. Oh, he smiled the sweetest smile...I couldn't get my camera out in time, of course, but I will never forget."
"It's autograph heaven for kids. And they are so gracious and patient with the kids. Warren Moon was extraordinary. He was totally besieged, and totally sweet."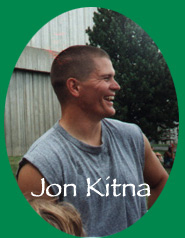 "My nephew, Jon, (he's 12) got...some great autographs. Dennis Erickson and Jim Zorn both signed his cap. He got John Friesz and Bennie Blades to sign cards. I had him wear my Barcelona Dragons t-shirt...Jon Kitna did a double take, laughed and said, "this kid knows how to get an autograph." So he signed and dated the shirt. I was thrilled..."
"We took 2 nephews this time... We dropped them off at the Kid's Camp where they get to throw a football, kick a field goal and this thing where they attach a bungee cord to you and see how far "downfield" you can get before being jerked back. They had a great time. Craig and I sat on the hillside with a whole bunch of people and watched offensive drills. Jim Zorn would hand the ball off to the QB (rotating), and they'd throw to a rotating field of receivers. There were a whole lot more people there this time. And they were a lot more vocal. In a good way, cheering. It really is thrilling to be able to just watch them practice like that. It's intimate; we're bonding..."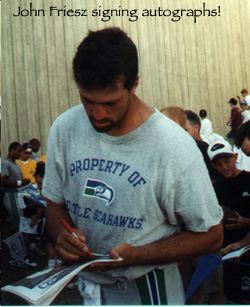 "... Joey Galloway...must have signed 500 autographs. He was the last guy in, and was just totally swarmed, and he just kept signing. And he signed until there weren't any kids left."
"We went to Cheney again yesterday...BIG crowds!! There's this hill on one side of the field where the view is pretty good. Trouble is, it's pretty steep, so not very comfortable to sit on...and it's covered in thistles!! They've been mowed down, but no less lethal just because they're short. Anyway, there's literally 100 people sitting on this hill of thistles...not to mention no shade and 90 degree weather!! It's truly amazing. And everyone is totally enraptured. "
"Shawn Springs had a hard time getting off the field. He was totally swarmed with kids (and adults, for that matter). He said "I'm going to be here for 7 years..." [See photo at top of page!]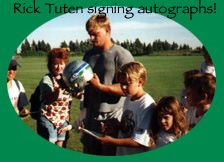 "Rick Tuten was the last guy in. And the last guy in always signs to the last kid. (Did he get the short straw?) I'm constantly amazed at their patience and graciousness to these kids..."
"There was cheering going on during the scrimmage. It all had a very comfortable, relaxed, intense, focused feel about it."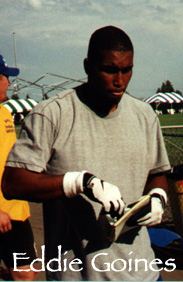 "Anyway, that's about it for training camp in Cheney...it's been so much fun. I know I said it before, but it really is an intimate experience; being so close to them. And they have been so great to the fans and especially the kids. You can't help but love it. I'm sorry it's ending, but....I'M READY FOR SOME FOOTBALL!!"
---
Many thanks go to Karyn whose stories are told above! It was great to live training camp through her words and photographs!
I also want to thank Marolyn for her photos and stories as well! Many other people wrote to tell me of their experiences! I almost feel like I've been there! THANK YOU SO MUCH!!