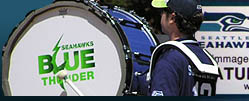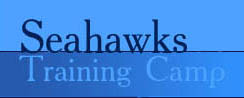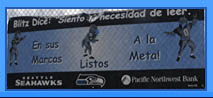 Thanks so much to my friend, Karyn for sharing her trip to training camp with us! The text and pictures are all hers!
We finally made it out to training camp! It looks like the only one we're going to make, dang it! We got to go so often last year...oh well, I guess I should be grateful for one!!

We watched a scrimmage - Jon Kitna looks SO good. I like Friesz alot, but I've got a soft spot for Kitna... he just seems to have a spark... The guys were so hyped and enthusiastic. Kind of like the game on Friday against Indy ... just a lot of excitement. We were standing on the sidelines and Ricky Watters caught a Kitna pass right in front of us! He just came flying! It was exciting!!
| | |
| --- | --- |
| After the scrimmage, they do these sprints across the field. We stood on one side of the fence and they just come running full-out straight at you. I took some pictures. I'm sure they can't convey how cool that was!! They went in three groups. The linebackers made the ground tremble!! Awesome. | |
| | |
| --- | --- |
| | Then on to autograph signing... they set it up a bit differently this year -- the gauntlet isn't quite as long. But the players were still very gracious and accommodating. Ricky Watters signed for a long time, as did Galloway. Dennis Erickson took his time with everyone, too. |
John Friesz was on the other side for a long time and then came over to our side. Then everyone on the other side was yelling (in a nice way...) for him. He just kind of looked at me, half rolled his eyes and said "I was just over there..." It was cute... I got 8 or 9 autographs. I wasn't trying too hard.

Jon and Alex (the nephews) were still over doing the kids things when it started (the autographing), so I got Sam Adams to sign Jon's card, and Ricky Watters too... although he was still signing when the boys got there so they had him sign their water bottles too.
| | |
| --- | --- |
| | Warren Moon showed up in camp yesterday, as I'm sure you know... we were watching the news at 5:30 last night and they said Warren was still signing autographs...Sorry we missed him... glad he's back... I think we could have done pretty good without him, but I think he inspires those guys. Ricky Watters seemed thrilled to have him and I want Ricky to be happy!! |