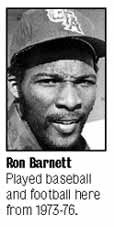 Ron Barnett was there!
Source: TheShortHorn.com
Athletics Department Hall to induct 4 alumni
Former athletes and a former accounting chair will join the Hall of Honor on Saturday
By Pat Gillespie
The Shorthorn sports editor
Allen Lowes remembers being part of a small family when he played football here in the 1970s. He especially remembers Ron Barnett as a leader and a friend.
Now, more than two decades later, Lowes and Barnett will join Katie Weismiller and Fred Arnold in the 2001 class of the Athletics Department's Hall of Honor, and Bill Ross will become an Honorary Letterwinner. The invitation-only ceremony is scheduled for 7 p.m. Saturday in the University Center Bluebonnet Ballroom.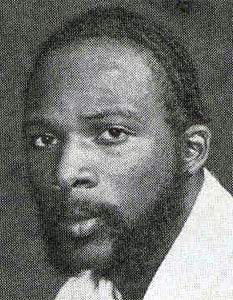 Athletics Director Pete Carlon said it's important to honor former athletes.
"I wanted to be a part of this since its inception because the university needs to recognize its past," he said. "You need a vision for the future but also to look to the past."
An anonymous selection committee chooses nominees for the ceremony each fall.
Lowes, who also participated in track and field, said going to school here was more than studying — he had a family away from home.
"It was kind of a nucleus. It was kind of a close group of guys," he said. When Lowes was a freshman, Barnett was a senior, so they played together for only one season, but Lowes said he learned a lot.
Barnett, who also played baseball, said he remembers the free spirit of college life in the 1970s.
"I think it was a pretty good time for college," he said. "It was a time (when) as a football player you were a part of the team, and you spent a lot of time with those guys."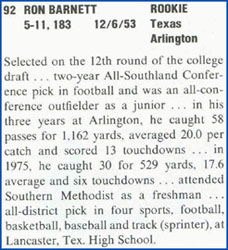 Weismiller, a volleyball player from 1983-1986, is now the Indiana University volleyball coach.
"Just getting the phone call and someone telling you you've been nominated was shocking," she said. "As an athlete, you don't even think about it. Everybody would love to be inducted into their hall of honor."
Weismiller can't attend because Indiana is playing Ohio State this weekend.
"That's really hard — I'd love to be there," she said.
Fred Arnold played football for five seasons when the school went from a junior college to a senior college. The NCAA awarded an extra year of eligibility.
Dr. Ross was the Athletics Department faculty representative from 1986 to 1996.
"I wish the faculty down there would support athletes more," he said.
Seattle Picks Ex-Husky Quarterback
POCATELLO, IDAHO
SUNDAY, APRIL 11, 1976
IDAHO STATE JOURNAL
SEATTLE (AP.) - Others selected on the second and last day of the draft included Bob Bos of Iowa State, linebacker Randy Coffield of Florida State, punter Keith Muehr of Southwestern Louisiana, wide receiver Ron Barnett of Texas-Arlington, running back Andy Reid of Georgia and defensive back Jarvis Blinks of Northwestern Louisiana, and Jeff Urcyzk of Georgia Tech.