Keith Muehr was there!
Where is he now?
Our spies in the
Louisiana Ragin Cajuns Athletic Network
website report that he's living in Lafayette, La.
Confirmed by Mr. Muehr himself
From: Keith Muehr
Subject: OLD SEAHAWK

BECKY, YES I AM THE SAME KEITH MUEHR THAT WAS DRAFTED IN 1976, I WILL BE GLADE TO GIVE YOU AN UPDATE ON MYSELF AND FAMILY, HERE IN LAFAYETTE LA.
KEITH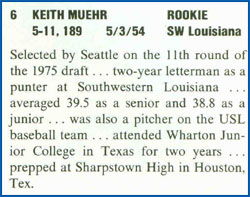 Seattle Picks Ex-Husky Quarterback
POCATELLO, IDAHO
SUNDAY, APRIL 11, 1976
IDAHO STATE JOURNAL
SEATTLE (AP.) - Others selected on the second and last day of the draft included
Bob Bos
of Iowa State, linebacker
Randy Coffield
of Florida State, punter
Keith Muehr
of Southwestern Louisiana, wide receiver
Ron Barnett
of Texas-Arlington, running back
Andy Reid
of Georgia and defensive back
Jarvis Blinks
of Northwestern Louisiana, and
Jeff Urcyzk
of Georgia Tech.
SCOREBOARD
Walla Walla Union-Bulletin
Tuesday, July 13, 1976
SEATTLE SEAHAWKS — Eddie Ray. running back, signed.
Mark Wahl, Dan Shepherd, Brad Kramer, Al Knapp and Keith Muehr, kickers; Herb Singleton and Scott Christman, quarterbacks; Dwaine Copeland and Clifton Marcus, running backs: Bob Cason, defensive back, and Ned Deane, linebacker, cut.