Randy Coffield was there!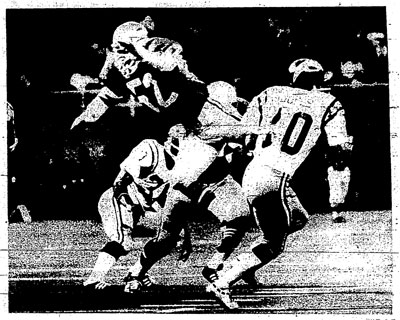 Pre-76
College letterman for 3 years
Drafted by Seahawks (10th round)
Seattle Picks Ex-Husky Quarterback
POCATELLO, IDAHO
SUNDAY, APRIL 11, 1976
IDAHO STATE JOURNAL
SEATTLE (AP.) - Others selected on the second and last day of the draft included
Bob Bos
of Iowa State, linebacker
Randy Coffield
of Florida State, punter
Keith Muehr
of Southwestern Louisiana, wide receiver
Ron Barnett
of Texas-Arlington, running back
Andy Reid
of Georgia and defensive back
Jarvis Blinks
of Northwestern Louisiana, and
Jeff Urcyzk
of Georgia Tech.
Source:

Seahawks
by Doug Thiel
Sunrise Publishing Inc.
With two minutes left San Diego led 16—10. Here we go again. Seattle fans were hoping that for once the Seahawk offense would ride over the hill and rescue the score! They did, but San Diego helped.
On their own 31 yard line San Diego tried a fourth down kick, but the ball came back a bit high—too high for Mitch Hoopes to kick it in time. He was tackled on his 21 yard by Randy Coffield.
Street and Smith's Pro Football 1978
In reserve are veteran Amos Martin and youngsters Charles McShane and Mike Jones. Randy Coffield missed his rookie year with injury. The draft brings another interesting name - George Halas of Miami, Fla.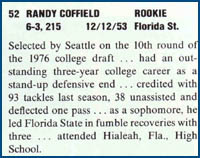 Street and Smith's Pro Football 1977
There could be a superior battle on the left side. Ex-Ram Ken Geddes started 9 games for the Hawks, but Sammy Green might be ready to push Geddes out of the lineup in his second season. Green started 5 games as a rookie.
Also in competition are hold-over subs Greg Collins and Randy Coffield, rookie Pete Cronan of Boston College and ex-Cowboy Ken Hutcherson, who missed the '76 season due to injuries.
Pro Football 1976
by Larry Felser and Dave Klein
First of all, Seattle had the right to choose 39 veterans from lists submitted by the established franchises. And Patera, for years the defensive line coach for the Vikings, was honestly surprised at the quality of players available, especially the defensive performers. Patera came away with linebackers, for instance.
Boy, did he come away with linebackers! His starting trio would appear to be Ed Bradley in the middle with Ken Geddes and Ken Hutcherson on the outside.
And behind them are former All-Pro Mike Curtis -- long-time Falcon starter Don Hansen and two rookies - Sammy Green of Florida and Randy Coffield -- of Florida State. It's a sound unit.
Sam, Mike and Will at Linebacker
Source: Pro!, the Official Magazine of the National Football League,
August 1, 1976
By Don Fair
P-I Sports Writer
There there is the story of The Three Bears...Seahawks Version.
Their names are Sam, Mike and Will.
Goldilocks is any enemy trying to advance by run or pass.
The porridge?
That's the football.
Sam, Mike and Will are the names -- in Seahawks terminology -- for Seattle's three linebackers in the team's normal defensive setup.
Sam is the Strong Middle Linebacker.
Mike is the Middle Linebacker.
Will is the Weak Side Linebacker.
Or Sam for Strong, Mike for Middle, Will for Weak.
It also helps to know that the bears in this Seahawks saga will be clasd in uniforms numbered in 30s or 50s. And that's only when the defensive platoon is on the field.
Like a grizzly bear, linebackers should be strong as well as ferocious.
And they should be faster -- a lot faster -- than the average bear.
That sets the scene for the Seahawks' tale of The Three Bears.
As the Seahawks head into this, their first NFL season, their linebacker corps shapes up in this fashion:
First Unit -- Curtis at Mike, Hansen at Will, Geddes at Sam.
Second Unit -- Bradley at Mike, Hutcherson at Will, Riegel at Sam.
Green, the team's second-round draft choice, is a probable Mike. Coffield, another rookie, is working with Sam.
It's unlikely that those eight will survive to Seattle's counting league opener against St. Louis in the Kingdome on September 12.
"We'd like to keep six for the season," Peccatiello concluded, "but we can get by with five. And we're really pleased with the linebackers that we have, those we picked up in expansion in particular."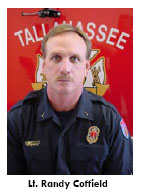 Meet a Firefighter: Lieutenant Randy Coffield
This month we interviewed 23-year veteran Lieutenant Randy Coffield. Lt. Coffield joined the TFD in 1981 as a Firefighter and was promoted to Lieutenant in 1988. A native of Miami, FL, Lt. Coffield moved to Tallahassee in 1971 to attend Florida State University, where he earned his Bachelors in Business Administration. Lt. Coffield joined the TFD because he wanted an exciting career opportunity that didn't involve sitting behind a desk. He loves doing something different every day and helping the community. When not on the job, Lt. Coffield enjoys hunting, fishing, and spending time on his horse farm in Georgia.
Lurtsema, five others released by Seahawks
Daily News-Miner
Fairbanks, Alaska
Wednesday, Sept. 14, 1977
SEATTLE (API—Veteran Bob Lurtsema and five other players were cut from the active roster Tuesday as the Seattle Seahawks reduced their National Football League team to the 43-player limit.
Tight ends John McMakin and Charles Waddell, running back Hugh McKinnis and cornerback Ernie Jones also were placed on irrevocable waivers Tuesday. Randy Coffield, linebacker, was placed on injured reserves with a knee injury, meaning he is out for the season.
Lurtsema, 34, an 11-year veteran, was obtained last year from the Minnesota Vikings and became a starter at defensive end. Unless he is claimed by another team, Lurtsema likely will be one of those signed to a new contract by the Seahawks when the NFL teams are allowed to sign two extra players later. The rosters will be increased lo 45, but only 43 will be permitted to suit up for the game.
Waddell was acquired in the veteran allocation last year but missed an entire season because of a knee injury. Jones and Coffield were 1976 draftees— Jones in the fifth round and Coffield in the tenth.
McMakin was waived late Tuesday after the Seahawks picked up tight end John Sawyer on waivers from the Houston Oilers. The release of McMakin leaves Seattle with only nine of the original 39 players the club selected in last year's veteran allocation.
Collecting Randy Coffield?
Sorry - no known Randy Coffield cards or posters.
Thanks to Brent Williams for this information: Randy Coffield has a 1990-91 Florida State Collegiate Collection card numbered #135.