Bob Bos was there!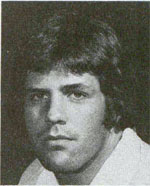 Almost. He was at training camp, anyway.
Seahawks by Doug Thiel
Sunrise Publishing Inc. In the 1976 college draft we also got Jeff Lloyd in the third round plus two third round bonus choices, Rick Engles and Don Bitterlich. In the fourth round Seattle chose Steve Meyer at quarterback; Randy Johnson, an offensive guard, was a bonus choice as was Andrew Bolton. In the fifth round Don Dufek, Ernie Jones and Larry Bates came to the Seahawks.
The other collegians drafted were Alvis Darby, Lodie Dixon, Larry Shipp, Bob Bos, and Randy Coffield.
TRAINING camp, especially for a rookie team, is card shuffling time. The coaches hadn't worked together, the veterans came from many other pro teams, and the rookies and free agents came from everywhere.
Ahmad Rashad came five days early for a veteran. That's good news. Bob Bos walked out of camp even before it got started. That's bad news. Bos told coach Patera that he just didn't have the heart to put out what it took to be a professional football player.
To Patera, a man who had great expectations backed by hard work, that comment was, ". . . a great disappointment any time a player comes to camp and doesn't even go on the field." Rashad's comment, "Man, I'm ready to go," partially countered the disappointment of Bos.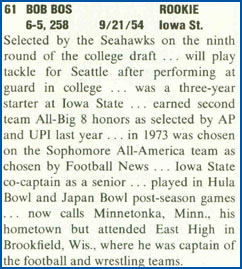 "We only have today, not tomorrow. We need to give our best today and not leave our best for tomorrow, because tomorrow's not promised."
Those were the prophetic words of former Cyclone football great Dexter Green, who passed away Sunday at age 46 after a bout with cancer. Read more about Green and what he had to say about Iowa State and his life in his own words.
CI: You were part of an Iowa State team that improved from a string of three 4-7 years to three straight eight wins seasons and a couple of bowl games. What are your memories of that turnaround?
Green: When I reflected back on 1975 coming here, it was a very exciting time because we had a nucleus of a lot of young players coming from all over the country. We also had a nucleus of seniors that were back there like Bob Bos and Maynard Stensrud. They had the leadership and the drive that made us as younger players want to excel and become the best that we could.
Seattle Picks Ex-Husky Quarterback
POCATELLO, IDAHO
SUNDAY, APRIL 11, 1976
IDAHO STATE JOURNAL
SEATTLE (AP.) - Others selected on the second and last day of the draft included
Bob Bos
of Iowa State, linebacker
Randy Coffield
of Florida State, punter
Keith Muehr
of Southwestern Louisiana, wide receiver
Ron Barnett
of Texas-Arlington, running back
Andy Reid
of Georgia and defensive back
Jarvis Blinks
of Northwestern Louisiana, and
Jeff Urcyzk
of Georgia Tech.
At Lake Zurich, gene pool contributes to football success.
Daily Herald (Arlington Heights, IL)
September 20, 1996
Mike McGraw
Lake Zurich has no plans to stage a father-son football game.
But if such an event were held, the LZ dads would be reasonably well-equipped - on the offensive line, anyway.
Two players on the Lake Zurich roster have fathers who were NFL draft choices. That has to be a fairly unique distinction in suburban high school football.
Pete Solverson was selected in the 13th round by the Los Angeles Rams in 1974. Bob Bos was a ninth-round choice of the expansion Seattle Seahawks in 1976. Both were drafted as offensive tackles.
Their sons are Thor Solverson, a 6-foot-10 tight end and defensive end, and Ryan Bos, a 6-4 junior wide receiver. Both are key players for the Bears, who are off to a 3-0 start this season.
Where are they now?
Source: Linked In, March 2013
Bob Bos, Vice President Sales, Strategic Accounts at Penske Logistics