Ed Bradley was there!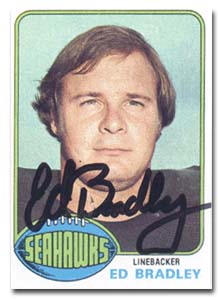 Ed Bradley
was there!
He asked to be put on the expansion draft list so he'd have a chance for more playing time. He is active in charitable fund-raising, has worked in broadcasting, and is a member of the Wake Forest Hall of Fame.
Pre-76
Played in East-West games and Senior Bowl
Drafted 1972 (Pittsburgh)
Played in Super Bowl IX
1976
Played 14 games
4 pass deflections, 1 interception
1977
Traded to San Francisco on 3 May for DT Bill Sandifer
1976 Season Summary
Team Captains: T Norm Evans (Offense), LB Mike Curtis (Defense), LB Ed Bradley (Special Teams)
Team MVP: QB Jim Zorn
National Honors: QB Jim Zorn, NFC Offensive Rookie of the Year; DT Steve Niehaus, NFC Defensive Rookie of the Year

Fathers and Sons in the NFL
Bradley
Ed G, DE - 1950, 1952 Chicago Bears, 1953 CFL
Ed LB - 1972-75 Pittsburgh Steelers, 1976 Seattle Seahawks, 1977-78 San Francisco 49ers



Ed Bradley replaced starter Jack Lambert in the January Super Bowl due to Lambert's injury?
Steeler Trio Has Mixed Emotions
Playground Daily News
Thursday, April 01, 1976 Fort Walton Beach, Florida
PITTSBURGH (UPI) - Pittsburgh Steelers had mixed reactions to being picked up in the National Football league veteran allocation draft.
Dave Brown, a defensive back chosen by the Seattle Seahawks. was shocked when he learned of his selection in the draft.
Ed Bradley, a linebacker who had said earlier he hoped he would he drafted, was excited about his selection by the Seahawks.
"Right now, all I can say is that from here on it's up to me." he said. "I've gotten my wish, my opportunity. I intend to be their No. 1 middle linebacker for quite a few years. I'm confident I can do the job and I'm expecting nothing but the best."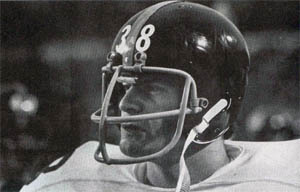 Seattle Draft: 'Good Job'
Seattle players choices were sent "welcome" telegrams from Patera yesterday. Later, all will receive personal telephone calls from the appropriate Seahawk assistant coach.
As a group, the newest Seahawks did not express disappointment or disgust at joining an expansion franchise.
Ed Bradley, linebacker, Pittsburgh -- "It's what I wanted. I made my intentions known that I wanted on the expansion list. It's a great opportunity for me to play on a regular basis and get off the specialty teams. I didn't want to make a career of being a wedge-buster. I intend to be Seattle's No. 1 middle linebacker for quite a few years."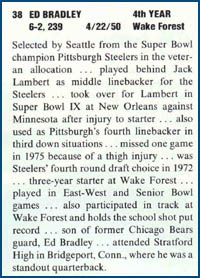 Pro Football 1976
by Larry Felser and Dave Klein
First of all, Seattle had the right to choose 39 veterans from lists submitted by the established franchises. And Patera, for years the defensive line coach for the Vikings, was honestly surprised at the quality of players available, especially the defensive performers.
Patera
came away with linebackers, for instance.
Boy, did he come away with linebackers! His starting trio would appear to be Ed Bradley in the middle with Ken Geddes and Ken Hutcherson on the outside.
Bradley, from the Steelers, filled in for Jack Lambert in Super Bowl IX and damn near came away with the MVP Award. He said all last season he hoped to be taken by Seattle or Tampa Bay because "I won't get a chance to play behind Jack, and I know I can be regular." He is, and existing clubs were a bit surprised he was made available. Many of them might have chosen to trade for him.
Geddes has been an LA regular for three years, and each of those years enhanced the Rams' defensive image. He's tough; big and has even more experience than Bradley.
Bradley could have started for the Steelers if Jack Lambert wasn't there. Geddes did start, for the Rams, and he played championship ball. Hutcherson, a bit short but very quick and strong, will find a spot. Curtis, once All-Pro, will back up the middle and help the kids. Green, the No. 2 pick, will get into the thick of competition and could win a spot. Hansen, a veteran noted for meanness, will help. Jones made a big name for himself in college.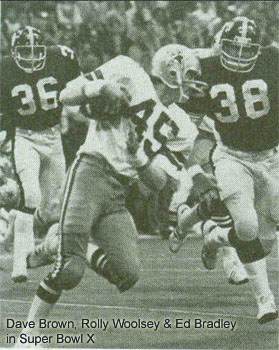 Man in the Middle
Source: Pro! The Official Magazine of the National Football League
Nov. 28, 1976
Being selected by Seattle in the veteran allocation last March was a dream come true for Ed Bradley, a five year veteran who came to Seattle via the Pittsburgh Steelers.
"I have gotten my wish," says Bradley. "I had originally hoped that I would be taken in the expansion draft, even though it sounds somewhat shocking to want to leave a Super Bowl team."
Bradley had been a fill-in linebacker since his graduation from Wake Forest five years ago. About the only time that anyone had ever heard his name being brought up was when Bradley filled in for injured middle linebacker Jack Lambert in the 1975 Super Bowl game against Minnesota. Bradley played a superb game in the Steelers victory.
Now Ed Bradley is the starting middle linebacker for the expansion Seattle Seahawks.
What were your first thoughts about being taken by Seattle in the veteran allocation?
I was shocked at first, although I had hoped to be left unprotected by the Steelers in the allocation draft. I felt as though I was getting in a rut at Pittsburgh. I was playing well, but not playing enough.
Now that you're at Seattle have your feelings changed at all?
I wanted to be taken by one of the two teams, either Tampa or Seattle. I prefer Seattle because it is too damn hot in Tampa, especially after being in Pittsburgh for four years. I am glad to be here. Seattle has a fine program here and good personnel with which to build a solid football team.
Was it difficult to leave a team such as Pittsburgh, which has such a winning reputation?
The Steelers have a fine organization of which I was glad to be a part. We didn't lose very many games while I was there, plus we played in two Super Bowls. So! guess it was a little difficult.
What was it like for you to play in a Super Bowl?
Playing in a Super Bowl is a tremendous rush. The interesting thing about Super Bowls is all the things that take place before the game. It's like the atmosphere of a carnival; it is very important that you being a player keep things in perspective.
Had it been your choice, would you have put yourself into the veteran allocation draft?
Yes, for this reason—at Pittsburgh the situation that they have there makes it very difficult for a player like myself to see much game time other than on special teams. The personnel at the Steelers is so good and the injuries while I was there were so few, that I had very little time to actually go out and prove myself.
What was our reaction when you found out that Seattle had also selected Mike Curtis in the allocation draft?
Dan Rooney of the Steelers was the one who first informed me that Seattle had taken me in the draft. It wasn't until later that same day that a sportscaster in Pittsburgh called me on the phone and read me the list of players that Seattle had chosen. As for the selection of Curtis, well, that provided a new challenge for me.
With Seattle having both yourself and Curtis as middle linebackers, where did you see yourself fitting in?
I wanted to come to Seattle for one main reason, and that was to play and to play well. I knew in my mind that I wanted to be Seattle's middle linebacker. Having Mike Curtis here was a challenge, but also a welcomed one.
You played special teams at Pittsburgh for four years. Is there any special technique involved in performing on these teams?
At the Steelers, I played on both the kick-off and punt return teams. Here at Seattle I am on both of those teams again. My job on kickoffs is to go straight at the wedge, and try to sift through the wedge and still stay on your feet. This is where technique plays a big part. The idea of being a wedge buster is not to just sacrifice your body as you heard so often. By sifting through the wedge and keeping your feet you cause a big problem for the ball carrier, making him leave that protected pocket that his blockers are forming for him.
What about punt returns? Does your responsibility change?
On punt returns, I do something that I don't do too often, and that is become a blocker. Coach MacDonald directs the punt return team. Usually everyone has a certain man whom he is assigned to block, and you stay with that man until the return is over. My specific duty is to line up over the center and try to get a good jump off the snap for the rush.
How did Seattle's training camp compare with that of Pittsburgh's?
Pittsburgh's training camp is not as physically tough as Seattle's was. When I first left to go to Seattle's training camp, I felt that I was in pretty good shape, good enough shape that is to report to the Steelers' camp anyway.
Are you trying to say that you were not prepared for Seattle's training camp?
No, not really, but put it this way; next year I will know better.
In high school you played quarterback. Why did you change to a linebacker?
In high school I was referred to as a running quarterback. I did not have much of an arm. I was also about 30 or 40 pounds lighter than I am now. I kind of figured that I did not have a very bright future playing quarterback.
Were you recruited heavily after your high school career?
Well, I wouldn't go so far as to say that the recruiters were knocking the doors down, but I did have a few offers. The problem was that in Connecticut, football was not very popular.
You wound up going to Wake Forest for your college career. Why did you choose Wake Forest?
Well, I wasn't that interested in attending the schools that did offer me some kind of scholarship. My father had gone to Wake Forest and that's what helped me to make a decision as to where to go.
What position did you play at Wake Forest after you abandoned the quarterback role?
In college, after putting on a little more weight, I played outside linebacker.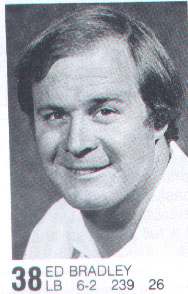 ED BRADLEY - Football Analyst
Ed Bradley joined the Wake Forest ISP Sports Network in the fall of 1995 and serves as the analyst on all football broadcasts. Ed, Jr., is a second generation Demon Deacon following in the footsteps of his father, Ed, Sr. Ed's father captained the 1949 Wake Forest team under legendary coach Peahead Walker before playing professionally for the Chicago Bears and again, later, for Walker in Canada.
Ed, Jr., arrived on the Wake Forest campus in 1969 and was a three-year starter at linebacker for the Demon Deacons. He was a member of the 1970 ACC Champions and capped his stellar collegiate career with appearances in both the East-West Shrine Bowl and the Senior Bowl.
Bradley followed his dad into the NFL. In 1972 the Pittsburgh Steelers selected him in the fourth round of the NFL Draft at a time when the Steelers were becoming one of the storied NFL franchises of all time. Bradley was a Steeler for four seasons on great Pittsburgh teams that won three AFC Central titles, two AFC Championships and Super Bowls IX and X.
In 1976, Bradley was taken from the Steelers by the Seattle Seahawks in the expansion draft and was a tri-captain of that very first Seattle team with Mike Curtis and Norm Evans. Following that season, Bradley was traded by the Seahawks to San Francisco where he played for the 49ers from 1977-79 and finished his pro career.
Bradley was elected into the Wake Forest Sports Hall of Fame and inducted in 1987 with baseball standout Billy Scripture and golfing greats Jay Haas and Curtis Strange. Bradley is now a member of Wake Forest Sports Hall of Fame Selection Committee.
Bradley has over 20 years experience in the scrap metal recycling business, working in Winston-Salem for Atlantic Scrap and Processing. He is also Chairman of the Brenner Children's Hospital Celebrity Golf Classic, an event that over the last several years has raised funds approaching $1 million for the charity.
Bradley has three children - daughters Jennifer and Katie and son Jeff. Ed resides in Winston-Salem.

"It's what I wanted. I made my intentions known that I wanted to be on the expansion list. It's a great opportunity for me to play on a regular basis and get off the specialty teams. I intend to be Seattle's No. 1 middle linebacker for quite a few years."
Source: Street and Smith's Pro Football 1977
The Seahawks made another deal at draft time which was designed to shore up the defense. They sent starting middle linebacker Ed Bradley to the San Francisco 49ers for defensive tackle Bill Sandifer, once a first round draftee for the Niners.
Sam, Mike and Will at Linebacker
Source: Pro!, the Official Magazine of the National Football League,
August 1, 1976
By Don Fair
P-I Sports Writer
There there is the story of The Three Bears...Seahawks Version.
Their names are Sam, Mike and Will.
Goldilocks is any enemy trying to advance by run or pass.
The porridge?
That's the football.
Sam, Mike and Will are the names -- in Seahawks terminology -- for Seattle's three linebackers in the team's normal defensive setup.
Sam is the Strong Middle Linebacker.
Mike is the Middle Linebacker.
Will is the Weak Side Linebacker.
Or Sam for Strong, Mike for Middle, Will for Weak.
It also helps to know that the bears in this Seahawks saga will be clasd in uniforms numbered in 30s or 50s. And that's only when the defensive platoon is on the field.
Like a grizzly bear, linebackers should be strong as well as ferocious.
And they should be faster -- a lot faster -- than the average bear.
That sets the scene for the Seahawks' tale of The Three Bears.
As the Seahawks head into this, their first NFL season, their linebacker corps shapes up in this fashion:
First Unit -- Curtis at Mike, Hansen at Will, Geddes at Sam.
Second Unit -- Bradley at Mike, Hutcherson at Will, Riegel at Sam.
Green, the team's second-round draft choice, is a probable Mike. Coffield, another rookie, is working with Sam.
It's unlikely that those eight will survive to Seattle's counting league opener against St. Louis in the Kingdome on September 12.
"We'd like to keep six for the season," Peccatiello concluded, "but we can get by with five. And we're really pleased with the linebackers that we have, those we picked up in expansion in particular."
Celebrity Golf Classic Raises $85,000 for Brenner Children's Hospital & Health Services
The 14th annual Brenner Children's Hospital Celebrity Golf Classic held recently at Bermuda Run Country Club and Tanglewood Golf Club raised $85,000. A check will be presented to Jon S. Abramson, M.D., Physician-in-Chief at Brenner Children's Hospital & Health Services Wednesday, Aug. 7 at 3 p.m. at the outpatient surgical waiting area, first floor Ardmore West.
The event has raised $900,000 for Brenner Children's Hospital.
Former professional football player Ed Bradley, who played for the San Francisco 49ers, the Seattle Seahawks and the Pittsburgh Steelers, will present the check. Bradley, a graduate of Wake Forest University, was a member of the university's only ACC football championship team (1970). He is a member of the Wake Forest University Hall of Fame.
Bradley and Mike Brenner have co-chaired the Celebrity Golf Classic for 14 years.
The Pocket Book of Pro Football 1976
Edited by Herbert M. Furlow
The backers may be the defensive guts of the Seahawks. Three were regulars last year, although Curtis had a knee problem at Baltimore. Geddes and Hansen both have starting experience. Bradley played behind Lambert with the Steelers; Hutcherson was hurt most of last year. Rookie Green has top All-America notices.
PRO CHARTS
By Murray Olderman
The Albuquerque Tribune
Saturday, September 17, 1977
Seattle Seahawks Prospectus
In second year of existence, Seahawks opted for draft choices instead of chance at Tony Dorsett, who probably wouldn't have signed with them. Coach Jack Patera actually did good guiding expansion team to two victories in '76. Whole concentration is building on youth.
Had some pleasant surprises on offense. Now they need more bodies to weld the defense.
DEFENSE
Defensive Line: The future rests with Steve Niehaus as the hub of defensive effort. Club's top pick, his first year was learning experience. Other men up front, like Bob Lurtsema, just stopgap. So traded for Bill Sandifer. Rating—C
Linebackers: Best stocked department on club, which enabled them to trade Ed Bradley for Sandifer. Mike Curtis, former all-pro, still has enough speed to play outside. Sammy Green made considerable progress as rookie in '76. Rating –B
Secondary; Has a professional look with people like Eddie McMillan, Al Matthews and Dave Brown. Rollie Woolsey, picked from Dallas in expansion, also thrived on corner with chance to play, tied with Brown as interception leader. Rating—B
Collecting Ed Bradley?
1975 Topps #396 Ed Bradley
1976 Topps #147 Ed Bradley
1977 Topps #266 Ed Bradley