Ken Hutcherson was there!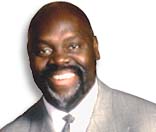 Pre-76
NAIA All-America selection
Gulf South Conference selection 2 years
Senior Bowl game
Drafted 1974 (Dallas)
Signed by Chargers 1975
Signed by Green Bay 1975
DNP 1975 through injury

New Hawks Welcome Move
By Don Fair
Seattle P-I Sports Writer
The speaker was offensive tackle
Norm Evans
, 33, who has completed 12 National Football League seasons -- the last 10 with the Miami Dolphins, who have a championship history.
As he listened to the names of the players picked by Seattle, Evans commented, " Don Hansen (Atlanta linebacker), is that right? Son of a gun, how about that. Ken Hutcherson (Green Bay linebacker). Oh, he is a jewel. You'll love him."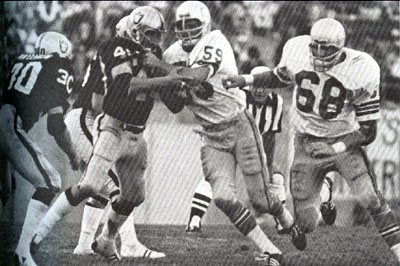 Seattle Draft: 'Good Job'
Mansperger, who scouted college talent for the Cowboys prior to his Seahawk chores, added, "I particularly liked our selection of
Howard
,
Woolsey
and linebacker Ken Hutcherson. I know them closely and like all three because they can run, they're young, they have size and they want to play. You're not supposed to get those kind of guys."
Seattle players choices were sent "welcome" telegrams from Patera yesterday. Later, all will receive personal telephone calls from the appropriate Seahawk assistant coach.
As a group, the newest Seahawks did not express disappointment or disgust at joining an expansion franchise.
Ken Hutcherson, linebacker, Green Bay - "I was praying about going to an expansion team, to go to where God wanted me -- and that was Seattle. The harder we work and get to trust each other, the quicker we'll learn to win. I'm looking forward to a great season this fall."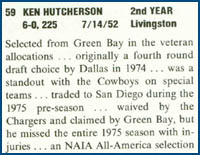 'Hawks Open Drills Today
By Don Fair
P-I Sports Writer
EXTRA POINTS -- Linebacker Ken Hutcherson arrived wearing a T-shirt on which is emblazoned in red lettering, "Hutch is going to Seattle to do God's battle"
Street and Smith's Pro Football 1977
There could be a superior battle on the left side. Ex-Ram
Ken Geddes
started 9 games for the Hawks, but Sammy Green might be ready to push Geddes out of the lineup in his second season. Green started 5 games as a rookie.
Also in competition are hold-over subs Greg Collins and Randy Coffield, rookie Pete Cronan of Boston College and ex-Cowboy Ken Hutcherson, who missed the '76 season due to injuries.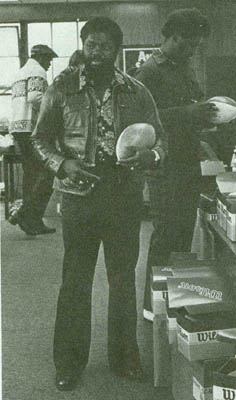 Pro Football 1976
by Larry Felser and Dave Klein
First of all, Seattle had the right to choose 39 veterans from lists submitted by the established franchises. And Patera, for years the defensive line coach for the Vikings, was honestly surprised at the quality of players available, especially the defensive performers. Patera came away with linebackers, for instance.
Boy, did he come away with linebackers! His starting trio would appear to be Ed Bradley in the middle with Ken Geddes and Ken Hutcherson on the outside.
Bradley, from the Steelers, filled in for Jack Lambert in Super Bowl IX and damn near came away with the MVP Award. He said all last season he hoped to be taken by Seattle or Tampa Bay because "I won't get a chance to play behind Jack, and I know I can be regular." He is, and existing clubs were a bit surprised he was made available. Many of them might have chosen to trade for him.
Geddes has been an LA regular for three years, and each of those years enhanced the Rams' defensive image. He's tough; big and has even more experience than Bradley.
Hutcherson is one of those Dallas finds that Dallas didn't have room to keep, so he was traded to the Packers from whom he was selected. He'll play.
Bradley could have started for the Steelers if Jack Lambert wasn't there. Geddes did start, for the Rams, and he played championship ball. Hutcherson, a bit short but very quick and strong, will find a spot. Curtis, once All-Pro, will back up the middle and help the kids. Green, the No. 2 pick, will get into the thick of competition and could win a spot. Hansen, a veteran noted for meanness, will help. Jones made a big name for himself in college.

Todd Peterson:
In Seattle, I was exposed to such amazing Christian guys, like Ken Hutcherson (former NFL player, now pastor in Seattle), Norm Evans (former NFL player, now head of Professional Athletes Outreach, in Seattle) and Karl Payne (pastor in Seattle). I realized then, 'With all this accountability and encouragement God has given me, He expects me to share my faith with others.'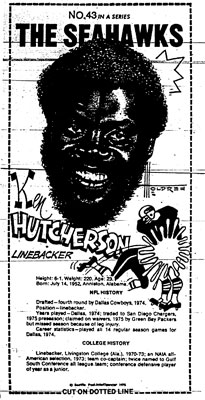 Sam, Mike and Will at Linebacker
Pro!, the Official Magazine of the National Football League
August 1, 1976
By Don Fair
P-I Sports Writer
There there is the story of The Three Bears...Seahawks Version.
Their names are Sam, Mike and Will.
Goldilocks is any enemy trying to advance by run or pass.
The porridge?
That's the football.
Sam, Mike and Will are the names -- in Seahawks terminology -- for Seattle's three linebackers in the team's normal defensive setup.
Sam is the Strong Middle Linebacker.
Mike is the Middle Linebacker.
Will is the Weak Side Linebacker.
Or Sam for Strong, Mike for Middle, Will for Weak.
It also helps to know that the bears in this Seahawks saga will be clasd in uniforms numbered in 30s or 50s. And that's only when the defensive platoon is on the field.
Like a grizzly bear, linebackers should be strong as well as ferocious.
And they should be faster -- a lot faster -- than the average bear.
That sets the scene for the Seahawks' tale of The Three Bears.
As the Seahawks head into this, their first NFL season, their linebacker corps shapes up in this fashion:
First Unit -- Curtis at Mike, Hansen at Will, Geddes at Sam.
Second Unit -- Bradley at Mike, Hutcherson at Will, Riegel at Sam.
Green, the team's second-round draft choice, is a probable Mike. Coffield, another rookie, is working with Sam.
It's unlikely that those eight will survive to Seattle's counting league opener against St. Louis in the Kingdome on September 12.
"We'd like to keep six for the season," Peccatiello concluded, "but we can get by with five. And we're really pleased with the linebackers that we have, those we picked up in expansion in particular."
Black and white in a grey world.
Ken Hutcherson is the Senior Pastor of Antioch Bible Church, which he started with Mark Webster and Dwight England in 1984. He and his wife Pat were married a year later. Hutch jokingly insists that his gray hair came early as a result of both of these occurrences. They now have four children, Faith Ariel, Avery Michele, Sherman David, and Curtis James. As part of their family, Hutch and Pat also have five Rottweilers which they breed. To house this growing family, they recently purchased six acres in Redmond.
Hutch retired from professional football in 1977 after playing for the Dallas Cowboys, the San Diego Chargers, and the Seattle Seahawks. He began working as the high school coordinator at Westminster Chapel in 1977.
Pat was one of the leaders he recruited to join him early in that ministry. Over the next ten years, the high school group grew to 150 students and 35 leaders. After starting Antioch Bible Church, Hutch and Pat continued to work another five years with the high school students who attended Antioch.
Pat graduated from Washington State University with a degree in Public Relations and worked at Seattle Pacific University, Microsoft, and as a freelance writer until 1990.
Teammate's career-ending injury ended his search for hypocrites
Source: BPNews.net
By Art Toalston
Jun 5, 2000
NASHVILLE, Tenn. (BP)--"That Jesus stuff really works, doesn't it?"
Sherman Smith
had caught a fellow Seattle Seahawk in a compromising position; later, tapping him on the shoulder, Smith took aim at the player -- the "hypocrite" -- who had called himself a Christian.
Smith, running backs coach for the Tennessee Titans the past five years and nine-year NFL veteran, recounted his disdain for hypocrites during a June 2 chapel service at the Southern Baptist Convention Building in Nashville, Tenn. -- and during that evening's Billy Graham crusade in the city's Adelphia Coliseum.
"I'm a visual learner," Smith said. One of his pet phrases was, "What you do speaks so loud I can't hear a word you're saying." Although he had an interest in knowing Jesus Christ as a teenager and young adult, Smith devoted more attention to how athletes and others who called themselves Christians acted rather than what they said.
And he wasn't impressed.
Not during his college career as a quarterback at Miami (Ohio) University, tallying a 33-1-1 record. And not as a second-round draft pick of the NFL's Seahawks.
Not until Ken Hutcherson showed up for training camp.
A hard-hitting middle linebacker and unabashed Christian, Hutcherson caught Smith's attention, and Smith watched Hutcherson closely for six weeks, looking for him to stumble, to be a hypocrite like so many others.
Then, unexpectedly, came the test. A gut-wrenching test.
Hutcherson was cut down from behind in a play during the last preseason game of 1976, left on the ground crying out in agony with a knee injury. Somber teammates watched as he was carted off the field. Later came the news that Hutcherson had suffered a career-ending blow to his knee.
Teammates came by to console Hutcherson after the game, the last of whom was Smith, who still had Hutcherson's faith under a microscope.
"Sherm," Hutcherson, somehow upbeat and smiling with ice packs on his knee, said to Smith, "I'm excited to see what God has planned for my life.
"You see, Sherm, I'm a Christian and nothing happens in my life unless it's filtered through God's hands first."
Smith responded to Hutcherson in a way he never had to a Christian before: "Tell me more."
And right there in the locker room, Hutcherson did, sharing the gospel with Smith, telling him of God's love, God's yearning to impart forgiveness and a new life through faith and trust in his Son, Jesus Christ, as Smith's Lord and Savior.
Smith listened but didn't take that step of faith -- until a few weeks later, when he was facing a less-serious knee injury that nevertheless had left him feeling, "It's over with."
Sitting in his car, Smith finally took hold of what Hutcherson had said. "Lord, I need you to take control," Smith prayed, humbling himself, confessing his sinfulness, inviting Christ into his life, and sensing something new. Supplanting his preoccupation with hypocrites, it was "a peace and a confidence I had never known before."
The Pocket Book of Pro Football 1976
Edited by Herbert M. Furlow

The backers may be the defensive guts of the Seahawks. Three were regulars last year, although Curtis had a knee problem at Baltimore. Geddes and Hansen both have starting experience. Bradley played behind Lambert with the Steelers; Hutcherson was hurt most of last year. Rookie Green has top All-America notices.
Seattle's Zorn married
Waterloo Courier
April 9, 1979
SEATTLE (AP) - Seattle Seahawks quarterback
Jim Zorn
married Christine Joy Sturton Saturday in Bellevue, Wash. Seahawks wide receiver
Steve Largent
was best man, and his wife was the matron of honor at the church wedding. The ushers included other members of the National Football League club — running back
Sherman Smith
, tight end
Ron Howard
, guard
Ron Coder
and former linebacker
Ken Hutcherson
. About 20 Seahawks, including office personnel, were among those attending.
The Zorns planned a week's honeymoon before moving into a home Zorn recently bought on Mercer Island.
Rolly Woolsey's now a Seahawk after expansion
The Idaho Free Press
March 1976
"Overall, we were a little surprised at some of the players available to us " said Patera, who swiped an excellent crop of linebackers in
Mike Curtis
,
Ken Geddes
, and
Ken Hutcherson
. "We may not have drafted 39 good football players but we have overall a very good nucleus."
The Seahawks not only drafted the nucleus of a good linebacking unit, but also Eddie McMillan from Los Angeles – former starters with their respective teams - plus Rondy Colbert from the New York Giants, Dwayne Crump from St. Louis and Dave Brown from Pittsburgh.
"The defensive backs and linebackers we came up with are very impressive " said Patera. "To have a good defensive you have to have experience and the only way to gel that is to get guys who have played. In Curtis, Geddes, Hutcherson Matthews and McMillan, we have guys which have played."
Player Movement Is Common For Organizing Seattle Seahawks
BY RICK GOSSELIN
UPI Sports Writer
The Coshocton Tribune
Wednesday, Sept.8, 1976
The printers in Seattle must be making a mint on playbooks for the National Football League Seahawks. The first year Seattle franchise, which makes its NFL debut Sunday, has had better than a 20 per cent turnover on its roster the past two days, taking advantage of the wealth of talent with which the 26 established teams are cluttering up the waiver list in getting down to their 43-man rosters.
The Seahawks also released rookie wide receiver Cornelius Greene and veteran defensive end Bob Martin, while placing on waivers running backs Gary Hayman and James Ford, wide receiver Bob Picard and defensive tackle Jeff Lloyd. Seattle placed linebacker Ken Hutcherson on the injured reserve list and fullback Eddie Ray on injured waivers.
Collecting Ken Hutcherson?
Sorry - no Ken Hutcherson cards! But he did have a mini-poster from the Seattle Post-Intelligencer, #43.