Rocky Rasley was there!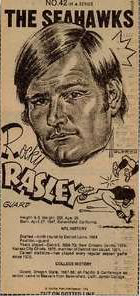 And so was the Seattle P-I with this early football card-style newspaper cut-out!
I am so pleased to let you know that Rocky Rasley has found this site and has taken time to write to say hello! Mr. Rasley has a terrific sense of humor; I get such a huge kick out of his messages! I invite you to visit our 60 Seconds with Becky feature to read more!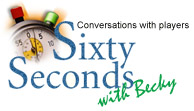 Seattle Draft: 'Good Job'
Don Kosterman, executive vice-president and general manager of the Los Angeles Rams, offered, "Seattle did an excellent job and got some veteran players who will be invaluable. For instance, (Nick) Bebout, (John) Demarie, (Rocky) Rasley, (Gordon) Jolley, (Fred) Hoaglin, (Norm) Evans, (Bob) Penchion are going to play to give the Seahawks an established offensive line.
Hawk Fans to Eye Mercury
Seattle Post-Intelligencer
August 25, 1976
Rocky Rasley's first name really is Rocky. Or as he explained. "My father overcompensated because his name was Clyde."
An orange and black draft?
Source: The Daily Barometer
by Michael Budke
The Daily Barometer, 2005
Williams, Nienhuis, Pollard and Brock could also realistically be selected in the later rounds. If they do, the Beavers will have eight players represented in the draft and would set a school record for most selections in one draft.
The current mark is five, set in 1969 when Bill Enyart, Jon Sandstrom, Jon Didion, Rocky Rasley and Mike Foote all went on to the next level.
Oregon State To Honor Giant Killers At UCLA Game
1967 team will be celebrating their 35th anniversary.
CORVALLIS-The 1967 "Giant Killers," one of the greatest teams in Oregon State football history, will be honored at Reser Stadium on October 5 when the Beavers host the UCLA Bruins.
The '67 Giant Killers, coached by Dee Andros, will be celebrating their 35th anniversary when they reunite in Corvallis.
The 1967 OSU squad finished the season 7-2-1 that year and posted memorable victories over Purdue, then ranked No. 2 in the nation, tied UCLA, then ranked No. 2 in the nation, and defeated the No. 1 ranked USC Trojans, led by Heisman Trophy winner O.J. Simpson, 3-0 at Parker Stadium.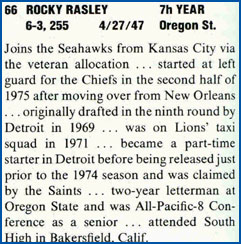 It was the only loss USC would suffer on the season en route to winning the Rose Bowl and the National Championship. The Beavers finished second to the Trojans in the final AAWU standings. In those years, only the league champion was eligible to play in a bowl game.
Oregon State finished the 1967 season ranked seventh in the nation on the final Associated Press poll.
Andros' coaching staff included Sam Boghosian, Bud Riley, Ed Knecht, Rich Brooks, Earl Lunsford and Bob Herndon.
Members of the 1967 Oregon State squad included Louis Armstrong III, LB; Duane Barton, FB; Rex Behnke, HB; Jerry Belcher, HB; Ron Boley, DT; Dale Branch, DT; Roger Cantlon, SE; Gary Cantwell, PK; Clayton Calhoun, E; Sal Cirrincione, FB; John Davis, OG; Steve Davis, SE; John Didion, C; Mel Easley, DB; Bill Enyart, FB; Mike Foote, DE; Tom Greerty, DT; Mike Groff, LB; Harry Gunner, DE; Mike Haggard, PK; Dan Harper, DT; Rick Harrington, DB; Gary Hartman, DE; Gary Houser, TE; Lee Jamison, OT; Bob Jeremiah, DL; Wally Johnson, LB; Bob Jossis, LB; Rich LaSalle, DE; Jess Lewis, DT; Bill Main, HB; Dave Marlette, OG; Bob Mayes, QB; Joe Mihelich, OG; Fred Milton, LB; Mike Mitchell, QB; Gary Neal, DT; Bill Nelson, DL; Charlie Olds, DB; Rick Olsson, DB; Bill Plumeau, TE; Steve Preece, QB; Rocky Rasley, OG; Larry Rich, S; Nick Rogers, TE; Jon Sandstrom, DL; Jim Scheele, DB; Ken Scott, OT; Steve Shaw, DE; Clyde Smith, OG; Ernie Smith, DB; Van smith, OT; Roger Stalick, OT; George Stursa, DL; Don Summers, WB; Skip Vanderbundt, LB; Chris Wahle, DL; Mark Waletich, S; Don Welch, DB; Doug Wells, OT; Mike White, C; Don Whitney, DB and Alan Young, SE.
From: Johnston, Judy
Sent: Monday, April 11, 2005 5:51 PM
Subject: Rocky Rasley
Becky
Saw your web site and couldn't believe my eyes you were featuring my cousin Rocky Rasley.
Please forward this on to Rocky. My mother of Kansas City, Mo. would like to get in touch with Rocky and lost his mailing information.
My mother has fond memories of Rocky and his family having Thanksgiving dinner at her home the year he played for the Kansas City Chiefs.
We have found some very interesting genealogy information on the Rasley family and wanted to pass it on to him.
I appreciate your help.
Judith E. Johnston
Seattle acquires Munson
The Daily Chronicle
Tuesday. September 7, 1976
Those cut from the Seahawk squad included veteran
Dwayne Crump
, who has started as right cornerback in the preseason games; defensive back
Larry Howse
; running backs
Ron "Po" James
,
Randy Johnson
and
Darwin Robinson
, and guards
Doug Payton
and
Rocky Rasley
. James and Rasley also are veterans.
Also cut was Billy Hardee. He played for Virginia Poly and is from Mulberry, Fla.